A Smarter Way to Buy and Sell Tickets Gets Venture Capital Funding
SeatGeek's engine for predicting ticket pricing in the secondary market attracts a $1 million VC infusion.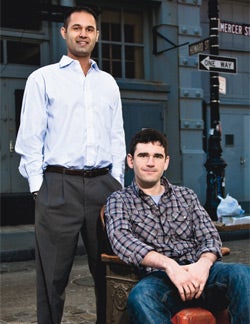 Geeks: Russ D'Souza, left, and Jack GroeTzinger.
Photo © David Lang
SeatGeek was inspired by frustration. Jack Groetzinger and Russ D'Souza, both avid concertgoers and sports enthusiasts, were fed up with the unpredictability of the secondary ticket market--reseller pricing that can swing from significantly higher than face value to cut-rate, depending on an event's popularity.

"From a consumer's perspective, it's confusing to know when to buy tickets because you can buy them one day and see prices go to half that price a couple weeks later," Groetzinger says.
Continue Reading This Article—And Everything on Entrepreneur!
Become a member to get unlimited access to Entrepreneur.com for less than $1 per week* and support the voices you want to hear more from.*Billed annually at $49/year. Cancel anytime.