4 Notable Travelers Share Their Secrets
7 min read
This story appears in the May 2013 issue of . Subscribe »
Chuck Todd
Chief White House correspondent and political director, NBC News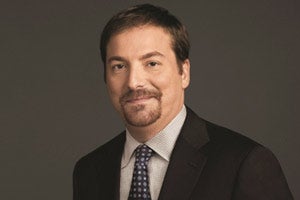 What I love: I'm always short of sleep, and having those two or three hours on the plane when nobody can get hold of me is the best thing about any business trip. You can't unplug in the hotel anymore, or even in your own house. You're always reachable. But nobody expects to have access to you during a flight. You do often have internet access on a plane, but the people at work don't realize that. So I can always use that. "That e-mail? I was on a flight." And it's like, "Oh, OK."
What I hate: There's never enough power. It's a hassle. I travel with an iPhone, an iPad, a BlackBerry and an AirBook, along with a whole lot of other stuff. So my thing is outlets, and I spend much of my time worrying about where I'll be able to plug in. That's how I judge a hotel now; that's how I judge airports--it's all about juice. I've tried the solar chargers, but I'm just not outside enough for them to work. So I'm stuck with what I can get, wherever I am. And it's never enough.
Where I go: I spend a lot of time in hotel ballrooms, which is where the filing centers are for the media, and they all pretty much look alike. But occasionally I do get out.
The best time I've had on a business trip was in Bali. It was one of the East Asian summits; President Obama has made a point to do those things, which is good for us. Occasionally I get to check out cool places to visit with my wife when I'm retired, and Bali's definitely at the top of that list. The weather's unbelievable. And you're in the opposite time zone, so all the work happens when they're asleep. Perfect.
Tip: I often travel to small, Midwestern cities while covering the campaigns. Until recently, it was difficult to find anywhere to stay. But these new midrange business hotels are
the best invention. They're not full-service, but they're also not limited-service, either--I'm talking about brands like Hyatt Place, SpringHill Suites. They're inexpensive, they're totally clean and they have outlets everywhere because they were built from scratch. Lately I've been seeking them out even in bigger cities. I'd much rather stay in one than at a luxury hotel, which costs a lot more and isn't nearly as functional.
Maura Tierney
Actor (ER, The Good Wife, now on Broadway in Lucky Guy)
What I love: I love that my work takes me to different places. I've been on location in North Carolina and Jamaica and St. John and Toronto and Dublin--all over. It's just great to be able to see places and be working at the same time. I also love those six-hour flights between L.A. and New York, which
is my usual route. For those six hours, I can do anything I want.
What I hate: The only thing I don't like about the entire process is taking off my shoes. I have everything else down--I even travel with my dog, and that works out fine. I put my things into a baggie; I'm very good at the whole process. But unbuckling or unlacing my shoes is just too much. I dread it, to be honest. I don't want to have to wear loafers just because I'm traveling.
Where I go: I love going to Europe to work. Once you're over there, everywhere is a jumping-off point for everywhere else. When I was working in Dublin, I ended up visiting London, Istanbul, Beirut. I'd go back any time.
Tip: I listen to the radio on my iPhone and my laptop. I have the NPR News app and my favorite stations, and I listen wherever I go. I never mind a delay or a break because I just punch up the app for "Wait, Wait … Don't Tell Me!" on my phone, and I'm fine.
José Andrés
Chef/restaurateur (Jaleo, minibar, The Bazaar)
What I love: Travel is a way to get my ideas clear. Sometimes it's a moment of organization. Other times it's a moment of relaxation--watching a movie on the plane that I've wanted to see, for instance. In my case, too, the best business relationships I have are those in which I have a personal engagement, almost at the level of a family friend. So going and seeing those people, those longtime friends and partners, is both fun and really important.
What I hate: The rhythm is really hard. It takes a toll. I've been trying to lose weight for a year, and I did lose some, but lately I've gained a lot of it back because I've been traveling so much. Being away from home just creates a different rhythm to the day. And then you get home and it takes time to adjust back to that rhythm.
Where I go: There's always something happening in Los Angeles. It makes me feel very creative. On an artistic level, it just provides so much. I never mind a trip there.
Tip: With all due respect to the hardworking professionals who make the meals on planes, I always have a glass of Champagne and very little else. It's a good time to fast, especially when you're on a long-haul flight. Look, we're overfed, all of us. We eat too much. There's no need to eat on a plane just because the food is there in front of you, even if it's good. So I have one glass of Champagne and maybe nibble on a cookie, but that's all. I watch the movie. I sleep. And I leave my stomach empty for a meal at a great restaurant when I land.
Rosanne Cash
Singer/songwriter
What I love: As much as I love gigs where I can drive home the same night, it's always good to go elsewhere and build a base, cultivate an audience. Once you do, you can't just drop them. You keep going back--and it's satisfying. If I'm staying in a nice hotel, I'm happy.
What I hate: The worst part of the whole experience to me is baggage claim. It's so netherworld, it's like limbo. It's so dreary, and I find myself getting tired just standing there waiting for my bag. And then once in a while my guitar doesn't come out right away, or it's been sent to the oversize bin, and then there's that tension. Also, you see all kinds of bad behavior at bag claim. I don't know why, but you do. The public grooming is just horrendous. Shorts and cleavage at 10 in the morning!
Where I go: I love traveling to Northern California and the Pacific Northwest. I love the food there, the temperature, the scenery. I have good friends in San Francisco and Oregon, and it's great to see them. But more than that, I just always feel good up there.
Tip: I always travel with flip-flops just in case it's a, uh, marginal hotel room. I'm kind of OCD in that way. I love having them so I can run down and get coffee in the morning. They come in handy. I also carry almonds wherever I go in case I have to miss a meal. And I tell everyone I meet to invest in good headphones. I have really good headphones and they're worth it, and not just because I'm a musician. I feel like the drone of the engines makes me more tired than the jet lag, so if you have good noise-canceling headphones, you ameliorate half the effects of that right there.
loading...