¿Vas a salir de viaje y buscas hotel? Google ya te mostrará casas y departamentos en renta
Con Google Hotels los viajeros podrán explorar opciones de renta del inventario de TripAdvisor, HomeAway, RedAwning, VRBIO, entre otros.
Free Book Preview:
Ultimate Guide to Google Ads
Get a glimpse of how Google's marketing resources and strategies can help you grow your business's digital reach.
2 min read
Se acerca la Semana Santa y, con ella, las personas se preparan para visitar nuevos destinos durante sus días de descanso. Google integró recientemente una nueva función llamada Google Hotels que permite a los usuarios acceder a alternativas de alquiler de casas y departamentos, directamente, desde la búsqueda de hoteles.
A través de la nueva función, además de buscar buenas alternativas de vuelo o de cualquier otro medio de transporte, encontrarán las ofertas de casas y departamentos en renta en los inventarios de TripAdvisor, HomeAway, RedAwning, VRBIO y otros.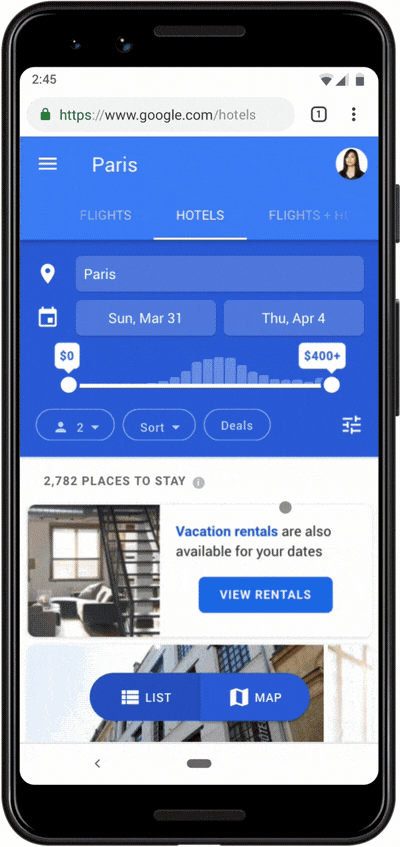 Imagen: Google
Esta funcionalidad está disponible a través de teléfonos celulares y, para acceder a ella, debes ir a la página de resultados de búsqueda de hoteles y seleccionar el filtro de "alquiler de alojamientos para vacaciones".
Ahí también podrás consultar reseñas y la disponibilidad de las opciones de alojamiento arrojadas en el buscador. Una vez que encuentres en el lugar apropiado, debes hacer clic en "reservar" y dirigirte a las páginas asociadas para completar el proceso.
A través de Google Hotels, se espera que los viajeros puedan tomar decisiones adaptadas a sus necesidades al contar con una oferta de alojamientos más amplia y flexible.