How to Encourage Young Girls to Pursue a Career in STEM Fields
In Mexico, 89% of high-level researchers in public universities are men. It is time to change this trend.
Grow Your Business,

Not Your Inbox

Stay informed and join our daily newsletter now!
6 min read
This article was translated from our
Spanish edition
using AI technologies. Errors may exist due to this process.
This story originally appeared on
The Conversation
By Jilana Boston , New York University and Andrei Cimpian , New York University
Women remain underrepresented in science, technology, engineering and math, or STEM careers.
In the engineering field, for example, women in the United States obtained less than 20 percent of doctorates in 2014. In Mexico, 89% of high-level researchers in public universities are men.
Such gaps are not the result of differences in intellectual ability. Girls currently make up more than half of America's gifted student population, for example.
If girls have the intelligence to be successful in STEM careers, what factors explain why they are not interested in careers related to these fields?
There are two types of criteria that discourage girls from studying STEM careers at an early age: a) negative stereotypes about their intellectual abilities; and b) stereotypes about people who work in STEM careers who are classified as "nerds."
As researchers looking at how stereotypes and other psychological factors could divert girls from studying careers related to math and science in general, we believe that parents and educators can help make a difference and reduce gender differences when it comes to to STEM careers.
1. Teach them a growth mindset
As early as first grade, girls are less likely than boys to associate their gender with intellectual abilities.
Given how pervasive these stereotypes are, how can parents and teachers intervene to protect girls from the assumption that they are less intellectually capable - therefore less suited to studying STEM careers - than boys?
One possible strategy is to convince girls that their academic skills can be developed .
Negative stereotypes are based on the assumption that girls lack the innate capacity necessary for success. By emphasizing how skills change and develop over time, we challenge this conviction.
When promoting a concept of growth, it is essential to convey effort and the ability to create strategies, and that this is true for everyone, not just girls.
For example, a teacher or parent might say, "Anyone who wants to be good at math has to solve many problems, especially the most difficult ones, to train his learning ability." Unless an effort is made to make this normal for everyone, parents and teachers may inadvertently suggest that girls have to go to extraordinary lengths to compensate for their low abilities.
2. Teach them to value mistakes
Another component to fostering a growth mindset is framing failure as a learning opportunity rather than something to be avoided or hidden from everyone's sight when it happens.
This is accomplished by focusing on the learning process - for example, discovering where mistakes are coming from and creating new strategies for next time. When children see how fruitful their efforts have been, they are more likely to view STEM career skills from a growth perspective.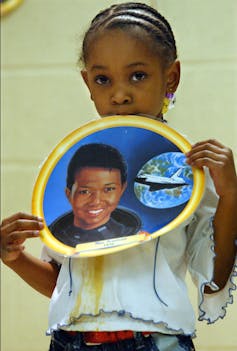 A schoolgirl in Indiana, USA, holds a photo of Mae Jemison, the first African-American astronaut. Bob Gwaltney / AP
3. Talk about successful women
Stereotypes can also be challenged by giving girls examples of women who have been successful in STEM careers.
When describing these women, it is key to say that they have something in common with them. It is important to highlight how they became scientists, which will help girls visualize themselves on a path of success.
4. Give them opportunities for success
Another strategy is to give girls opportunities to be successful in STEM career-related tasks to begin building their confidence.
For example, a teacher might frame a scheduling assignment as a game, which could help girls feel more motivated and capable of success.
5. Fight false stereotypes about STEM careers
When children imagine themselves doing different jobs in the future, they might wonder if they have anything in common with the people who do those jobs. A mismatch between a child's concept and his impression of individuals in a certain sphere can make this career unattractive to him.
Unfortunately, the way the media describes people who studied STEM careers are often narrow and perpetuate false stereotypes, such as that scientists are eccentric, "nerd" or "geeky" (obsessive of computers and disconnected from reality).
Similarly, the work of scientists is seen as solitary and isolating. It is also considered that they pursue self-centered objectives, such as satisfying their own curiosity, and that seeking the good of others is not among their objectives.
These social images act as a barrier for girls in particular: girls are educated to adapt to the common needs of a certain social group and consider themselves to be different from the average scientist and this leads them to lean into spheres in those that can be found by people with whom they can easily identify and who have more altruistic goals.
However, many modern scientists do not fit the image of the "geeky," eccentric loner, and they have a great sense of collaboration and support of other people.
6. Present examples of people who did STEM careers
To counteract the effects of these images, parents and teachers can present children with diverse and easily identifiable examples of people who have pursued a STEM career. They can do it online, like This is how a scientist looks and Skype a Scientist.
Parents and teachers can also tell children that scientists often work in teams and invent things that help people in their everyday lives. These types of messages are likely to help both girls and boys because they reveal deeper purposes for learning about STEM careers.
7. Create an environment that promotes science
Some have attributed the underrepresentation of women in STEM careers to their inherent preferences. However, scientific evidence indicates that these preferences are determined by cultural concepts; and not because of innate differences.
Parents and educators are in an excellent position to help eliminate stereotypes that discourage girls from becoming scientists. And we believe that one of the best ways to do that is to envision environments that promote the idea that science careers are within your grasp.

Jilana Boston , Ph.D. Student in Cognitive Development, New York University and Andrei Cimpian , Associate Professor of Psychology, New York University
This article is republished from The Conversation under a Creative Commons license. Read the original article.