BEGIN SLIDESHOW
NEXT
Apple's brand new headquarters.
NEXT
The main building is 2.8 million square feet with room for 13,000 employees.
NEXT
One of the first looks at the interior of the building.
NEXT
A view of the pavilion.
NEXT
The pavilion from above.
NEXT
A field leading up to the entry way for the new corporate auditorium.
NEXT
An entrance to campus.
NEXT
The Transit Center and main entryway to the spaceship (from above).
NEXT
A view of the entryway.
NEXT
A view of the transit station.
NEXT
A tunnel that will lead drivers to the parking garage underneath the headquarters.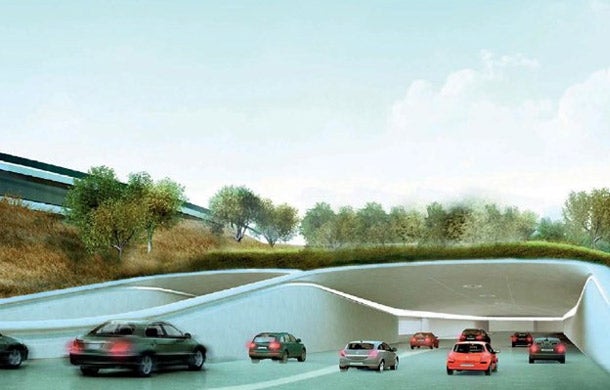 NEXT
This is where the press will be during special events.
NEXT
The huge cafeteria.
NEXT
The on-campus gym and recreation center.
NEXT
The auditorium's meeting area.
NEXT
The Corporate Transit Center.
NEXT
The new campus will have tons of outdoor space.
NEXT
Another look at the sleek design.
NEXT
A view of the visitor's center.
A security checkpoint outside the campus.
Apple is building a new headquarters — dubbed Apple Campus 2 — a 2.8-million-square-foot hub parked in the northeast corner of Cupertino, CA.
For the last few years, we've heard the rumors of grand plans, but it wasn't something we could visualize because we didn't know what to expect.
Now straight out of the City of Cupertino come some brand new images that give us a much better idea of the giant hub Apple is building for its campus.
Here are the photos, which we first saw on Wired.