Promoted Content
Mixing Business with Pleasure: 10 Easy Side Trips in Asia
BEGIN SLIDESHOW
NEXT
1. 1. Shinkansen Bullet Train (Japan).
NEXT
2. 2. Hua Hin (Thailand).
NEXT
3. 3. Ha Long Bay (Vietnam).
NEXT
4. 4. Cuandixia Village (China).
NEXT
5. 5. Melaka (Malaysia).
NEXT
6. 6. Vrindavan (India).
NEXT
7. 7. Bogor (Indonesia).
NEXT
8. 8. Suwon (South Korea).
NEXT
9. 9. Tagaytay (The Philippines).
10. 10. Cheung Chau (Hong Kong).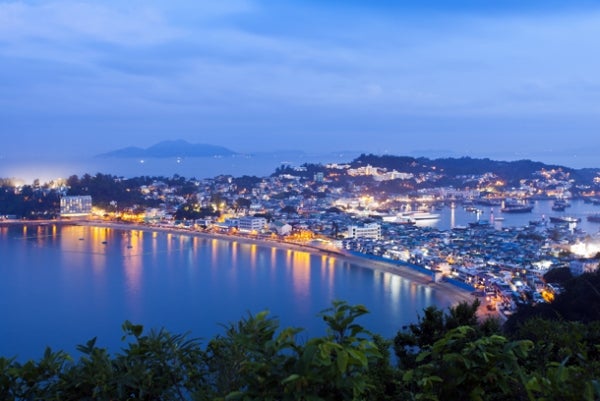 Ever taken a business trip to an exotic destination, only to find that you had no time to see anything besides the hotel and conference room? It happens to all of us. Fortunately, Asia is full of easy and amazing side trips that—with just a few extra hours—you can squeeze into your next whirlwind corporate stint. Here are 10 of our favorites:
In less than three hours, you can take the bullet train from Tokyo to Kyoto, home of 2,000 temples, all while drinking in a breath-taking view of Mount Fuji. Punctual to the second, with speeds of 300 kilometers per hour and a flawless safety record, the Shinkansen makes U.S. train service look like the pony express.
The southern Thai islands tend to get all the attention, but if you need a quick weekend get-away from Bangkok, the coastal mainland town of Hua Hin is the place to go. This former royal summer residence has all the sea, sun, and amenities you need, and it's only three hours from the capital.
According to legend, this stunning bay, littered with some 2,000 limestone islets, was formed by a dragon that plunged into the sea. Hop a bus or train from Hanoi and, in under four hours, you can be enjoying a boat cruise or exploring the bay's caves and grottos. In 1994, Ha Long Bay was designated a UNESCO World Heritage Site.
Drive only two hours from Beijing and you'll find the village of Cuandixia, a completely preserved walled village dating back to the Ming Dynasty. Stroll through the ancient streets, taste some mountain mushrooms or a mantou steamed bun, and, once you're sufficiently fortified, hike on up to the Yi Xian Tian Gorge.
A melting pot of Islamic, Chinese, Indian, Portuguese, Dutch, and British influences, Melaka is an obligatory stopover for anyone interested in Malay's rich and varied culture—and it's only a two-hour drive from Kuala Lumpur. Be sure to check out the Menara Taming Sari, a 260-foot tall, rotating tower that offers a spectacular, 360-degree view of the city.
We've all heard of the Taj Mahal, but what about Vrindavan? Lord Krishna's childhood hangout is a Hindu holy site, a treasure trove of temples and religious rituals. Better yet, it's located only two hours outside of Delhi.
If you need a break from Jakarta's stifling heat and humidity, hop a train or taxi and, in just an hour, you can be in Bogor, the erstwhile capital of the Sunda Kingdom. Immerse yourself in the beauty of its world-renowned botanical garden, and check out the presidential palace with its roving herds of spotted deer.
In the 18th century, King Jeongjo attempted to move the royal capital 30 kilometers south, from Seoul to Suwon. The plan didn't work, but the testament to his failed attempt is well worth a visit. While you're there, don't miss the Hwaseong Suwon Fortress and the Yunggeolleung Royal Tombs.
Two hours south of Manila lies the pretty city of Tagaytay, known for its wonderful views of the famous Taal Volcano: the largest island within a lake on an island within a lake on an island in the world! Got it? Good. Now get down there and see
Catch a glimpse of how Hong Kong used to be on the island of Cheung Chau. Grab a bite at one of its open-air seafood restaurants and visit its temples, walk the Family Trail, and visit the cave of Cheung Po Tsai, China's answer to Robin Hood. Just a 40-minute ferry ride from the big city.
In this special "Business Well Travelled" series,
Cathay Pacific
explores a number of ways to make the most of your time on the road. Discover what #lifewelltravelled means to other business travelers, share your own memorable experiences, and learn about how Cathay Pacific makes business travel more enjoyable.