Sponsored Content
A Look Into the Journey of a Self-made Entrepreneur
Ashwani considers client retention to be one of the primary reasons behind his success
Opinions expressed by Entrepreneur contributors are their own.
You're reading Entrepreneur India, an international franchise of Entrepreneur Media.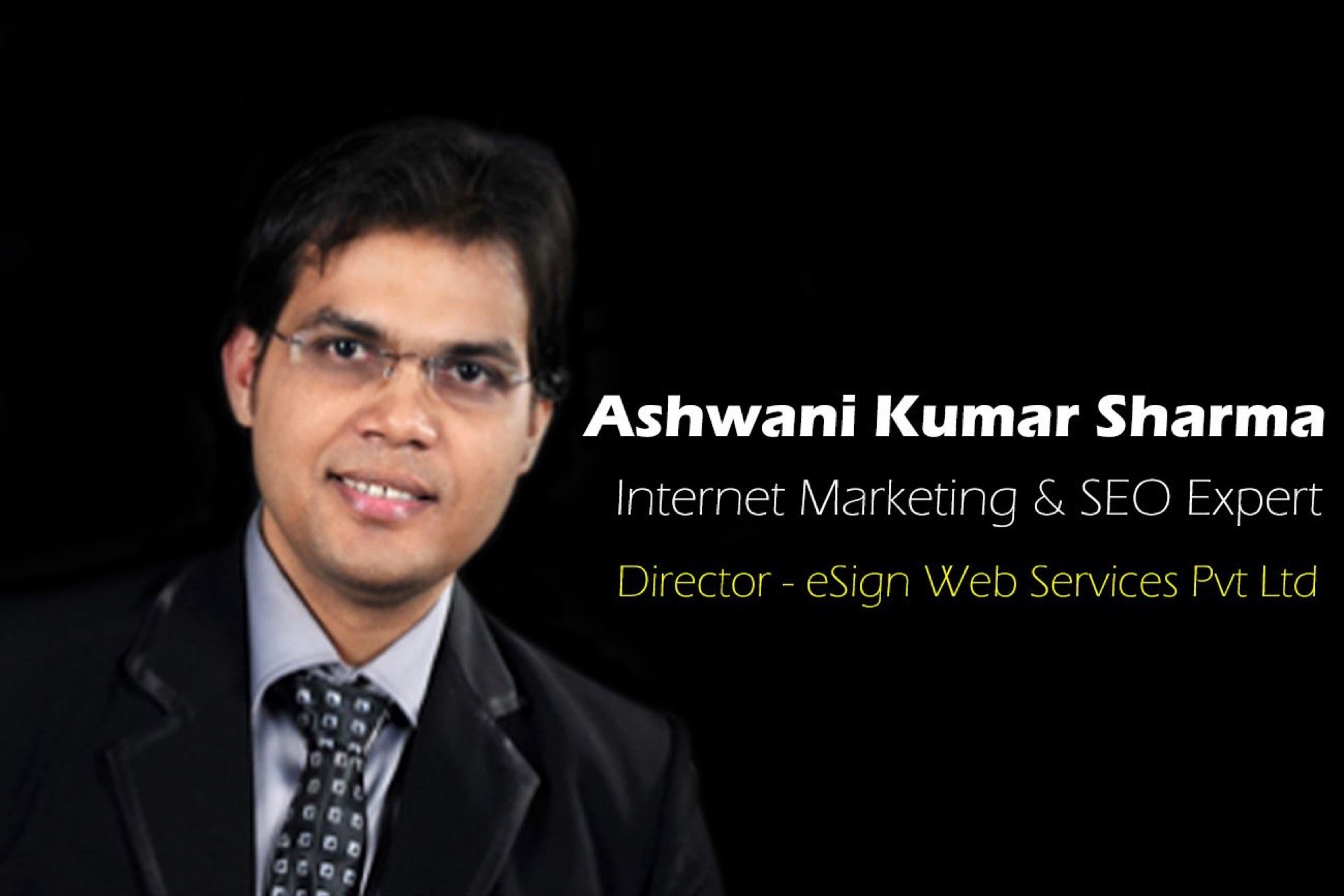 The Internet has had a tremendous impact on the world over the last couple of decades. While the internet offered new and exciting business opportunities, traditional business owners were looking to leverage the power of the internet.
It was at this time that Ashwani Kumar Sharma decided to become a self-made entrepreneur and forayed into the world of internet marketing by founding eSign Web Services. Since then, he hasn't looked back. eSign Web Services has served over 2,500 clients from across the US, UK, Europe, Australia, Canada, India and South Asia till date.
From Humble Beginnings to an Established Company
eSign Web Services started out as an internet marketing and SEO (Search Engine Optimization) company in 2005. Based out of New Delhi, India, the company was managed and run by Ashwani himself. He focused on providing SEO services to small and medium businesses across the world. Many of the company's clients were acquired from online marketplaces.
Over the years, eSign Web Services garnered a reputation for providing high-quality SEO services at affordable prices. This was all thanks to Ashwani's innovative business model of acquiring large volumes of clients and offering them great services at reasonable prices. Over the years, the company has been very successful in pursuing this strategy. Today, eSign Web Services stands as a leading and reputed online marketing company.
Scaling Operations
While eSign Web Services initially started out only as an SEO company, Ashwani always had plans of scaling up. Once the company had developed a good reputation and had successfully completed several projects, he focused on other areas of internet marketing. With this, he started offering PPC (pay per click) management, social media marketing, Google places optimization and also web design and web development services.
In addition to these services, Ashwani also plans to scale his company by partnering with other companies. He is actively building relationships with several internet marketing and advertising companies worldwide to act as their outsourcing partner.
A Journey With Many Challenges
eSign Web Services may be considered a leading company today, but the journey to this point has been full of challenges. Ashwani started the company right after his post-graduation without any prior work experience. He only had one computer to work with, and he worked out of a small room.
While his biggest challenge was acquiring clients early on, he soon found that it wasn't too difficult thanks to the online marketplaces. As he began completing projects and acquiring more clients, he realised that he needed to grow his team. It took him some time to understand how to find the right people, but gradually he understood that by providing one on one interaction and training, he could get employees to work for him.
It is all thanks to Ashwani's relentless dedication towards the company that it has achieved so much success. Today, Ashwani manages a team of skilled internet marketers and works out of a much larger office in Delhi.
The Success That eSign Web Services Has Enjoyed
eSign Web Services has won many awards and achievements over the years for providing exceptional services. The company is certified by SEOcertification.org and is recognized as SEO qualified by Google. In addition, the company is also AdWords qualified and Analytic qualified by Google. eSign Web Services was featured in the Consultant's Review 2016 and Insight Success 2017.
Apart from these, Ashwani has also been recognized as the SiliconIndia Consultant of the Year 2017. He was ranked as one of the 10 Best Google Partners to watch in 2017 and was awarded the Most Promising Digital Marketing Consultant in 2016.
Ashwani considers client retention to be one of the primary reasons behind his success. While he loves working on new projects with clients from different industries, repeat clients are what has really helped the company grow. Hardly any client leaves him, and this is what helps his company to be profitable and grow every year. Ashwani also considers clear communication to be another reason for his success. With open and frank communication, he communicates to clients that he can truly help them solve their problems.
Ashwani Kumar Sharma may already be an established entrepreneur with over 12 years of success in internet marketing. However, his entrepreneurial journey is far from over. Currently, he is completely focused on growing his business by at least 200% every year. He has his paths, and his vision clearly sorted out and is completely focused on his goals.
Ashwani is living his dream as an entrepreneur, and his story will hopefully inspire several budding entrepreneurs out there.