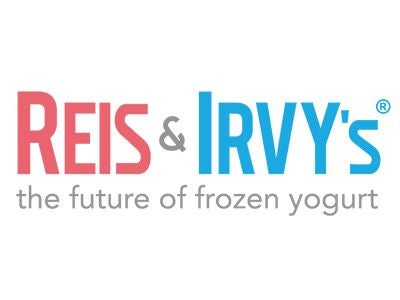 Reis and Irvy's FroYo Kiosk
The Reis & Irvy's kiosk is the first fully robotic vending machine for the frozen yogurt market. This highly-advanced kiosk offers consumers six healthy, premium frozen yogurt options and nine topping choices.
Startup Costs: $140,000 - $280,000
Can be operated from home: Yes
Can be run part-time: Yes
Fresh. Fun. On Demand.
Looking for a franchise opportunity that's a guaranteed hit with consumers?

For the first time in history, robotic technology meets frozen yogurt franchising! High-tech, robotic vending will quickly outpace less efficient trends in the frozen yogurt industry, making it even easier to access this unique market. With exclusive new patents, Reis & Irvy's is at the forefront of this revolution, reinventing the business of frozen yogurt. This innovative technology is also an entertaining attraction, generating buzz and profits at almost any high traffic location!
Requiring only a fraction of the investment, labor, and overhead of a retail storefront, the Reis & Irvy's frozen yogurt kiosk makes it easy to succeed. Mitigate risk and optimize profits via our tried-and-true infrastructure, while your automated unit practically runs itself. We do the work of securing viable locations in your area, installing your units, and shipping your consumables. You simply re-stock supplies, and the robot does the rest!
A Franchise opportunity like no other!
Small business owners and entrepreneurs today have greater barriers to entry and higher operating costs than ever before. Let us help you start your own business at a much lower investment level than you ever thought possible! There has never been a better moment to own your own frozen yogurt franchise and Reis & Irvy's provides the perfect formula:
Small footprint + low overhead = high margins

Here are just a few of the advantages:
Occupies only 12 square feet of floor space
Interactive touch screen for customized ordering
Offers customers a selection of 9 flavors and 6 toppings
Product delivery in 60 seconds
Operates 24/7 with no labor costs
Backed by a proven franchise infrastructure
Exclusive patents ensure no competition in this market space
Entertainment factor builds consumer loyalty
Reis & Irvy's frozen yogurt kiosks are selling fast and our location procurement teams are actively sourcing and securing high traffic, high volume locations in your area. The time is now! Perfect for malls, hospitals, QSR's, schools, colleges, supermarkets, movie theaters, theme parks, and tourist attractions … you name it! You can probably think of several locations right in your own neighborhood. Our teams are already in place to support your venture, but the question is "Are YOU ready?"
Maximize profits per square foot with this compact, high-tech frozen yogurt kiosk. Be among the first franchisees to bring this exclusive, patented new technology to market. Watch the magic!
This information is not intended as an offer to sell, or the solicitation of an offer to buy, a franchise. It is for information purposes only. No Reis and Irvy's franchises will be sold to any resident of any state until the offering has been exempted from the requirements of, or duly registered in and declared effective by, such state and the required FDD (if any) has been delivered to the prospective franchisee before the sale in compliance with applicable law. Currently, the following states in the United States regulate the offer and sale of franchises: California, Hawaii, Illinois, Indiana, Maryland, Michigan, Minnesota, New York, North Dakota, Oregon, Rhode Island, South Dakota, Virginia, Washington, and Wisconsin. If you reside in one of these states, or even if you reside elsewhere, you may have certain rights under applicable franchise laws or regulations.