Jack Sparks is a Mosquito Joe franchisee operating in North Atlanta. With a background in banking and the yearning desire to own his own business, he purchased his Mosquito Joe franchise in 2015. Get a glimpse into Jack's story and why Mosquito Joe has proven to be a successful business for he and his family.
Introduction
Make your dream of business ownership with the freedom to spend more time with your family a reality by becoming a Mosquito Joe franchise partner.
The mosquito control industry is a high growth market, and Mosquito Joe has emerged as an industry leader with strong branding, best-in-class systems, and ability to grow rapidly nationwide. There's never been a better time to start your own Mosquito Joe franchise and be your own boss than right now!
Start your own business with extensive training and support from an experienced team with a track record in building highly successful national brands that are now "household names." Mosquito Joe provides a service that improves the quality of life for people in your community by allowing them to enjoy their yards and eliminating the worry of mosquitoes, fleas, and ticks. Mosquito Joe offers a tremendous opportunity for those looking to build a successful and lasting business as a recognized leader in the booming $11.4 billion pest control industry.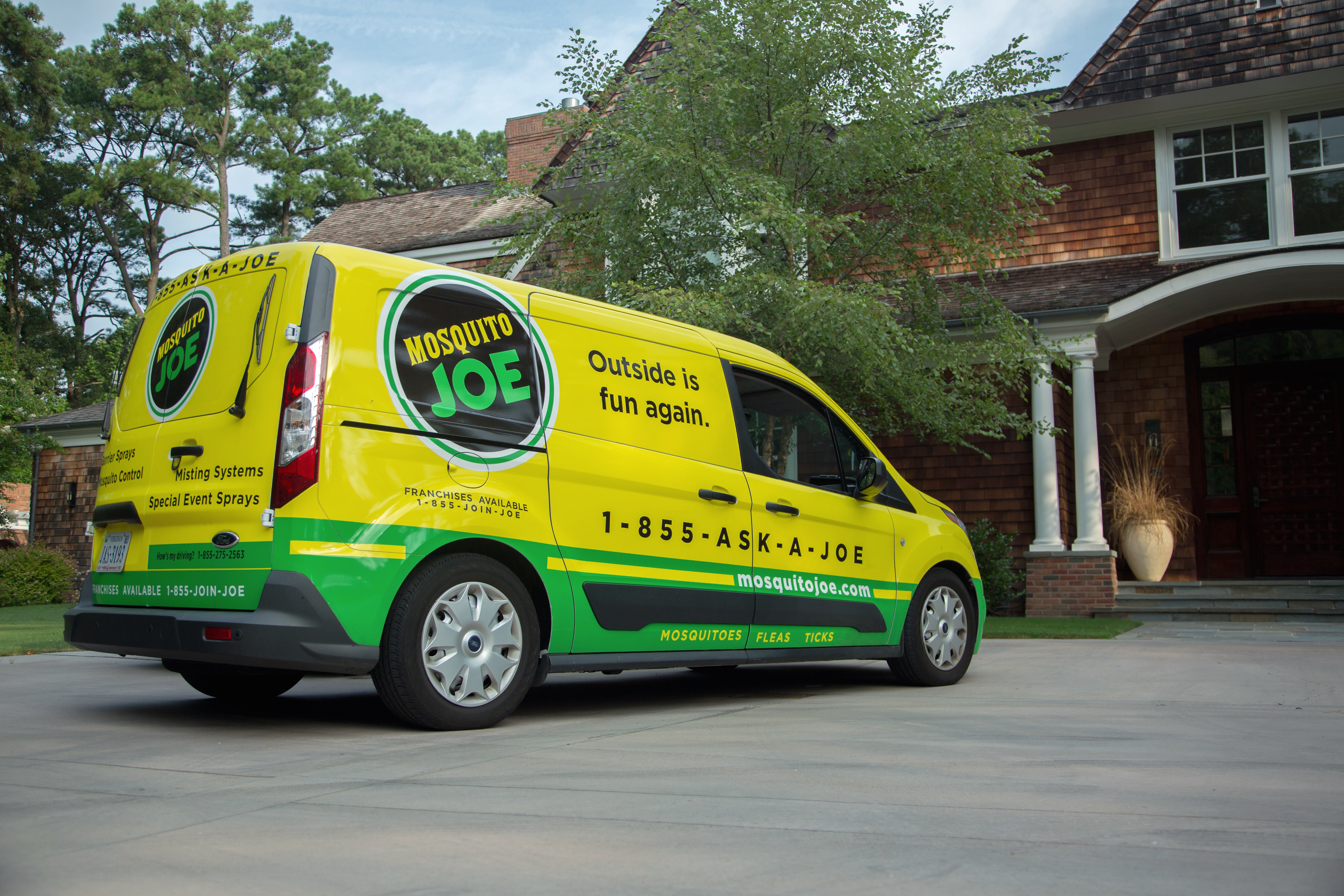 Top 10 Reasons Why Mosquito Joe is the Right Business Investment
As one of the hottest new franchise opportunities in America, successful individuals like you choose Mosquito Joe for business ownership for various reasons:
Exploding outdoor pest control market driven by an increased concern surrounding mosquito-borne illnesses
Low investment opportunity
Extensive training and support
National call center support
$2,500 discount for Veterans & Hometown Heroes, SBA Approved
Home-based business offers personal, professional, and financial flexibility
Recurring revenue business offers long-range profit potential
Best branding in the industry makes Mosquito Joe inherently recognizable and memorable
State-of-the-art customer service and back office management system
Well funded franchisor poised for rapid growth nationwide
Ideal Candidates want to make outside fun gain.
The Mosquito Joe franchise opportunity is unlike any other business opportunity. Mosquito Joe is a world-class franchise company, building a household name market by market. We are talking to motivated people to operate Mosquito Joe businesses across the country. If you are looking for an add-on or full-time business, seize your territory today and take control of your future.
This is a great opportunity for someone looking to add a home-based or seasonal business to their portfolio as well as someone with home services experience looking to serve their community.
Potential candidates must have a minimum liquid capital of $30,000.
If the Mosquito Joe franchise opportunity sounds like the one for you, we'd like to hear from you by submitting the form on this page.

Franchise Testimonials
"I love having my own office in my own home. I love the hours because they're my own hours and I can work whenever I need to; and it's mobile - with a cell phone and a computer you can run the business from pretty much anywhere."
- Melissa Godwin, Mosquito Joe of Baltimore and Mosquito Joe of Annapolis
"I always wanted to own a business and when my wife and I found Mosquito Joe, we saw incredible potential. Our plan was to work hard running the business on the side so that I would eventually be able to quit my job and run Mosquito Joe full-time. I was ecstatic when that day came a year earlier than planned, exceeding my expectations for the growth and success of our business."
- Brad Simon, Mosquito Joe of Arkansas
"I was looking for an opportunity to be in business for myself and fell in love with the Mosquito Joe concept, from the service it provides to the branding it offers and the people running the franchise system. The business model is easy to understand and execute and the web-based software allows you flexibility to manage on the go."
- Chris Cookman, Mosquito Joe of Macon-South Atlanta