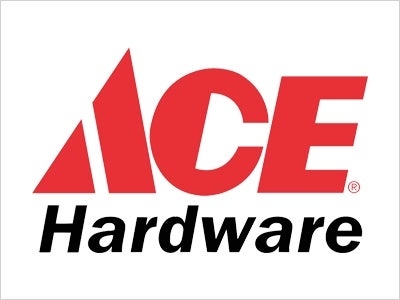 Ace Hardware
We're looking for qualified people who want to own their own Ace Hardware store--or even a chain of stores, and we have an exciting new, exclusive incentive package for qualified candidates in the lucrative home improvement and hardware industry.
Startup Costs: $400,000 - $1,100,000
Can be operated from home: Yes
Financing Available: Yes
Can be run part-time: Yes
Founded in Chicago in 1924, Ace Hardware Corporation has grown to become America's neighborhood hardware retailer. Over the years, we've built the brand from a small group of hardware stores to a network of more than 4,800 locations across the globe.
An independent marketing study confirmed that the Ace Hardware name is one of the most widely recognized trademarks in America. "Ace... The Helpful Place" is the most recognized slogan in the home-improvement industry (The Gallup Organization, October 2003). And today, consumers rely heavily on the helpful advice and product choices they get at their neighborhood stores.
We continue to grow because of the level of service we provide our customers. Backed by a state-of-the-art distribution system, dedicated corporate support, and the knowledge and talents of our 80,000 team members, we look forward to upholding and advancing our 80 year tradition of service, solid corporate citizenship and success.
Ace has been America's neighborhood hardware retailer for eight decades. Throughout the decades - through booms and busts, war and peace, fads and legitimate breakthroughs - we've been a cornerstone of neighborhood commerce. Today, the opportunity has never been greater. The "do-it-yourself" market is thriving. And Ace Hardware remains poised to serve and thrive, as well.
Build your future on a strong foundation.

Today, Ace retailers have built their annual retail sales to more than $13 billion. And the future looks bright. The hardware industry is not only stable, it's expanding. America is fast becoming a nation of do-it-yourselfers. Just take a look at your local TV listings, brimming with home-improvement programming.
What's more, studies indicate that home-improvement sales will grow at 5.2 percent over the next five years (source: Do it Yourself Retailing Nov. 2003). And according to a 2003 Yankelovich research study, "shifts in America's age distribution will favor high spending on both remodeling of existing homes and purchases of new homes."
Ace Hardware Franchise Information
There are currently about 4,500 Ace Hardware locations in all 50 US states and more than 60 other countries. For more Ace Hardware franchise information, fill out the form and submit your request today.