It's Time to Take the Chemical-free Route With These Natural Skincare Brands
What's inside your skincare products? Chemicals? Switch to natural ones today!
You're reading Entrepreneur India, an international franchise of Entrepreneur Media.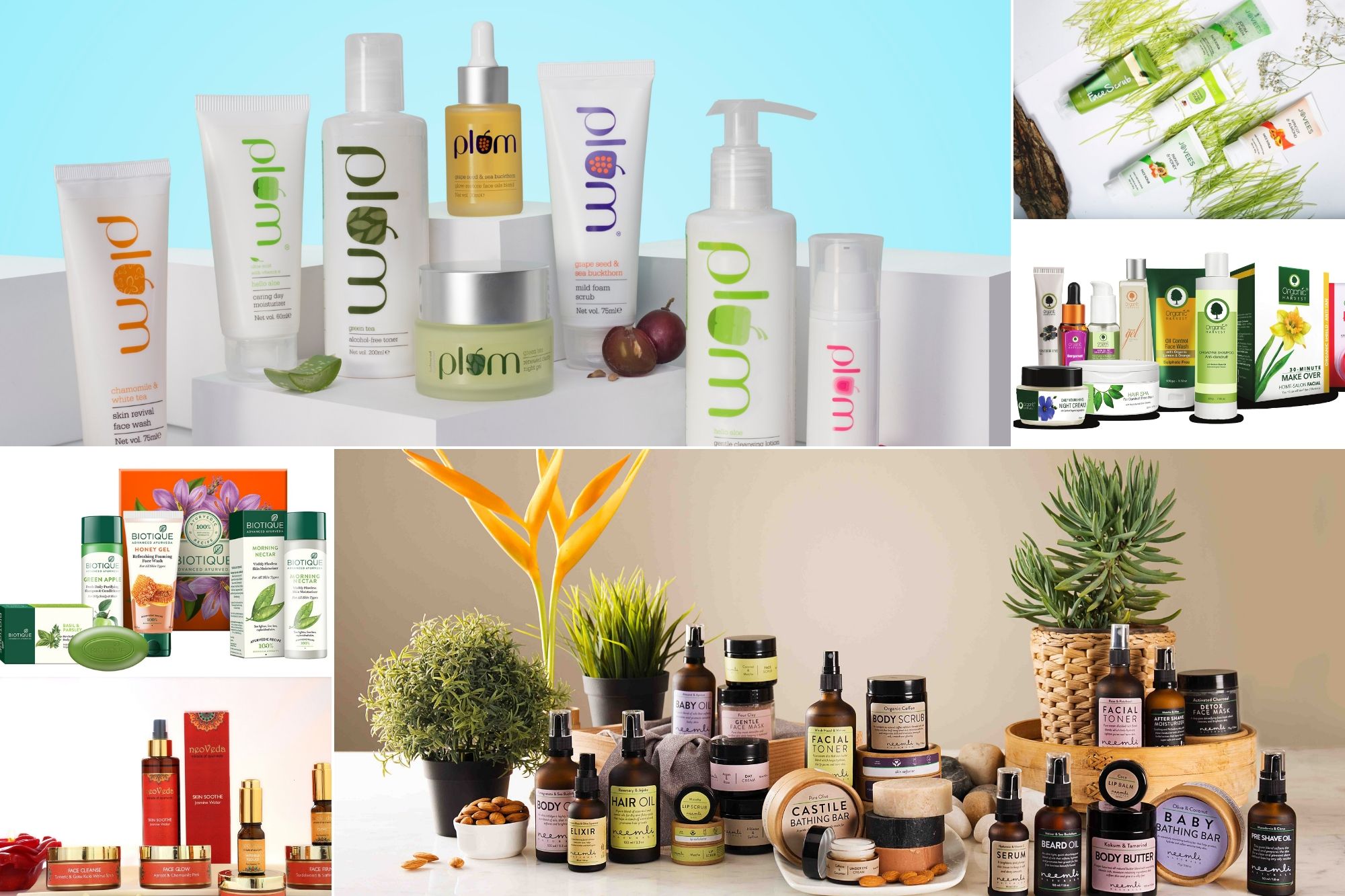 Over the years, people have become more aware of what goes inside their bodies and their skin-care products. Gone are the days when people would blindly apply items on their skin without turning the label to scrutinize its contents. Keeping the consequences in mind, consumers are making more informed decisions with what they use and consume.
Looking presentable while stepping out of the house is an unsaid rule that any societal being cannot escape. Unless one is a hippie, they ensure to use some of the other skin-care product on daily basis to look more confident and youthful. However, using chemical-ridden products regularly could be harmful to one's health and skin.
No amount of false promises, marketing gimmicks and material benefits can now keep a conscious customer associated with a brand against his/her will. Looking at the rising demand for natural skin-care products, hundreds of chemical-free skin-care companies have emerged. While the non-serious ones were bound to shut shop, many were well-received by the customers.
Earlier in the days, Ayur and Himalaya Herbal products were a part of every other Indian household, then came the phase of fancy brands with attractive commercials. As they say, nothing stays forever. The limelight caught by the products made of harmful elements is fading as Indian consumers are maturing. They now understand the relevance of non-toxic beauty.
The beauty & wellness industry has seen a revolution in the last few years. The constant growth of technology, social media outreach and digitalization of the economy has further increased consumer awareness of skincare. The non-toxic products are beneficial in the long run to sustain a balanced lifestyle.
Talking about chemical-free skin-care products, it is important to understand that herbal, natural, organic and ayurvedic products are not the same. While herbal products are made of plant extracts, plant roots, leaves, etc, Ayurveda is medicinal science which includes the use of herbs as well as heavy metals like gold, silver, copper, tin, mercury, sulphur, animal extracts among others. Ayurveda products may contain toxic levels of metals, etc.
Natural products, on the other hand, are made from plants and minerals that occur in nature and have not been produced in a laboratory and are not manmade. While Organic products are also made from natural ingredients but they are grown without the use of chemicals or pesticides. Regardless, let's have a look at the most loved natural skin-care brands from India:
Biotique
Based on 5000-year-old Ayurvedic recipes known to integrate and celebrate body, mind and spirit, Biotique blends therapies with the science of 21st-century biotechnology. The 25-year-old brand was one of the first in the country to promote organic products that encompass 100 per cent natural ingredients and has witnessed the demand of products that encompass natural substances growing first hand.
Talking about the brand's unique selling point, Director Ishaan Jain said, "Biotique products comprises of the authentic formulation of Ayurvedic recipes combined with a Unique Cold Extraction Process to preserve the active ingredients in our products so that it can be effectively absorbed into the skin which makes us unique. All our products are organically pure and preservative free, dermatologically tested for safety with no animal testing involved and have therapeutic properties."
Jovees
One of the oldest and most trusted Ayurveda brands, Jovees use the scientific process to produce the products that help to retain the therapeutic properties of herbs and plant extracts used in our formulations thus offering targeted solutions to the overall wellbeing of skin and hair. The brand understands that every skin type is different and hence, produces products based on a consumer's skin.
According to Jovees' co-founder and business head, Rakesh Misri, the brand's success lies in the competency of their Research & Development team. "The processes used right from procuring the ingredients till the end product is ready RnD minutely watches each process in order to be sure the efficacy of the product is never compromised," he claimed.
Kama
One of the leading natural beauty brands in India, Kama Ayurveda creates authentic Ayurvedic beauty treatments and solutions. Best known for its iconic treatments – Care, Mother Bringadi Intensive Hair Treatment, Kumkumadi Miraculous Beauty Fluid and Kumkumadi Brightening Ayurvedic Face Scrub, the much-loved brand derives wellness solutions from time-tested traditional Ayurvedic prescriptions.
Emphasizing on their philosophy of harmony between the physical, mental and spiritual entities, the Kama spokesperson stated, "All our treatments are a 100% natural, vegetarian and we use ingredients prepared from organically grown plants or herbs collected from natural habitats. Our visuals aesthetics also play a very important role in brand differentiation."
Lotus
Placed in the league of age-old Himalaya and Ayur Herbals, Lotus has made efforts to establish itself as a new-age brand. The products are a perfect blend of nature and science and combine the best of natural ingredients in a scientific manner to ensure safe yet splendid performance.
"Lotus Herbals has always been an innovative brand be it the latest advances in green chemistry, organic ingredients, sun filter technology, safety as well as clinical studies for efficacy. Lotus Herbals products provide high-quality natural beauty products at a not so steep and outrageous price," stated the brand's director Nitin Passi.
Plum
Touted as India's first 100 per cent vegan beauty brand, Plum comes from the house of Pureplay skin sciences and takes inspiration by the goodness of nature and is driven by the desire to be good & do good. Plum offers safe, effective and ethically produced products, aimed at delivering delight with every use. The brand delivers products ranging from Skincare and cosmetics to body and bath essentials.
The mastermind behind the brand's creation, Shankar Prasad affirms, "The brand's philosophy is "be good", and we define our purpose of doing business as "adding goodness to the world around us". That goodness manifests itself in 100 per cent vegan, cruelty-free, nasties-free products that deliver on what they promise."
Phy
Another product from the house of Pureplay skin sciences, Phy follows the same philosophy has its sister concern with the difference of serving men. Marketed as India's foremost dermatologically-tested, 100 per cent vegan specialist grooming range for men, Phy promises that when a man uses its product, he can be 100 per cent sure that "it's all good".
Brand's founder, Shankar Prasad states, "Phy combines nature-powered actives with the safest science (no parabens, phthalates, sulphates or silicones here!). We truly believe that "good" products are worth the effort and that one size does not fit all," adding, "Phy is a range of smart, conscientious, science-backed, cruelty-free products that are gentle on skin, gentle on the earth, deliver on claims and are delightful to use."
neoVeda
Among the up and coming brand lies neoVeda. Developed with century-old Ayurveda knowledge to give the user a beautiful glow, healthy skin and luscious hair, the PETA certified products are produced without cruelty on animals. Products are designed to balance 3 Bio-Energies known as Vatta, Pitta and Kapha in Ayurveda.
When asked about what makes the brand stand out, the director of neoVeda's parent company, Craft House, The Metropolitan Hotel & Spa, Monisha Gupta said, "Our products are formulated with high-performing antioxidants, naturally occurring vitamins and essential oils to give your skin maximum benefits. neoVeda focuses on ultimate potency, absolute freshness, and complete purity!"
Organic Harvest
Another of the emerging brands, Organic Harvest specializes in hair care, body care and skin care products that are safe and highly effective. The brand uses raw materials that are certified by Global organizations like EcoCert and OneCert Nature. Every product from Organic Harvest is reportedly carefully conceived using eco-friendly practices and going the extra miles of being respectful of the earth.
Company's CEO Rahul Agarwal believes, "Organic Harvest embraces the organic power of plants and its botanical extracts are grown without the use of chemicals and pesticides in them combined with other organic ingredients. All the Organic Harvest products are completely organic and are highly effective and safe."
Neemli
The homegrown skincare startup was established with the idea of introducing people to products that give immediate results with long-term benefits. Their line of skincare is sustainably sourced, environmentally friendly, safe and most importantly, effective. The ingredients are scientifically proven with an emphasis on being organic and cruelty-free with no compromises on quality.
According to the founders of Neemli Naturals, Asimah Mirza and Bhaskara Seth, "Every Neemli Naturals product is of the highest quality small artisanal batches that truly deliver. Being a small family run enterprise we are always open to talk with our customers individually and get to know the root of their problem."