The Reasons For and Against Joining a Co-Working Space
Franchise Your Business
Schedule a FREE one-on-one session with one of our Franchise Advisors today and we'll help you start building your franchise organization.
4 min read
Opinions expressed by Entrepreneur contributors are their own.
Editor's Note:This post culminates our two-month-long series on co-working spaces. Stay tuned to YoungEntrepreneur.com, as we tackle other relevant topics for startups and young entrepreneurs.
In our two-month-long series on co-working, we gave young entrepreneurs an inside look at a bevy of co-working spaces in New York City. And we asked entrepreneurial experts to chime in on what to consider when weighing co-working spaces, as well as how to nab a coveted spot at these in-demand spaces.
Still, a collaborative-work environment isn't for everyone. Before you decide to take the leap into co-working, consider the pros and cons:
Pros:
Lower Costs
If you enjoy the convenience that state-of-the-art offices offer but don't have the cash to pay for it, a co-working space may be the solution. You'll have access to copiers/scanners, fax machines and possibly freelancers willing to perform helpful tasks. Because it is a shared environment, the costs will be far less than a private office. You also won't be forced to sign long leases and you'll maintain freedom and flexibility.
Accountability
Because you really have no one to answer to but yourself, one of the hardest parts of being self-employed is finding the motivation to get started with your day. Sometimes, having other people around helps to keep your inspiration and enthusiasm high. By sharing your plans and goals with others, you'll be held accountable for your startup's progress.
Networking
You can never make too many connections while you're building your business. What better place to construct a solid network than a communal work environment? Besides being around other self-starters, many co-working spaces provide access to venture capitalists, angel investors and professionals, like lawyers. Who knows? Maybe you'll discover your next colleague while having a coffee in the break room or land your first investment.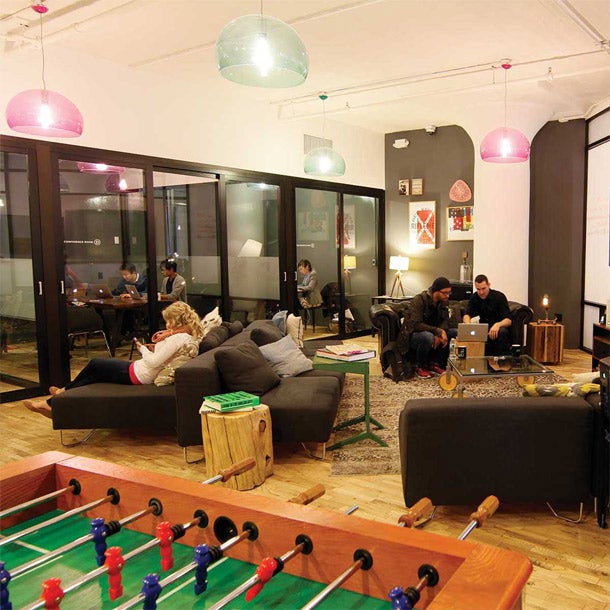 Related: A Look Inside the Coolest Co-Working Spaces in New York City (Slideshow)
Community spirit
Not only is working by yourself often tiring, eventually you may be struck with downright loneliness. Even if you're a bit of an introvert, all of us are social creatures at heart and enjoy some camaraderie. We look to others to share our victories, discuss our defeats and take in advice. What better place to cultivate the entrepreneurial spirit than with other like-minded people?
Creativity
Sometimes, it can take an extensive amount of time and energy to figure out solutions to our problems. By being in a collaborative work environment, you can reach out to other entrepreneurs to get their advice. Often times, they will have experienced a similar issue and may offer a creative solution or practical suggestions.
Related: AlleyNYC Founder on Running a Co-Working Space
Cons:
Distractions
A co-working space is supposed to increase productivity -- it's not an excuse to watch hilarious clips online or have nuanced conversations about last night's basketball game. Remember, you're there to work. Keep the socializing to your scheduled breaks. If you find yourself continually being easily distracted, it may be time to return to the home office.
Conflicts
It's only natural that disputes will arise occasionally when sharing space with others. Hopefully, you'll settle in with a quality group that generates positive energy. When conflicts appear, settle the dispute politely and maturely.
Competition
It is possible that you'll find yourself in direct competition with someone sharing your co-working space, and it can be a bit uncomfortable. Stay focused on what you want to achieve and keep your cards close to your chest. If you can, try to turn a potential competitor into your ally. If you're both talented and have similar goals, maybe the best way forward is to put your heads together.
Related: Can Start-Up Incubators Really Help You?
Cost
Even though the cost to rent a desk at a co-working space is substantially lower than signing a long-term lease, it can still be expensive. Forking over between $300 and $500 a month may not be possible, especially for entrepreneurs bootstrapping their startup or just starting out. Make sure you take into account this additional monthly expense before signing up for a spot.
While working in a co-working space can provide numerous benefits, make sure you carefully consider drawbacks before jumping on board.
What other pros and cons have you found from joining a co-working space? Share your experience in the comment section.