9 Ways How Solopreneurs Can Do Better at Networking Events
How it happens and why it should be done we tell you all about networking in events.
Opinions expressed by Entrepreneur contributors are their own.
You're reading Entrepreneur India, an international franchise of Entrepreneur Media.
As solopreneurs, our lives could get a little monotonous and lonely at times. Working on business ideas we developed, marketing it and implementing it all by ourselves, can get into our nerves on certain days.
You are looking at putting the word out about your business and expanding it to newer horizons. This is where networking helps miraculously in generating leads and making lives easier for you. Going out and talking to real people can do wonders to you and your business. Some might assume that their businesses are yet at a nascent stage and not ready for people to know about. You are wrong there; you need to credit yourself more for what you are doing. Let others know about your business and judge for themselves. Listen to what others in your network have to say and how they do what they do. This might help you see fresh approaches to your business and the market in general.
Yes, social media networking plays a big role in the industry today. But nothing works as great as a real-time human connection. This is why networking in real life with relevant people can be a significant milestone in your solopreneur journey. Networking events are excellent opportunities to meet new clients and business associates. However, the norms of networking in such events are a little trickier than general networking. There are many minute details that you have to be careful about, along with a few pre-preparations that goes into it. All this pain is absolutely worth it once you see the dividends of networking come in gradually over time.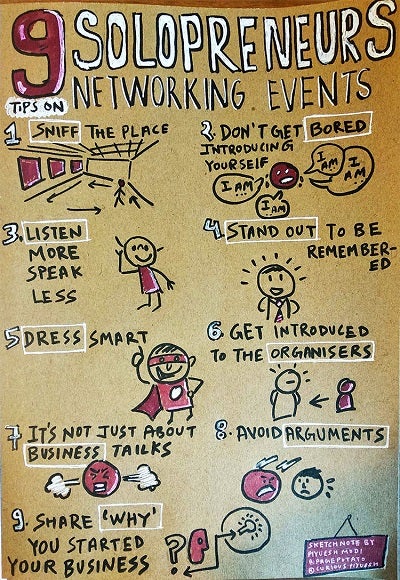 Is networking in events for your business as a solopreneur giving you the creeps? Don't worry, it's a pretty small effort when you compare it to the hurdles and joys as a solopreneur. I have it all covered for you, with pointers from my own experience.
Sniff the ambiance of the place you are at- Some events are more serious than the other. It's very important to understand the vibe of the place you are at before you make your next move. For example, some events might have entrepreneurs of a different age or a certain different temperament. They wouldn't take a joke well, that would have otherwise worked for Millennial solopreneurs.Take a casual walk of the room, overhear what people are discussing and their body language. This will give you insights into what might work and what might not.
 
Don't get bored from introducing yourself- Networking events are about talking and talking to new people and yes it is true that every time you will need to introduce yourself. Make up your mind that you will be repeating the same stuff related to your introduction each time you hand shake with a new person. Everyone does that and there is no escape. Don't feel redundant instead get your brain in an acceptance mode.
 
Listening not hearing works better than talking- Ask the right questions and wait for the other person to talk. It makes the other person feel valued and boosts his/her temperament. This will impact your future relationships with the person. Additionally, by listening, you get to learn more from someone else's experience without investing the effort. But, always make sure to ask valid questions with How's and Why's and not the obvious What's. Also, let the other person know with your valuable fillers in between, that you are actually listening to him/her.
 
Make yourself worthy of being remembered afterward- It's important to note that there are others at the event who are trying to do the same thing as you. What reason are you giving people to remember you out of the crowd? It could be your smart dressing or that very relevant yet funny joke you cracked. I have personally seen, my stories related to my business experiences, helps them remember me.
 
Dressing sharp plays a big role- People notice how you dress in networking events. It's important to again, understand the vibe of the event, before you decide on your dressing. I have personally seen, some events are casual and some aren't. Wearing jeans and a tee will work in the former and can be a turn off in the later. Make sure, your dressing matches your personality and the way you see your business. I remember meeting a social entrepreneur, who was dressed in a linen shirt the first time we met. It certainly left a good mark on my mind!
 
Talk to the organizer- They are extremely resourceful people and have a big network. Make sure that you reach out to them, hand shake, appreciate their event organizing skills and try making friends with them. If you can connect with them, many new doors will open for your business and PR opportunities.
 
All your conversations don't have to revolve around your business idea- People who don't know you and your business closely, would not appreciate it being thrown at their faces directly. At least, that is not the case with most people. Talk about different aspects of your business or how you are doing things differently at work. These are very subtle ways to get the other person interested in you and your business. For example, I discussed how my team, back in India has started to do craft activities during their breaks. These are unique things that set you apart in the crowd.
 
Avoid arguments- Events are for networking with the right people and leaving the right impression. Don't confuse this with winning or losing an argument to make your point and get noticed. Try to settle arguments and choose selectively what points you want to stand for. Remember, people have the right to have their own opinions.
 
Prioritize on the "Why" aspect of your business idea- And finally, you are talking about your business idea to different people at the event. Make sure you talk more about "Why" you did a certain thing a certain way. This will tell your audience your understanding of the market and how you look at fulfilling a gap. Build a story, well before the event, about why you started it and your reasons for your big business idea. People at events would be interested to know why you connected your passion with your vision for your business.