Rewriting Your Story: What To Do When The Meaning We Give To Things Is Unhelpful
As we go through life, it's vitally important that we evolve, change, adapt, and improve our thinking to achieve the life we want.
Opinions expressed by Entrepreneur contributors are their own.
You're reading Entrepreneur Middle East, an international franchise of Entrepreneur Media.
It often fascinates me how we all have our own truth, understanding, thoughts, and feelings. We can give meaning to pretty much anything in our life. Our own understanding is the truth and belief we stand under, and it is what governs our mind and our disposition. Our meanings determine how we feel and fundamentally decide our actions and choices.
If we have a skewed meaning of something, often something attached to a pattern of behavior or a recurring situation in our lives that makes us think and feel a certain way, we can fall into difficulty. If we are not careful, we can fall into the trap of self-sabotage, where we disqualify ourselves from taking action, or embracing a newfound position.
We may do this, because the meaning we assign towards something -for example, more responsibility or a new opportunity- could be attached to a belief that we don't think we are good enough, or that we aren't able to receive such a position. Often, these beliefs derive from our childhood or previous life experiences– a thought, a remark, a letdown, or being told as a child we that we would never amount to much.
As we go through life, it's vitally important that we evolve, change, adapt, and improve our thinking to achieve the life we want. To do this, we need to pause and examine the meaning we give to things and see if they are in fact true, positive, pure, accurate, helpful, uplifting, or self-serving. This might occur within situations, relationships, patterns, thoughts, or our own personal everyday understanding of things.
The question thus becomes: how do we assign new meaning to things?
And the answer lies in simply rewriting our stories.
To understand how we can go about doing this, I spoke with Moira Ni Ghallachoir, a speakers' coach who helps individuals build lifestyle businesses from public speaking. She also helps people change the meaning they give to things through their storytelling and messages, thereby helping them make better decisions and reach their goals. Excerpts from my conversation with Moira: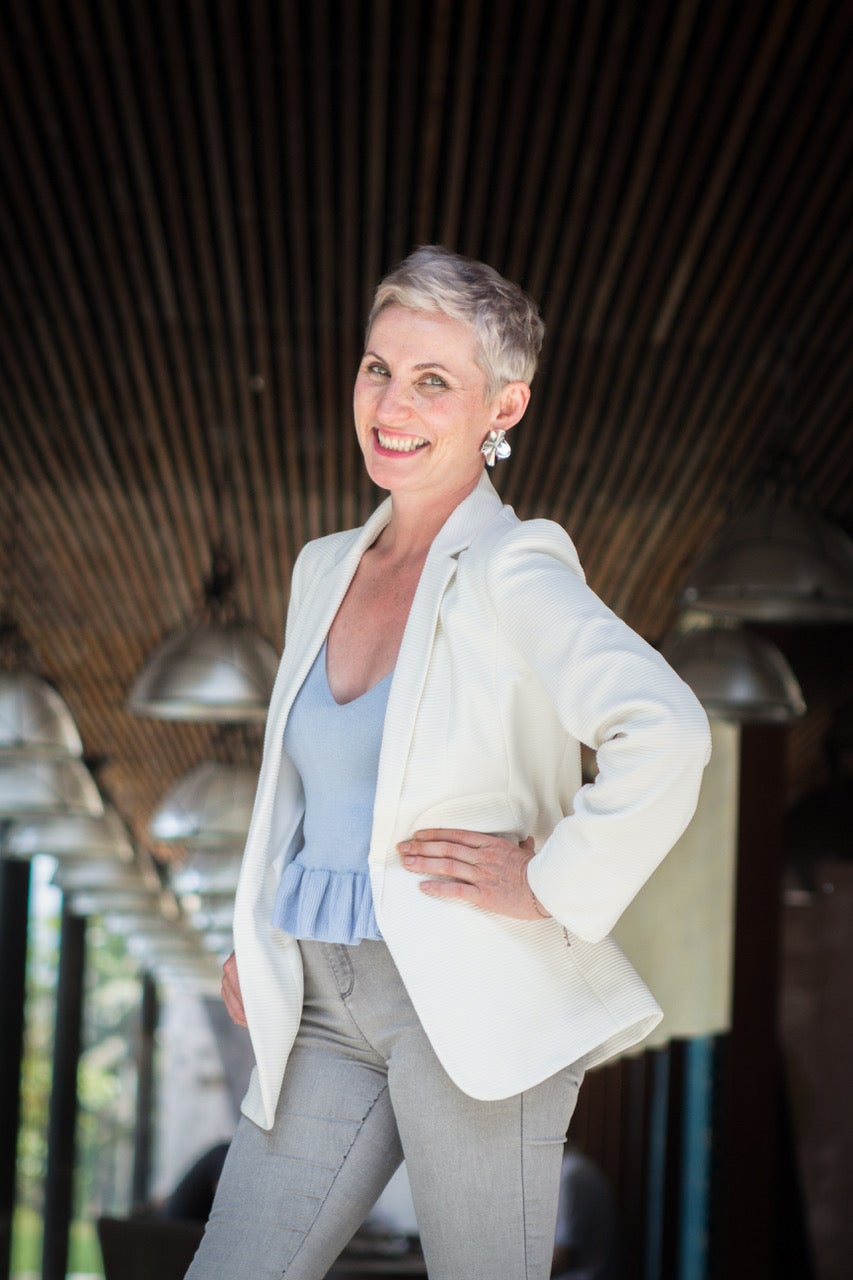 Moira Ni Ghallachoir, speakers' coach. Source: Mark Sephton
Moira, why do you believe it's critical that the meaning we give to things needs to be evaluated periodically in order to keep moving the needle forward and grow in our self-leadership?
As "meaning-making machines" who are rapidly changing and evolving, clearing outdated ideas that prevent us from growing and leading is essential to our growth and self-leadership. Most, if not all, of the meaning we give to things growing up supports who we fundamentally want to become. The stories we were led to believe growing up, and the way we were shaped by formal education requires much unlearning to create success in our adult lives. If we are to grow, we must evaluate the meaning we give to experiences and circumstances with self-reflection, so we can give new meaning that supports our purpose. That's why sharing our message, our stories, is important, because witnessing real regular people achieving the extraordinary is what truly moves the needle forward.
Related: Stuck In Over-Analysis? Here's How You Can Find Your Sweet Spot (And Stay In The Present Moment)
How do we change the meaning we give to things in our life?
Stories help us form new meaning and the sense we make of things. I think we change fastest by seeing examples of people who view the world differently. This gives us a new frame and brings a deeper sense of possibility and meaning to our mission in life. We are hardwired for stories. How we think and all we experience is formed into a story in some way or another. So, we need to form new narratives that support our purpose in life. Stories are where the meaning we give things came from in the first place, and how new meaning is created. I find it particularly valuable, for example, gathering people together in a group and having them share their experiences, and then seeing the impact it has on people, as well as the meaning they hear. That instantly shifts perspectives, and it creates a new frame from which we can change the meaning we give to things in life.
Through your speaking school and coaching, how are you helping speakers transition to make better decisions and reach their goals?
Most people say they have goals, but they don't truly believe they can achieve them, or really have the desire to achieve them. That's often because they're undercharging for their work, because they are undervaluing the transformation they bring to the table. This can cause them to sabotage their success, because achieving their goals will require more work, and they're already exhausted and overworked with what they have on their plate, because they're undercharging. And they don't even realize this is why they're not reaching their goals.
I help them understand their true value and price it accordingly, not just for them, but also so the people they work with are more invested and committed to doing the work they need to get the results. Once a client recognizes the real value of the transformation they offer, they shift from a time-for-money mentality, which they learned being employees to value-based delivery and pricing, which then gives them the bandwidth to grow faster and become more profitable. It makes them realize how rapidly they can reach their goals, decide to play a bigger game, be seen more, be heard more, and make better, faster decisions on what they need to do to create the transformation. Success then becomes inevitable.
If an entrepreneur came to you with the belief that they didn't have a voice, or nobody really wanted to hear what they had to say, how would you help address the meaning and emotion behind this limiting belief?
This is about recognizing their own value, because the true meaning of entrepreneurship is discovering something inside yourself versus outside of yourself, like an app or an invention- that's the old meaning. I encourage clients to consider "why" they feel that way, and "why" they want to share their message and story with the world. This helps take the focus off them, and more on the transformation they're bringing. This gives a whole new meaning as to why they need to share their message and story, and it allows them to see where their real value lies. This then brings more purpose to their work, crystallizing what will become possible if they do, which creates massive momentum. They become more driven by the desire to make that happen, which replaces the beliefs that held them back, so they can get on a path to fulfilling their mission, and letting the world know they exist.
Can you share an example of when you changed your meaning towards something, and it had an upturn in events for you?
Growing up, I was led to believe that speaking was only for people of authority. That came from always being told to "shut up" or "stop talking" when I was a child. I made that mean that using my voice was wrong, and that people would not listen. So, when I started my business, I had so much resistance to speaking, but I knew that leaders speak, so I had to change something. I realized it wasn't that you had to be an authority figure to speak, but rather that's how you become an authority in your field. That shift gave me the will to realize that speaking was non-negotiable if I wanted to grow a successful business, and it turned out to be my biggest gift. It helped me reach thousands of people that would never have known I existed.
Related: Why Alignment Is So Important To A Life Of Fulfilment