Startup Spotlight: UK-Based Clutch Space Systems Wants To Offer Its Solutions (And Contribute) To The UAE's Space-Related Endeavors
"We see our location in the UAE as critical to our future success."
Opinions expressed by Entrepreneur contributors are their own.
You're reading Entrepreneur Middle East, an international franchise of Entrepreneur Media.
This article is part of an ongoing series covering startups that have been a part of the Mohammed Bin Rashid Innovation Fund (MBRIF) accelerator program.
Built upon the belief that software-designed systems can bring economic and technical advantages to space operations, Clutch Space Systems (Clutch Space) was created in 2018 in the English county of Surrey. "Our systems are a revolution in satellite communications, with massive capacity compared to traditional reflector dishes," says Martin Philp, co-founder and CEO of Clutch Space. "They are also designed to complement and enhance current ground-station-as-a-service (GSaaS) providers network with additional capacity at existing sites, and enhance coverage by filling in gaps between their established ground stations. Our services also include ground station services and developing systems- including those meant for commercial satellite operations."
Clutch Space, therefore, has two offerings-services catered towards satellite communications, and software systems targeted towards the ground segment of space. "We have three sources of revenue: services on a subscription basis, services on a project basis, and systems sales," Philp adds.
The focus of this story, however, is on the startup's software systems.
Martin Philp, co-founder and CEO, Clutch Space Systems. Source: Clutch Space Systems
But to understand them, one would first need a breakdown of the landscape Clutch Space operates in. For starters, it is important to know that most artificial satellites -used for telecommunication, meteorology, and astronomy, among other things- are launched into low earth orbit (LEO), which is at an altitude of 2,000km or less. Within the space industry, LEO happens to be the lowest altitude a spacecraft must reach in order to orbit the earth. But when it comes to the operations behind artificial satellite systems, there are three clearly demarcated areas: ground segment, space segment, and user segment. Ground stations, you will find, are the main base for parabolic antennas -also known as reflector dishes- that exchange electromagnetic waves with LEO satellites. It is in this ground segment -an increasingly growing market expected to be valued at US$78 billion by 2031, as per global consulting firm Euroconsult- that Clutch Space primarily operates in. "We are concerned with the rush to commercialize the space industry, particularly because organizations with limited experience of operating in the space environment have a mentality of 'fail fast and move on,'" Philp explains. "The consequences of such an approach are greater than merely financial ones. Essentially, the operational model for satellites in LEO is unfit for current and future purposes due to limitations in capacity, availability, and cost. For new space companies, contact time between operator and spacecraft is as low as 10% of the mission lifetime."
Aigul Anarbayeva, co-founder, Clutch Space Systems, Source: Clutch Space Systems
What Philp and his team deem "unfit" in contemporary LEO satellites has a lot to do with the dependence on hardware solutions. And although the cost of building and deploying LEO satellites has decreased over the years, it still requires sufficient capital expenditure to maintain and scale ground stations. In its quest to address these issues, Clutch Space has therefore come up with a software-designed GSaaS solution that is functionally compatible with most known legacy hardware units, so that it can be seamlessly integrated into an existing ground station setup. This not only ensures high performance communication, but also allows for an optimal reuse of equipment that is already installed, thereby reducing costs and increasing capacity.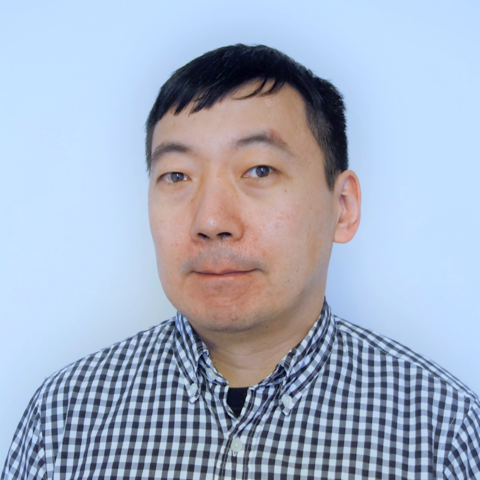 Vladimir Ten, co-founder, Clutch Space Systems. Source: Clutch Space Systems
Plus, it is an offering that Philp and his team believe will greatly benefit the space industry. "Since we design from first principles, we take a very different view to most in the industry," Philp explains. "We have found this delivers the foundational changes necessary to support the vast quantities and diverse demands that we are only just beginning to see in the space industry. For example, we have re-approached the reflector dish for LEO operations- a design which has single satellite capacity, and had been used since [the time of] Russian cosmonaut Yuri Gargarin, who was the first person to go to outer space, and American astronaut Alan Shepherd. It is usually expensive to build and locate; however, with our own digital phased array system, we have been able to significantly reduce the form factor and cost, all while massively increasing the capacity from one to 20 satellites simultaneously."
Clutch Space, however, is only on the cusp of launching its software systems into the global market. Having used revenues generated through its services to fund its research and development, the team has spent the last few years fine-tuning its solutions. And now, Philps says, they are ready to dream big. "We are coming to the market for two reasons: first is to obviously gain traction for the systems and services we provide, but to also raise funds for developing for the scale we are seeing in the demands for our systems and services," he adds. "Our scaling from here knows no limits! We have applications at the core of the new space and deep space industries, as they grow into the trillion-dollar industries many are anticipating."
To its credit, the startup has already been making itself known within the space industry. In November 2020, Clutch Space entered into a collaboration with the European Space Agency to install one of its systems for the latter's research related to spacecraft operations and related activities. It will come as no surprise then that Philp hopes to create a buzz in the UAE next- a country that has taken rapid steps towards its space-related missions. For example, through its participation in the MBRIF accelerator program, the Clutch Space team hope to get acquainted with the Mohammed Bin Rashid Space Centre (MBRSC), a Dubai government organization working on multiple UAE space programs including the Emirates Mars Mission and the Emirates Lunar Mission. "We see our location in the UAE as critical to our future success," Philp says. "The location is essential for logistics, production, global operations, as well as our international recruitment. Our aim matches the ambition of the MBRSC, as well as the government of the UAE when it comes to their plans for operating and successfully exploiting opportunities in space."
Related: Unlocking Opportunities: Hope Ventures' General Manager Fajer Saleh Al Pachachi On How Reality Television Show Beban Inspires New Entrepreneurs From The MENA Region