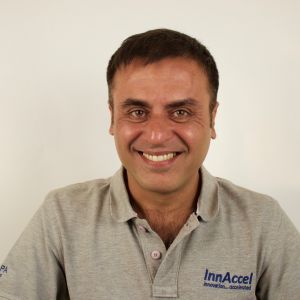 Siraj Dhanani
CEO and Founder of InnAccel Technologies
A veteran in the pharmaceutical industry with around years of experience, Siraj is the Founder & CEO of InnAccel Technologies, a promising MedTech company which is India's only manufacturing platform with a diverse portfolio of innovative, IP-protected, medical devices. His responsibilities in the company include spearheading product development, commercial strategy, team management and financing operations.
After finishing his graduation in B.Pharm from the University of Bombay in 1993, Siraj enrolled for a Master's of Science in Pharmacy Administration at The Ohio State University under President's Fellowship in 1995. He then went on to pursue an MBA from Stern School, New York University where he made it to the Dean's List in the year 2000. Starting his career with a small consulting company in the USA, Siraj's professional journey has been a diverse one. Later, he was associated with some of the largest pharmaceutical companies on Wall Street.
Despite enjoying a very successful career, eventually, he was bitten by the entrepreneurial bug and decided to start something of his own. His first entrepreneurial venture was PharmARC, a knowledge processing outsourcing firm focused on pharma and healthcare verticals. In his role in the company, he was involved in recruiting, team management, project execution as well as sales and client management.
Siraj aims to utilize his profound domain knowledge and rich expertise to establish InnAccel as a globally recognized name in the MedTech industry, offering innovative solutions. He envisions InnAccel as a game-changer in addressing the healthcare needs of India and other emerging markets. By 2025, he plans to bring 20 innovative MedTech devices to the market which will impact 25 million lives.
An adventure enthusiast, Siraj likes to go for a trek in the Himalayas every couple of years. While he hardly gets time off his work, he also enjoys adventure activities like scuba diving and paragliding. In his early years, he used to take part in long-distance runs.
More Authors You Might Like