11 Extravagant Gifts for the Entrepreneur That Has Everything
From a portable hot tub to $2,000 whiskey, check out these high-end gifts that will make your jaw drop.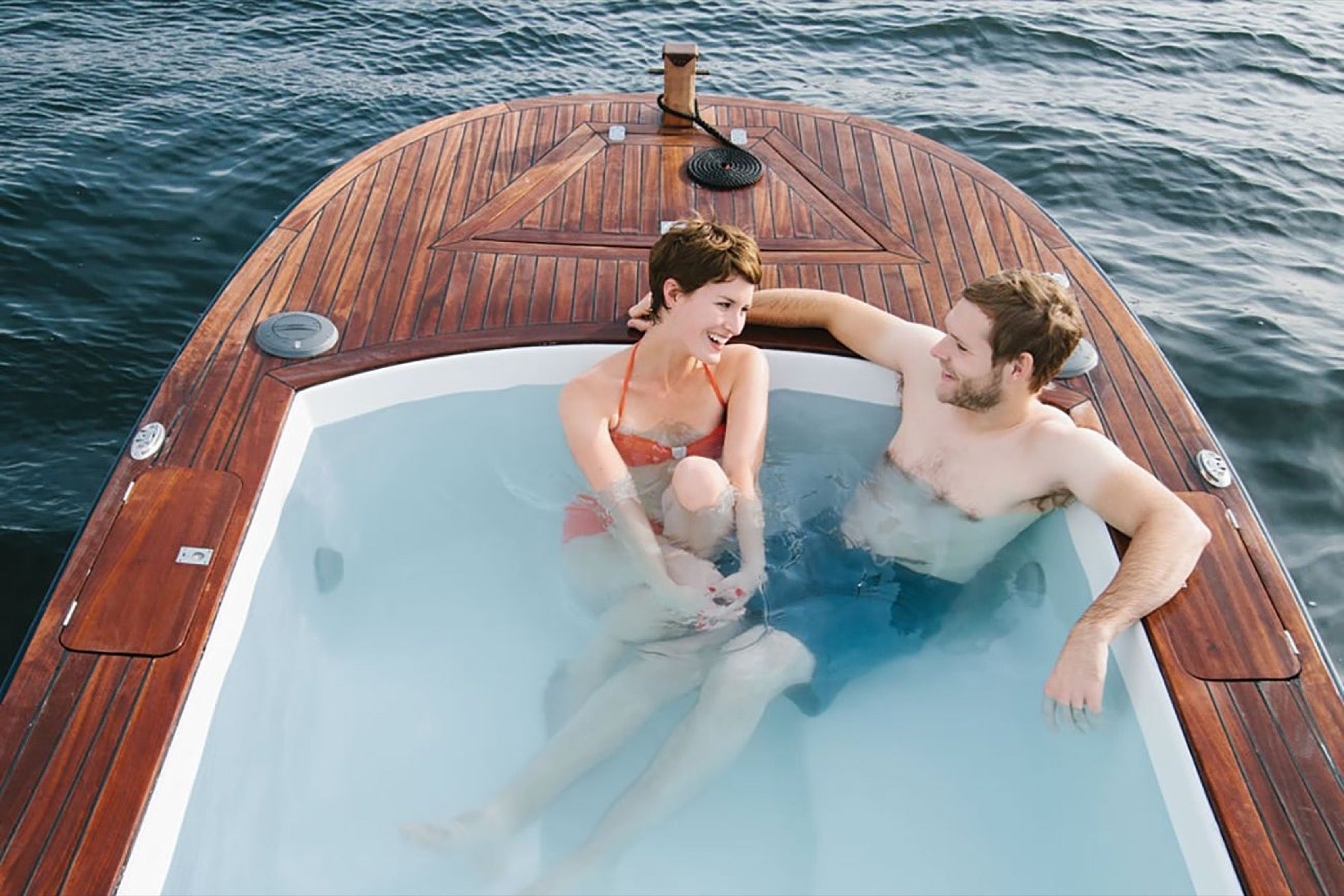 Opinions expressed by Entrepreneur contributors are their own.
For some people, money is no object. Private jets, luxury clothes and expensive wine are just par for the course.
So, if the sky's the limit when it comes to holiday shopping, we've pulled together some of the most elegant, lavish gifts to give that special (and lucky) entrepreneur in your life. From hot tub boats to personal drones -- there's something on this list for everyone.
Here are 11 luxury gifts that will change any entrepreneur's life.
Related: 12 Gifts to Help Stressed Entrepreneurs Relax During the Hectic Holiday Season
Hammacher Schlemmer's relaxing tranquility pod
This space-like pod uses special LED lights and vibrations that will take any stressed-out entrepreneur to a state of utter relaxation. The pod blocks out 90 percent of outside noise, and its four interior speakers connect to your smartphone so you can pick and choose what you hear. The LED lights change colors, and the inside of the pod is a suede, memory-foam mattress that will ensure you get a great night's sleep. Offered by
Hammacher Schlemmer
for a cool $30,000.
Urb-E's foldable innovative scooter
Entrepreneurs are always on the go, whether they are hurrying to a new client meeting or a pitch to investors, running late is never a good look. So how about ditching the traffic jam with a high-end scooter?
Urb-E
presents the world with a foldable electric scooter, that has a 20-mile range, can go up to 15 mph and can recharge in only four hours. It's lightweight and easy to store, making it a convenient and efficient mode of transportation. There are a variety of designs and colors available and prices range from $1,499 to $1,999.
Littlemill's 25-year-old super expensive whiskey
For the passionate entrepreneur who doubles as a whiskey collector, this aged bottle will be sure to keep them warm and cheery all winter. Littlemill's 25-year-old private cellar edition Scotch whiskey is believed to come from Scotland's oldest distillery, before it was permanently close in 2004 due to a fire. With only 250 bottles available this year, the last blend of spirits have been bottled for 25 years and are recognized for their floral nose and vanilla redolence. Recommended for serious collectors and priced just over
$2,000
a bottle.
Raden's high-tech luggage
Being able to charge your phone while you travel, seamlessly make your way through airport check-in and ensure your suitcase doesn't get lost is any entrepreneur's dream. Well, luggage startup Raden is turning this dream into a reality. Unlike other suitcases out there, Raden combines technology with luggage. The suitcases -- available in a variety of sizes and colors -- feature built-in phone chargers, a carrying top that doubles as a weight sensor (no more having to pay any extra fees for overweight bags!) and a location tracker. Through Bluetooth, the user downloads the Raden app and can monitor the weight and location of her suitcases. Lightweight and strong, these bags guarantee a seamless travel experience. Prices vary from $295 to $595.
Related: 11 Awesome Travel Gifts Your Favorite Entrepreneur Doesn't Already Have
Hook and Albert's luxury garment weekender bag
As an entrepreneur who's constantly networking, pitching and meeting new prospective clients, it's important to always dress your best. Sometimes that's hard when you're constantly living out of a suitcase though.
Hook and Albert's weekender
will relieve all of your worries and keep your clothes looking spick and span. The leather bag unzips flat at the seams to reveal a garment bag where you can safely stow your good blazer without it getting wrinkled. The bag comes in black, blue and brown and is priced at $585.
Hammacher Schlemmer's outrageous hot tub boat
Although entrepreneurs are constantly working, they can now take a break from the hustle and bustle and chill out for a second . . . in this hot tub built into a boat deck. Yes, you read that right. We got another fun gift from Hammacher Schlemmer. This
hot tub boat
is not only a great way to de-stress with some open water and scenery, but it can also be the craziest hot tub party ever. With an adjustable thermostat and a built-in waterproof stereo system and ice chests, six bathers can enjoy a nice hot tub boat ride for up to 10 hours. The boat is electric and rechargeable. Get the party started for a mere $42,000.
Google's new Pixel phone
Google's long-awaited
Pixel
smartphone is finally available this holiday season. Perfect for any tech enthusiast or busy entrepreneur, this phone features a built-in Google Assistant, the highest-rated smartphone camera ever, unlimited storage and more. The Pixel starts at $649 and is available online and in-store from a number of wireless retailers.
Oculus' far-out Rift and Touch gear
Hop on the VR bandwagon this holiday season! With virtual reality, you can step into your favorite video game, watch an immersive movie and even "travel" around the world. The magical technology can not only be used for some fun at home but can also be incorporated it into your business as well. Whether you're the founder of an ecommerce site or even an architecture firm, virtual reality has been a proven tactic that helps firms in hiring, online retail and creating new designs. The Rift and Touch start at $798 (can also be purchased separately).
Related: 14 Awesome Holiday Gifts Even Your Boss Will Love
Mavic Pro's cool drone
Although there's been some controversy over the years, drones can actually be helpful tools for entrepreneurs looking to bump up their business aesthetics. The Mavic Pro is a portable, yet powerful personal drone that has a 4.3-mile radius, four vision sensors and a camera controlled by the owner. It can fly for up to 27 minutes -- nearly twice as long as your typical drones today. Take some aerial shots of your product or service with the Mavis Pro, or take a peek at areas unable seen by the human eye and post to your company's website. The
Mavic Pro
is priced at $999.
Human Touch's high-end massage chair
Stress is an inevitable factor in an entrepreneur's life. But often, the person doesn't have time to head over to the spa for a professional massage. This massage chair brings the luxurious experience home. From
Human Touch
,
this upscale massage chair incorporates techniques from massage professionals to relax and restore a person's body. The chair can target tricky areas upon request, features a foot and calf massager and heating units throughout. The chair will set you back $3,299.
Sonos' divine surround sound package
Deck out your home or office in music this holiday season with
Sonos' wireless 5.1 surround sound package
. It lets you play different songs in different rooms (or the same song), and can also double as a surround sound system for your television. It aggregates all of your music and streaming services and comes with 100,000 pre-loaded internet radio stations and shows. Perfect for the entrepreneur with a home office who wants to pump up the productivity jams or catch up on the latest podcasts. The package starts at $1,796.