15 Motivational Quotes From Legends in Sports
BEGIN SLIDESHOW
NEXT
1. Harness your passion.
NEXT
2. Do it right.
NEXT
3. Expect the unexpected.
NEXT
4. Which are you?
NEXT
5. Train. Study. Always be prepared.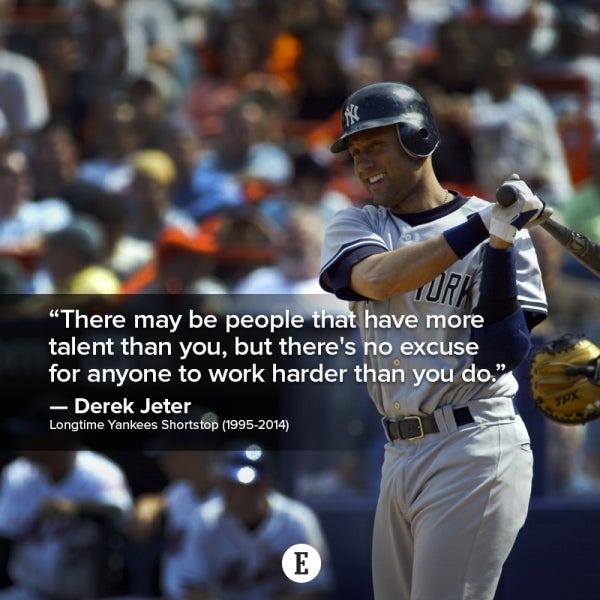 NEXT
6. Don't always expect to be perfect.
NEXT
7. Always look ahead.
NEXT
8. Playing it safe isn't always best.
NEXT
9. Don't settle for anything less.
NEXT
10. Rise above the obstacles.
NEXT
11. You're never too old to start.
NEXT
12. Don't forget to give back.
NEXT
13. Set yourself up to tackle your biggest challenges.
NEXT
14. Savor your accomplishments.
15. Anything is possible.
The world of sports is a lot like business. There's training. Competition. Wins and losses. Passion. Hard work. Shall I go on?
Just as an aspiring baseball or basketball player could find inspiration from successful business leaders, entrepreneurs can draw motivation from the world's hardest working and most dominant athletes.
With that in mind, we've collected 15 of the best quotes from legends in the world of sports. Whether you're just starting out or pushing your business to the next level, these quotes are sure to kick your motivation into high gear.
"Somewhere behind the athlete you've become and the hours of practice and the coaches who have pushed you is a little girl who fell in love with the game and never looked back… play for her."

-- Mia Hamm, award-winning professional soccer player (1987-2004)
"If you aren't going all the way, why go at all?"

-- Joe Namath, Hall of Fame football quarterback (1965-1977)
"Obstacles don't have to stop you. If you run into a wall, don't turn around and give up. Figure out how to climb it, go through it, or work around it."

-- Michael Jordan, basketball icon (1984-2003)
"In baseball and in business, there are three types of people. Those who make it happen, those who watch it happen, and those who wonder what happened."

-- Tommy Lasorda, Hall of Fame baseball player and manager (1954-1956, player; 1976-1996, manager)
"There may be people that have more talent than you, but there's no excuse for anyone to work harder than you do."

-- Derek Jeter, longtime Yankees shortstop (1995-2014)
"Champions keep playing until they get it right."

-- Billie Jean King, International Hall of Fame tennis star (1959-1983)
"A good hockey player plays where the puck is. A great hockey player plays where the puck is going to be."

-- Wayne Gretzky, hockey icon (1978–1999)
"If you have everything under control, you're not moving fast enough."

-- Mario Andretti, world champion racing driver (1968-1982)
"Set your goals high, and don't stop till you get there."

-- Bo Jackson, baseball and football player (1987-1994)
"Always make a total effort, even when the odds are against you."

-- Arnold Palmer, golfing great (1954-2006)
"Age is no barrier. It's a limitation you put on your mind."

-- Jackie Joyner-Kersee, Olympic heptathlon and long jump champion (1984-2000)
"Remember this. Hold on to this. This is the only perfection there is, the perfection of helping others. This is the only thing we can do that has any lasting meaning. This is why we're here."

-- Andre Agassi, award-winning professional tennis player (1986-2006)
"It isn't the mountains ahead to climb that wear you out; it's the pebble in your shoe."

-- Muhammad Ali, World Heavyweight Champion boxer, (1960-1966, 1970-1981)
"The more difficult the victory, the greater the happiness in winning."

-- Pele, Brazilian soccer legend (1956-1977)
"You can't put a limit on anything. The more you dream, the farther you get."

-- Michael Phelps, Olympic-medal winning swimmer (present)