'I Make Trucks for Real People': Ford CEO Slams Tesla's Cybertruck
In an interview with CNBC, Jim Farley said his company wasn't threatened by Tesla's entry into the pickup market.
Ford CEO Jim Farley has a message for Elon Musk's Tesla: Your fancy new Cybertruck doesn't keep me up at night.
Appearing on CNBC's Mad Money from the Ford headquarters in Dearborn, Michigan, Farley told Jim Kramer that Musk's upcoming Cybertruck wouldn't steal customers from the company's F-150 Lightning electric pickup truck.
"If he wants to design a Cybertruck for Silicon Valley people, fine," Farley said. "It's like a cool high-end product parked in front of a hotel. But I don't make trucks like that. I make trucks for real people who do real work."
The release of the Cybertruck — Tesla's first electric truck — has been fraught with delays since Musk first announced it in 2019. But in an earnings call last April, Musk assured investors that the EV would be ready by the end of the year.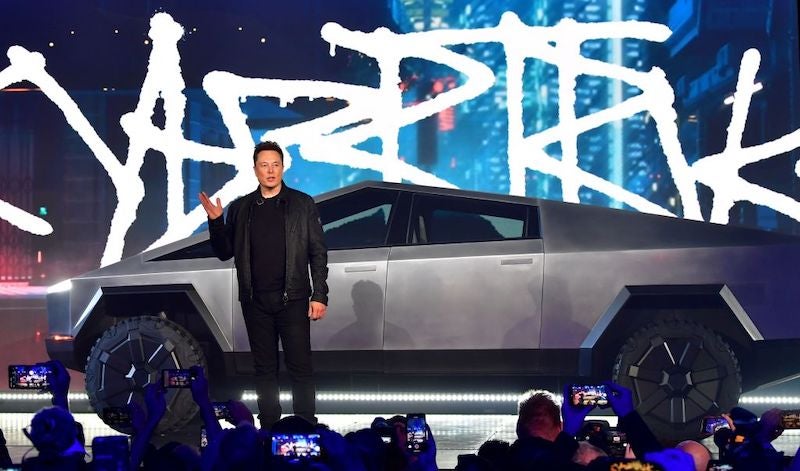 Photo by FREDERIC J. BROWN/AFP via Getty Images
Telsa is eager to get into the EV truck market. Pickup trucks were America's top-selling vehicles in 2022, with Ford's F-Series leading the way. However, Tesla dominates the EV market.
It's still unclear how similar the Cybertruck and F-150 Lightning will be. According to Business Insider, the Cybertruck is estimated to sell for around $50,000, while the F-150 Lightning has a $60,000 sticker price. Some have compared the Cybertruck to GMC's Hummer more than a Ford pickup truck.
Related: 3 Old School Automakers Making Big EV Strides
Ford to use Tesla charging stations
Despite Farley's tough words about Tesla, the two companies recently agreed to a partnership on charging stations. Ford drivers will be able to use over 12,000 Tesla Superchargers across the U.S. and Canada sometime in 2024.
Asked if that was a conflict of interest, Farley responded, "I have no problem being opportunistic when it comes to advantaging my customers."
He added that Musk was amicable during the negotiations. "More because of Henry Ford than Jim Farley."