MENA Music Streaming Service Anghami Continues Growth Streak Aided By Corporate Partners
In what is a positive sign of corporates contributing to the MENA entrepreneurial ecosystem, digital music streaming service Anghami has managed to bring one of UAE's leading business entities to its investor table.
Opinions expressed by Entrepreneur contributors are their own.
You're reading Entrepreneur Middle East, an international franchise of Entrepreneur Media.
In what is a positive sign of corporates contributing to the MENA entrepreneurial ecosystem, digital music streaming service Anghami has managed to bring one of UAE's leading business entities to its investor table. Anghami has raised an undisclosed amount of funding in a Series B investment round led by private equity firm Samena Capital, with the participation of UAE-based telecom service provider du. Along with an equity stake, du has also aligned with Anghami commercially to "actively market Anghami to its user base in the UAE including bundling, data subsidization and promotions."
Without revealing the specifics of the investment ("to stay clear from the hype"), Anghami co-founder Elie Habib states that it's a major step forward for Anghami as the funding boost is "several times what we've raised in several years." Habib adds that Anghami has set its sights on growth as a key priority at this stage. "We believe we can grow as a market leader in the music entertainment [industry] in the Middle East," he asserts. "While in just four years, we grew from a small dream to over 33 million users, we believe that in order to assume our future, we have to invest more in content, product and marketing. Those pillars are necessary to achieve our vision."
An aspect that stands out as key to Anghami's growth is its business proposition of offering a legal alternative to music piracy, with a model that benefits users, artists and music companies alike. Launched in 2012 by Lebanese entrepreneurs Habib and co-founder Eddy Maroun, the mobile platform hosts regional and international music, and claims to stream around 500 million songs per month. And to get a sense of its growth, consider this- Anghami's subscriber base has crossed 30 million users, with a "five-fold" increase in monthly active user base at 6 million users. The startup is also an example of a business that has figured out a revenue model to work in its favor. Habib says that their three revenue segments -direct to consumer subscriptions, B2B (deals with telcos to offer Anghami with their data plans), and online advertising- are today contributing almost equally to their business performance. Growing with the times, the service also accepts bitcoin for its subscription fees, perhaps becoming one of the first few new-age businesses in the region to accept digital currency.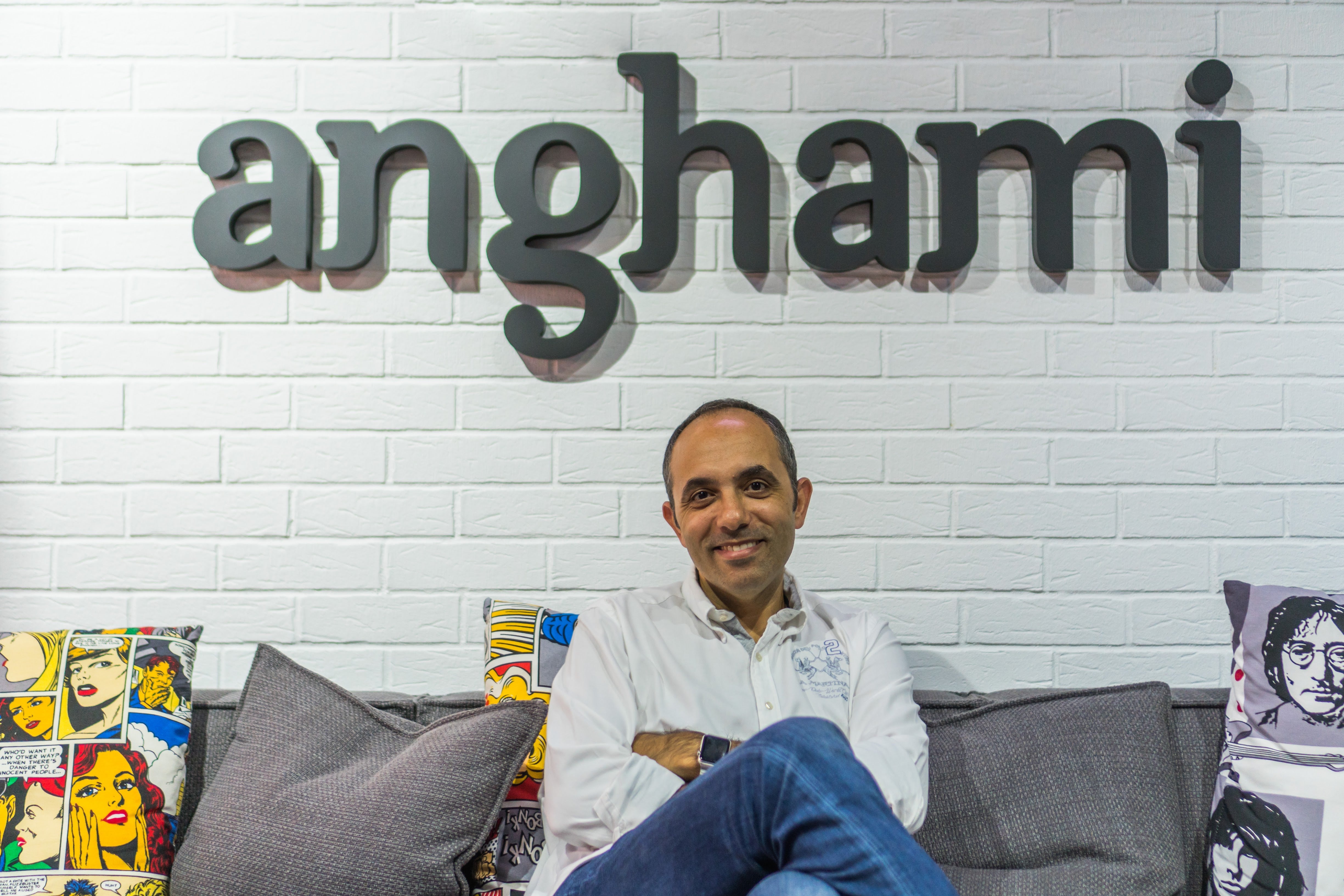 Elie Habib, co-founder, Anghami.Image credit: Anghami.
Commenting on the current funding round, the founder draws attention to the lengthy nature of the process, one that they started over nine months ago. "Having significant growth/revenue over the last [few] years, we already had a list of interested parties to meet and pitch," he admits. After numerous meetings and agreements on terms such as use of funds and
valuation,
Habib points out that the legal finalization took over four months to complete. "Having a funding round in the summer and Ramadan definitely took a toll on us by extending the closing," he recalls.
Related: Enabling A Vibrant MENA Technology Ecosystem Through Policy, Education, And Funding
With respect to the current round, the involvement of du is a factor that has caught the industry's eye. Habib notes that Anghami already has a business relationship with over 20 mobile operators (their application is integrated with operator billing systems), and the startup's interaction with du started in this regard. "Their [du's] investment arm had shown interest in taking this [partnership] to the next level when the time is right," he says. "Since UAE is an important market to Anghami on several levels, and du's investment would contribute to the necessary strategy, it made sense to us." Interestingly, this is not the first time that Anghami has managed to get an established enterprise on board as a strategic investor along with financial backers. This is the startup's third fundraising round, and in its earlier seed and Series A rounds, investors including Middle East Venture Partners, the region's media major MBC Group, and Mobily Ventures, the investment arm of Saudi Arabia's telco Mobily, have all invested in the company.
"Anghami grew because of partnerships, we started doing those even when we didn't have a product," he says. "We strongly believe that [partnerships are] the cornerstone to continuous growth, while remaining agile." In addition to partnerships, Habib says that continuous iteration, network of connections, corporate governance, and financial experience are also important for Anghami. "For this round, we were looking at parties who could help us in all the above. This was very different from seeking investors with product experience, as a seed company might be interested in," he says. "The experience of Samena managers in private equity, and helping multiple companies, as well as their passion for our product and team sealed the deal. Of course, du was just as passionate in investing in the future of digital economy in the Middle East."
And it is the necessities of digital economies that has brought about a transition in the way corporates approach innovation today- by increasingly shedding the conventional way of building large scale in-house R&D systems, and engaging with startups and entrepreneurs through event sponsorships, startup competitions, and accelerators. It's more common today to hear of corporations acquiring promising startups, and making investments in small businesses or showing willingness to incorporate their culture, as a solution to their own business challenges. Habib agrees, and notes that having been part of the MENA tech community for a long time now, the startup sees the market to be "more evolved" than it was before. "We're happy to see more engineers embracing startups rather than corporate jobs- where they can make a difference. Consumers also have embraced digital and this is showing in the many services being launched and discussed on social networks. Competition is very healthy as it allows users to compare and contrast."
Image credit: Anghami.
As to what is needed to channelize these positive developments in the right direction, Habib believes that what the industry now needs is to focus on scale-ups, which "will be boosted when entrepreneurs themselves exit and start funding more companies, as well as educating others." This culture of giving back is what he proposes as a key to foster a close-knit entrepreneurship community in the region. And for that, the MENA startup ecosystem certainly needs to see more partnerships like the du-Anghami deal, which can bring with it synergies and mutual benefits.
The Road Ahead
Anghami 's key priorities for the future
Product "Grow Anghami into an entertainment product on top of music, going deeper into video as a format and connecting people [as] being essential pillars."
Content "While we currently have the biggest library, Arabic and International, legally licensed in the Middle East, we are still working on holdouts to grow our library to 30 million tracks, while also curating music to make it more discoverable."
Marketing "Target 13- 35 years old via offline and online to make sure Anghami is part of their daily routine."
Related: Eight Points Of Reference To Help Grow The MENA Startup Ecosystem