Dubai Business Forum 2023 Kicks Off By Highlighting Dubai's Strategic Role In Global Trade
The Dubai Business Forum brought together key stakeholders from the government and private sectors across the globe to explore strategic economic partnerships, develop international networks, and open new horizons for business, trade, and investments.
You're reading Entrepreneur Middle East, an international franchise of Entrepreneur Media.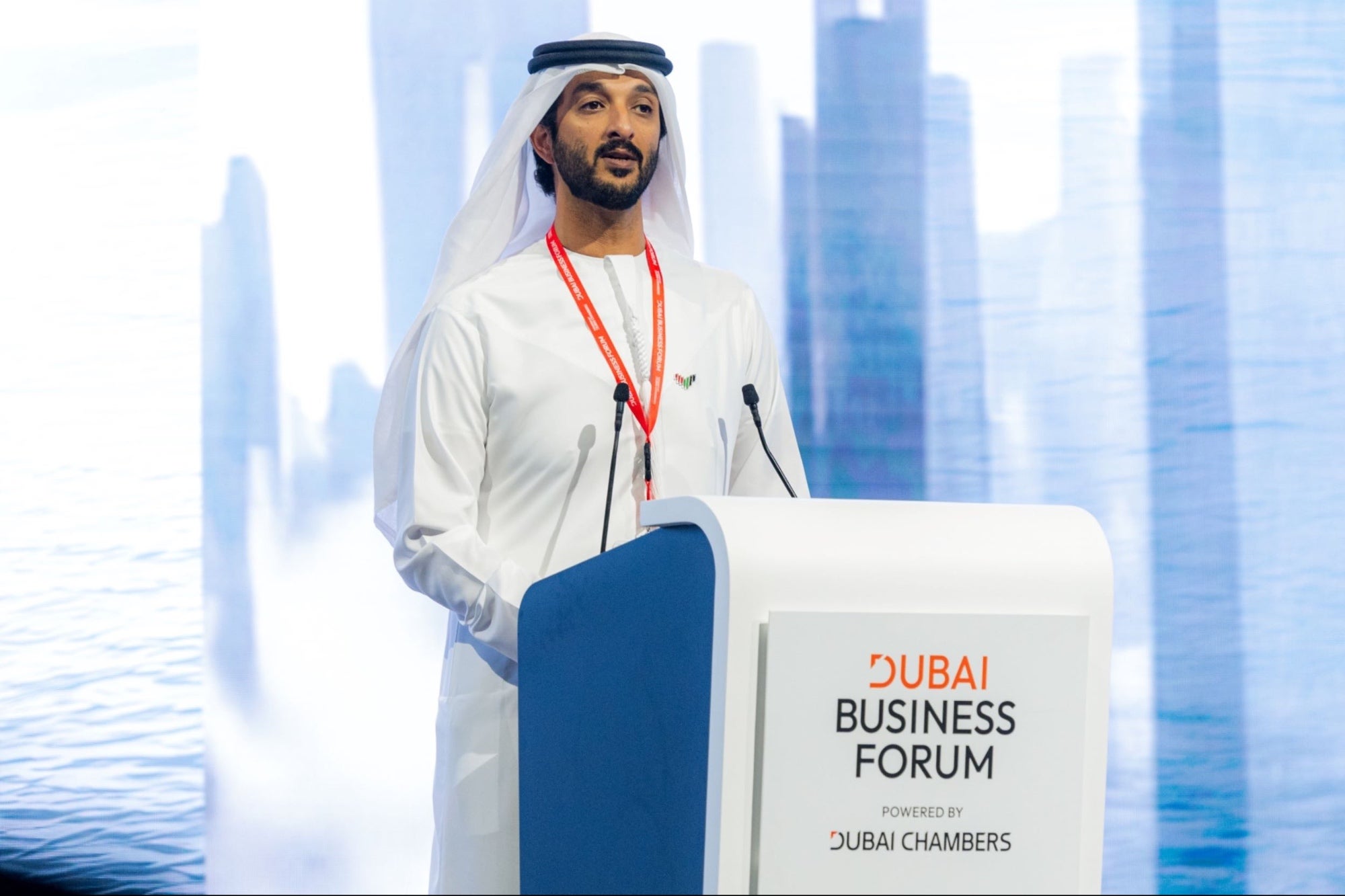 The Dubai Business Forum, powered by Dubai Chambers, kicked off on November 1, 2023 at Madinat Jumeirah with a focus on the future of globalization and foreign direct investment.
Held under the theme Shifting Economic Power: Dubai and the Future of Global Trade, the event was hosted under the patronage of H.H. Sheikh Mohammed bin Rashid Al Maktoum, Vice President and Prime Minister of the UAE and Ruler of Dubai, and it started with an address by Dubai Chambers Chairman H.E. Abdul Aziz Al Ghurair.
"Today, the global economy is witnessing rapid shifts that have tested the resilience and adaptability of countries worldwide, and have posed significant challenges to economies around the world," said H.E. Abdullah bin Touq Al Marri, UAE Minister of Economy, in a keynote address. "The UAE economy grew by 3.7% in real terms in the first half of 2023, and this represents robust growth against the backdrop of global and regional uncertainty, and is still a higher figure than any of the other GCC countries. Moreover, the non-oil sector registered a growth rate of 5.9%. The UAE's economic growth is a testament to our resilience, diversification, and commitment to openness and international cooperation."
Dubai Chambers Chairman H.E. Abdul Aziz Al Ghurair. Source: Dubai Chambers
Al Marri also noted that the UAE's strategic investments in non-oil sectors, innovation, and technology have positioned the nation as a regional leader in various industries. "The performance of the national economy has exceeded expectations, supported by structural reforms such as 100% foreign ownership, the enactment of the commercial transactions law, and the revamp of the residency system," he said. "Our ongoing commitment to pro-business reforms and incentives continues to foster investor confidence. We anticipate a gross domestic product (GDP) growth rate of 3.6% this year, mostly driven by the non-oil sector."
As a central global hub connecting major trade routes, Dubai's strategic location and advanced infrastructure have elevated the city's status as a destination of choice among major international companies, investors, and skilled talents. In addition, the Dubai Economic Agenda (D33) is set to further enhance Dubai's reputation as a fast-growing and attractive centre for business, while also positioning the Emirate among the top three cities globally.
H.E. Helal Saeed Al Marri, Director General of the Dubai Department of Economy and Tourism, also spoke at the Dubai Business Forum, where he said that with a goal of doubling the GDP, Sheikh Mohammed had set very clear targets for the future, and also directed departments to ensure timely delivery. "The public and private sectors are working together for the prosperity of the people and to boost Dubai's economy," Al Marri said. "Both have come together in a harmonious way to ensure every opportunity is leveraged to deliver prosperity to the people." Al Marri also highlighted that Dubai is today among the top three tourist destinations in the world. "Our tourism strategy is very carefully developed, and Dubai is a top destination for leisure, business, and health tourism," he said.
H.E. Helal Saeed Al Marri, Director General of the Dubai Department of Economy and Tourism. Source: Dubai Chambers
Also speaking at the Dubai Business Forum was H.E. Saeed Mohammed Al Tayer, Managing Director and CEO of the Dubai Electricity and Water Authority (DEWA), who said that the entity he leads is "fully committed" to helping achieve the goals of the Dubai Clean Energy Strategy 2050 and the UAE Net Zero by 2050 strategic initiative. "DEWA is implementing several projects to diversify clean energy sources," he revealed. "These include a hydroelectric power station in Hatta, the first of its kind in the GCC region, as well as green hydrogen production using solar power, which is part of DEWA's roadmap for a green hydrogen strategy." Reiterating DEWA's focus on leveraging technological achievements, Al Tayer also noted that DEWA is the world's first utility company to use nano-satellites to improve the maintenance and planning of electricity and water networks, and the first local government entity to launch a virtual platform using metaverse technology.
Zooming out for a bigger perspective, the forum also examined the resilience of the region following the effects of the COVID-19 pandemic. A discussion with Jean-Claude Trichet, Former President of the European Central Bank, took a deep dive into the Middle East's ability to reboot its economy in the face of global uncertainties. "As the number one destination for foreign direct investment (FDI) in Western Asia, I am impressed with the UAE's GDP, and how steadily it is growing," Trichet said. "The leadership here is focused on modernization, and this is remarkable for the flourishing businesses in this region. Here, peace and stability are ensured, and the government is capturing the best possible startups. With the country hosting the 28th Conference of the Parties of the United Nations Framework Convention on Climate Change (COP28), the UAE is sending a very strong signal to the world to focus on sustainability and green energy. If we could be sure and convinced that the Paris Agreement will be respected, it will be the success of COP28."
Related: Dubai Chamber Of Digital Economy Launches The App Olympics To Advance Dubai's Digital Ecosystem
Daisy McAndrew moderates a panel discussion with H.E. Khalfan Belhoul, CEO of the Dubai Future Foundation, and Shamsa Al Falasi, CEO of Citibank at the Dubai Business Forum. Image courtesy Dubai Chambers.
Another session at the forum highlighted the key role of SMEs in accelerating economic growth, as well as Dubai's growing appeal in attracting foreign direct investments. In a panel discussion, H.E. Khalfan Belhoul, CEO of the Dubai Future Foundation, and Shamsa Al Falasi, CEO of Citibank, highlighted the vital contribution of small and medium-sized companies (SMEs), calling them the main drivers of Dubai's economy.
"Agility and the speed of innovation are the driving force of the UAE's success," said Belhoul. "The pace of innovation is changing by the minute, and Dubai keeps up with it- in turn, benefiting the business community. Today, new startups are matching the pace of innovation to drive the economy." Meanwhile, Al Falasi highlighted Citibank's strong emphasis on promoting SMEs operating across diverse sectors, stating, "Every day, there are numerous opportunities emerging in Dubai because it is a talent hub. With COP28 less than a month way, we see accelerators focused on sustainability."
The global debate between regionalization and globalization was tackled during a discussion between Khatija Haque, Chief Economist and Head of Research at Emirates NBD, and Prof. Ian Goldin, Professor of Globalization and Development at the University of Oxford. "With increasing interest rates, the cost of capital has soared; being capital rich, the region has been investing in a range of industries to diversify its economies, with a special focus on new tech automation and robotics," Haque said.
However, Goldin asserted that insulating economies, protectionism, and nationalism pose bigger dangers to countries than the risks associated with an open global system. "The world is facing major structural changes owing to the technological transformations that have led to redesigning of supply chains. As economies become richer, they buy fewer things and more services– this transformation has also contributed to the reshaping of supply chains."
Both speakers agreed though that it is impossible for nations to exist in isolation, and that regional and global cooperation is imperative for a thriving global economy. Here, Haque emphasized that the GCC can benefit from intraregional trade and the sharing of resources, citing the example of electricity grid sharing between GCC states. Goldin added that the formation of trading blocs has been advantageous to growth, particularly in Europe, where these account for more than 70-75% of trade within the continent, and Asia, which recorded over 60% of interregional trade.
Fifi Peters moderates a discussion with H.E. Hadi Badri, CEO of the Dubai Economic Development Corporation, Salem Al Shamsi, Vice President of Global Markets at Dubai Chambers, and Deepak Bagla, President of the World Association of Investment Promotion Agencies at the Dubai Business Forum. Source: Dubai Chambers
Another panel discussion featuring H.E. Hadi Badri, CEO of the Dubai Economic Development Corporation, Salem Al Shamsi, Vice President of Global Markets at Dubai Chambers, and Deepak Bagla, President of the World Association of Investment Promotion Agencies (WAIPA), highlighted how Dubai will remain an attractive and promising market for FDI inflows and economic growth.
Highlighting Dubai's dynamic investment landscape, Badri said, "The number of projects we have received is among the highest in the world for FDI. With a strong growth agenda and vision, our leaders are competitive, caring, and consistent. We are pursuing a zero-carbon manufacturing approach, and strengthening the financial services and tourism sectors to double our GDP. We have signed several agreements with countries such as India, and are negotiating agreements with other nations."
Al Shamsi also noted that businesses are thriving under Dubai's visionary leadership. "Our leaders have built a strong business infrastructure and implemented policies that enhance the ease of doing business," he said. "We are optimistic of continuing to attract FDI, underpinned by our strong leadership, growth environment and the policies in place." Commenting on the strong prospects offered by Dubai, Bagla noted that the way the city handled the pandemic demonstrates its resilience. "The ease of doing business is tremendous, and the Dubai government is focused on enhancing the quality of life," he said. "Investors in the Indian subcontinent are looking to create a footprint in Dubai."
Related: Dubai-Headquartered Virtuzone To Offer Free Corporate Tax Advisory To UAE-Based SMEs