Entrepreneur Autos Test Drive: Mazda CX-50 and CX-90 PHEV
Does this compact crossover SUV and full-size hybrid deliver all the zoom-zoom you need?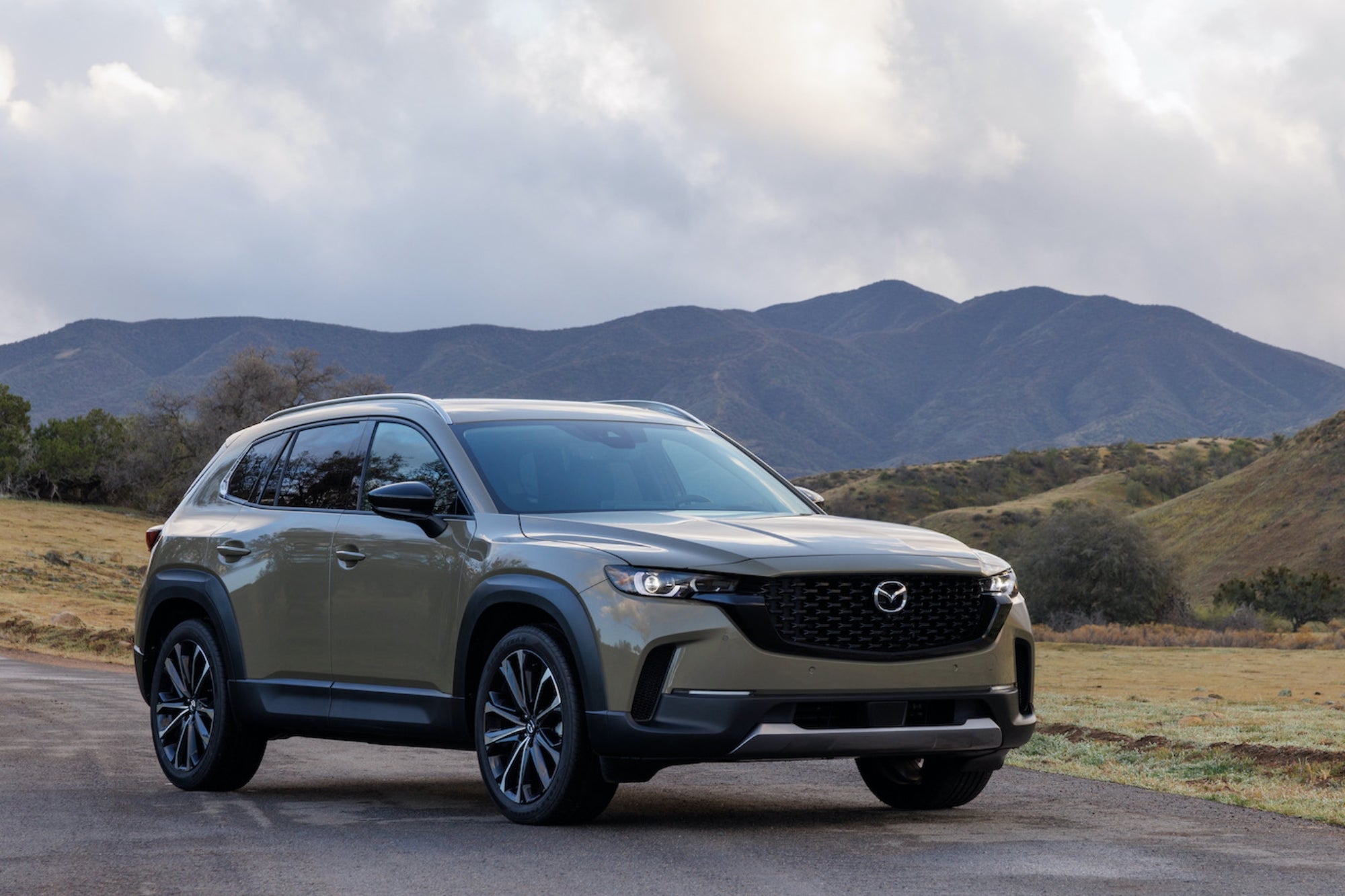 In this ongoing Entrepreneur Autos series, we are testing new vehicles to find out how well-suited they are to the busy, multi-faceted lives of small business owners and founders.
Car companies put their vehicles through grueling tests before releasing them to the public in order to ensure the comfort and safety of their drivers. From cruising test tracks with dozens of tight turns to purposely crashing into cement barriers, they make their cars suffer on the test course so that their customers can have peace of mind — and fun! — no matter what kinds of crazy conditions mother nature or crowded parking lots bring them in real life.
Related: 'Barbie' Is Driving a Huge Surge in Vintage Car Buying Says Hagerty CEO
Recently, I gave the 2023 Mazda CX-50 the ultimate torture test: I took it on a family vacation.
While it wasn't exactly the Griswolds driving across the country to Wally World, we did spend a ton of time in the car. And after a week of cruising up and down the California coast, alternating between twisty mountain roads and traffic-clogged hellscapes with my wife and two sons, I am thrilled to report that the CX-50 exceeded all expectations — keeping my family comfy and me sane after a week behind the wheel.
Mighty Morphing Mazda
It doesn't change exactly size and shape, but its incredible versatility made me feel like it does.
The CX-50 is called compact, but its trunk easily fit our four medium suitcases and backpacks, and had room to spare. The front seats of the Turbo Premium Plus model I was driving were sweet and spacious and the backseat had plenty of room to allow the two teenagers (i.e. professional complainers) to man-spread to their hearts' content. All seats on this model are leather, as is the steering wheel cover, and while we were driving around in the hot California sun, the ventilated seats were a very welcomed perk.
Related: How Maserati Recharged Its Brand
But while it felt big and roomy on the inside, it was compact when it needed to be. Specifically, when navigating through that endless parking lot that Los Angeles calls its freeway system. I was able to narrow openings and the turbocharged 227-horsepower engine provided plenty of zip when it was time to merge (or cut someone off, sorry.) Overall, between the luxe trim and the punchy engine, the CX-50 was practical and at the same time felt way cooler than a typical suburban dad mobile.
Photo credit: Mazda
Interior Features
Mother Nature blessed me with zero sense of direction, so when I get behind the wheel, it is critical that my Google Maps is able to connect to the info system or I am doomed. I would still be trying to find the exit at LAX if the CX-50 didn't have an easy-to-navigate infotainment display. A click wheel in the center console controls everything on the car's 8.8-inch screen and allows for wireless connection to Apple CarPlay or Android Auto, as well as wireless charging. The sound systems vary between models. An eight-speaker stereo is standard while the Premium and Premium Plus model I was driving comes with a 12-speaker Bose stereo with SiriusXM satellite radio. The sound, well, sounded great, especially when I would blast Katy Perry's "California Gurls" to torture my sons (and also because I secretly and completely unironically like that song.)
Photo Credit: Mazda
Safety Features
When it comes to safety, the CX-50 comes with all the bells and whistles. Literally. The lane departure warning system chimes like you just completed a level of Super Mario if you don't stay perfectly aligned in your lane, which isn't totally easy to do on the winding PCH. I am somewhat tech challenged, and so my only complaint about the car was that I couldn't figure out how to turn it off or at least make it quieter. I supposed you might be thinking to yourself, "Hey Dan, why didn't you just look in the car manual, or better yet, learn how to drive?" I wish I had a snappy answer to either of those questions but I do not, so you win this round.
Related: Buying a Car? Here Are 5 Ways To Get the Best Deal.
The 360-degree exterior camera was kind of awesome and super-helpful for getting out of chaotic parking lots (Dodger Stadium, I'm looking at you.) I also really dug the adaptive cruise control, which speeds up and slows down depending on traffic conditions. (Did I mention there is a lot of traffic in the greater Los Angeles area? Because there is. A lot.)
Performance
The CX-50 was a lot peppier than I expected and I loved how it handled. And it also got much better gas mileage than I thought given the turbo. We only had to fill the tank once during the entire week of travel. Mazda reports 23 mpg city/29 mpg highway, and Car and Driver's 75-mph highway fuel economy test found it gets 28 mpg. In a state where $5.05 a gallon is considered a bargain, this is a very good thing.
Overall
If you are looking for a cool-looking, fun-to-drive compact crossover SUV that can haul more stuff than you'd imagine and is sleeker than you'd expect, the CX-50 is a winner. Zoom-zoom indeed.
Specs
2023 Mazda CX-50
Model: Turbo with Premium Plus PKG AWD
Engine: Turbocharged 227 hp, 310 lb-ft torque
Premium Plus options: Ventilated front seats, heated steering wheel, 12-speaker Bose audio, Sirius XM radio, wireless phone charger, navigation, head-up display, front and rear parking sensors, 360-degree view, blind-spot detection, traffic-jam assist
Cargo volume: 31 ft3
Fuel economy: 23 mpg city/29 mpg highway
Total MSRP: $43,170
The CX-90
Looking for something bigger and better when it comes to mpg? I also tested the CX-90 PHEV, Mazda's premium three-row crossover.
Photo credit: Mazda
Much like the interior of the CX-50 I tested, the inside of the CX-90 was definitely on the luxe side of life. The entertainment and navigation worked the same, but the dashboard had a couple more lights and functions thanks to the CX-90 Hybrid's plug-in powertrain. Here's how that works:
An inline four-cylinder engine works in tandem with an electric motor and a 17.8-kWh battery pack. The battery has enough power to get you approximately 25 miles per charge, and then the gas engine takes over. All in, you're looking at 56 MPGe, which as a non-hybrid car owner, I found astounding. Recharging the battery works in a number of ways: the gas engine can recharge the battery as you drive, or you can plug into a 120-volt outlet (recommended you do that overnight) or a 240-volt (which Car and Driver testers say will charge the battery from 20 to 80 percent in 90 minutes.)
Once again, I put my Mazda through a painful road test. The CX-50 endured a family vacation and the CX-90 moved my son back to college. I was thrilled by how much stuff (or junk, depending on your point of view) I was able to get in it with the rear rows down, and getting back to that whole mpg thing, being able to make a 400-mile round trip on one tank of gas had me weeping tears of joy. (Putting together his IKEA furniture, however, did not. Those were just regular tears.)
Aside from the non-existent gas stops, the driver seat is extremely comfortable, and the entertainment system allowed me to bounce between podcasts and Spotify playlists without taking my eyes off the road. And I know this isn't unique to the CX-90, but bless those huge cup holders. The vehicle might not have needed gas for our 400-mile journey, but the driver needed multiple gallons of coffee.
Specs
2024 Mazda CX-90 PHEV
Model: PHEV Premium Plus PKG
Engine: Turbocharged 227 hp, 310 lb-ft torque
Premium Plus options: Ventilated front seats, heated steering wheel, Napa leather-trimmed seats, 12-speaker Bose audio, Sirius XM radio, wireless phone charger, navigation, head-up display, front and rear parking sensors, 360-degree view, blind-spot detection, traffic-jam assist
Cargo volume:

31 ft3

Fuel economy:

57 MPGe/25 mpg
Total MSRP: $58,920