Bringing The Best Out Of The GCC: Fouz Al-Sabah's Khaleejesque Is More Than A Magazine
When Fouz and Noufa Al-Sabah started blogging as students at the American University of Kuwait, they probably didn't expect that they would establish a publication that has a wide readership outside of the country.
Opinions expressed by Entrepreneur contributors are their own.
You're reading Entrepreneur Middle East, an international franchise of Entrepreneur Media.
When Fouz and Noufa Al-Sabah started blogging as students at the American University of Kuwait, they probably didn't expect that they would establish a publication that has a wide readership outside of the country. "Noufa and I wanted to work on a project after graduation that highlights inspiring people, places and stories in Kuwait," Fouz says, but they soon wanted to take things up a notch and look at other countries in the GCC. Keep in mind that this was back in 2009, before the proliferation of social media platforms.
Developing Khaleejesque proved to be a huge learning experience for Fouz and Noufa for many different reasons. They first spent a three-month period starting in March 2009 where they gathered "like-minded members and writers from across the Arab Gulf," before launching khaleejesque.com on June 1 later that year. Then came a curveball: Fouz temporarily moving to London to earn her Masters in Cultural Creative Industries at King's College. They managed however to overcome the obstacles they had, and they now have a team of seven in their Kuwait headquarters, as well as a "freelance network of over 70 writers" and others from across the GCC.
Reader and user feedback is always a priority for Fouz and co., allowing them to expand beyond a website; they "formally created Khaleejesque Media Est. in 2011," which took the brand to print publishing and "other creative ventures." That said, keeping the website in top shape is still high on the agenda. Fouz explains, "our main priority is to always have the website be a strong first impression of the Khaleejesque experience."
All in all, developing the brand was not capital-intensive, even without angel investors; yes, this is another successful bootstrapped venture! That said, Fouz doesn't rule out external funding in the not too distant future. And ROI? "I can safely say we've reached a point where we achieved a higher ROI than we initially predicted when we officially started." That's quite impressive given the costs they have had to should to keep the ball rolling. Apart from rent, printing, and distribution, co-founder Fouz believes that the team is the most pivotal investment of them all, explaining that "their skills and knowledge determine the quality of everything we produce."
A quality team definitely pays off, and Fouz justifies that with the positive feedback that they've received, even after they took a huge leap into becoming a larger media group. They were able to keep many loyal readers who she says have been with the publication from the start, and they have "also been seeing an increasing interest from international readers." Her main takeaway from all this? "More representation is needed to show a glimpse of life in the Arab Gulf." At this point in time, their largest readership comes from their native Kuwait, followed by the UAE and KSA.
You'd think that with that kind of user interaction and readership, marketing wouldn't be as important. Wrong. Even though Khaleejesque as a print magazine is a "marketing channel" itself, the team supplements it with other tools. Along with a dynamic website, they also use their online newsletter to keep readers informed of what's happening under the Khaleejesque brand banner. Social media is also very important. Fouz is always keeping tabs with which platforms are trending. "Most recently, Snapchat has been a hot spot, and despite Instagram usage declining regionally, our following has grown by more than 15% in less than a year." There are also some other components in the Khaleejesque marketing strategy, including partnering up with events in Kuwait and the GCC, as well as "sending complimentary print issues to a VIP list, embassies and hotels." You can find some of their issues at the VIP lounges in Qatar's Hamad International Airport and at Dubai's International Airport. They've also partnered up with Kuwait Airways, where you can find their latest issue on all their flights.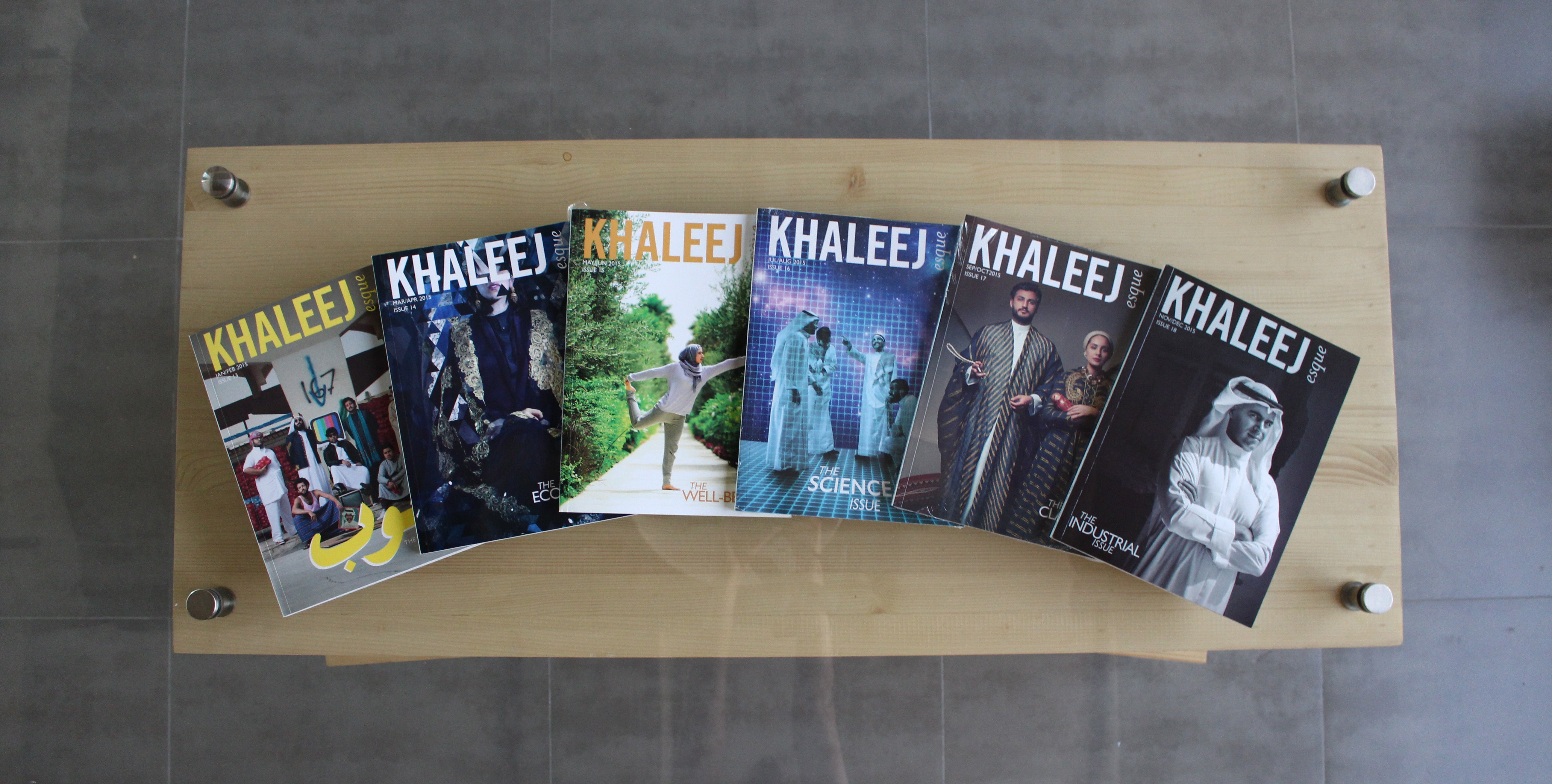 Fouz Al-Sabah describes herself as a "curious observer who is a fascinated by creativity and innovation in all its forms." That definitely applies to how she has approached Khaleejesque from day one. A notable example of this under the Khaleejesque brand is their subscription boxes called the il.box. Fouz explains that she was inspired by the "subscription box trend" that many American publications were trying, and decided to have a go at that herself. Of course, it had a local twist to it. "We make sure to feature a collection of exciting regional businesses as well as exclusive collaborations, limited edition pieces and innovative Khaleeji-inspired products." It's a luxury service, so some readers have voiced complaints about how expensive it is. There are also challenges with "locating vendors, production constraints, and shipping issues." However, the Khaleejesque team still sees the potential in the il.box, and is confident that more and more readers will find it to be a worthy investment.
They've also entered the realm of e-commerce with a Khaleejesque webstore. Why? "We could feature so many local and regional product designers yet rarely had easy access to their items," says Fouz, highlighting the importance of adding new dimensions in the "Khaleejesque experience" and promoting designers in Kuwait and the rest of the GCC who get the attention she thinks they truly deserve. What about payment? Here's a surprise: no COD. "We've strictly chosen to stick to debit and credit card payments," says Fouz, who hopes that this will drive more readers to move towards more efficient and effective forms of online payment. To my surprise, they haven't faced any complaints with that. The co-founder credits that to the younger generation who are "much more tech-savvy and eager to shop online." It also only took one day to "install the API to start receiving orders online", which she describes as a "huge improvement in the e-commerce market in Kuwait."
The folks at Khaleejesque will be tackling m-commerce next, but in addition to that, the team is also working on adding Arabic content to their enterprise. Not only does that give tribute to the GCC's native language, but it will certainly also expand their readership across the region. They're also working hard on their webstore; Fouz promises to bring in a "more interactive online marketplace" in early 2016. The co-founder also told us to keep our eyes peeled for a sister venture called the Crowd Creative House, which she describes as "an independent content agency." Long-term? "Long-term plans included our own product line, video channel, and many other surprises." As I said before, keep your eyes peeled.
I decided to take a step back from the exciting things happening at Khaleejesque and asked Fouz Al-Sabah to tell me what's been happening in Kuwait's startup scene as a whole. "There have been many developments from the public sector," says Fouz, who mentions the new Ministry of Youth in addition to the National Fund for SME Development. The private sector in Kuwait has also played their part, launching "numerous startup incubators" over the past couple of years. So what's holding Kuwait back from booming like some of their other GCC counterparts? Fouz claims that Kuwait is "lacking the foundation and structure to build a solid and stable entrepreneurial ecosystem." That said, she believes that Kuwait is working hard on creating a sustainable entrepreneurial ecosystem that will "allow entrepreneurs to reach their full potential."
She stays hopeful with local success stories, including Basil Al-Salem, who owns Gastronomica ME, launching more than five restaurants in Kuwait. Fouz describes him as an "inspiring entrepreneur" who many young GCC entrepreneurs can learn from when it comes to turning "a local concept into a successful brand with the right amount of creativity, dedication, and passion."
Before wrapping things up, I noticed that Fouz didn't mention any hardships with maintaining a print publication in a digital and paperless age. "I see it as a filtering process more than anything else," says Fouz, "The quality publications are surviving and are more influential than ever before."