5 Valuable Business Lessons To Learn From Leonardo DiCaprio's Movies
Opinions expressed by Entrepreneur contributors are their own.
You're reading Entrepreneur India, an international franchise of Entrepreneur Media.
The day is here. The day Leonardo DiCaprio won an Oscar and we see the internet explode. We have all anticipated for this day as if we are Leo's family and now that it's here, there's no better way to celebrate it than go through some of Leo's previous movies.
The past decade is evidence that if Leo stars in a movie, it's good. Given the god-like looks and incredible acting talent he's blessed with, his words touch the soul. He says, "You can either be a vain movie star, or you can try to shed some light on different aspects of the human condition." He might play the bad guy (and still look gorgeous) but he also teaches us about human nature. And once you know human nature building relationships become easy, which for a businessman is very vital.
Dicaprio is inspiration in himself, but if we come to think of it, his movies do not fall short of entrepreneurial advise. Here's some that we found -
Disaster Management
We're past debating if Jack Dawson could have been saved on not. The answer will always be yes (even though science denies it) because that man was nothing less than an embodiment of perfection. Although it's a romantic movie, it has more to it than love. One of them being "expect the unexpected'. No one saw the iceberg coming and no preparations for disaster management were done beforehand. Thusly, always have a "Carpathia' to save you when you face your iceberg in business – your back-up plan. Do prepare for the worst and never abandon your crew when things go wrong.
The Jack-Rose relationship is more than finding the right person. It's also about finding yourself. Jack helped Rose with that and in a business you need the same. Find partners and team members who complete your ideas and help you grow into a person you want to be. A good co-founder in a startup can take it miles ahead and give you strength. At the same time, it's also very important to know when to let go and move ahead in life, however hard it could be. Rose did it, so could you.
Dare To Be Different
If you're good at something, even though it's different, you can always figure out the means to make a living out of it. Frank Abagnale Jr. did the same in this movie with his deception skills. He went from being the confident trickster and escape artist to being an American Security Consultant. Based on real events, this movie shows us that you must dare to be different and everything will go right. Take an idea, sharpen it with your creativity and watch it work like magic. At first, you might have a bad start like Frank and go in the wrong direction but it's never too late to start over.
The various acts Leo pull in this movie shows how planning is the way to success. Be it planning a business or flying over 250 times to 26 countries for free, if the base of your idea is not solidified by a good plan to work it out with, you will get lost in the way. Plan your step and watch your moves. Just don't steal a bunch of money from the government, because that will surely land you up in jail.
It's Not Just About You
This movie can teach you the significance of mutually beneficial relationship, a must for business. It started as a deal between two men, fisherman Solomon on a mission to save his family and white Rhodesian gun runner, Danny, looking for a diamond which will be his ticket out of the continent. It ended up being one man helping other. Where Solomon found his family, Danny did die in the end, but he was finally free of that "god-forsaken place". It shows that a little help goes a long way. When your business is doing well, don't just make it about you. Try to help people to succeed as well. Go a little out of the way to help them and the satisfaction it'll give you would be priceless.
Survival Skills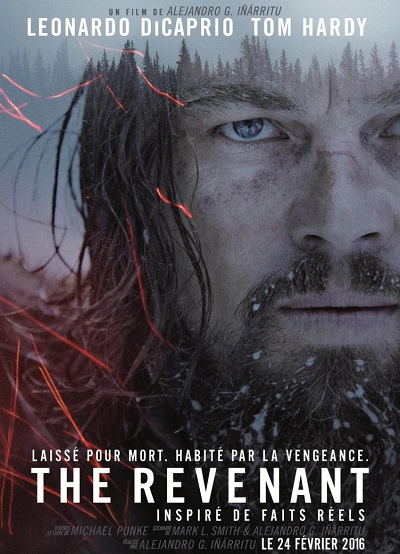 Hugh Glass is an inspiration for all who have faced failure in life. He fought a bear, saw his own teammate kill his son, and slept inside a horse tent. But there's one thing he never did, that is wait for help and give in. If your business failed, don't just sit back watching it crumble down, but fight for it. Things go wrong but it's how you revive that the world will remember. See where you lacked and use your survival skills in the business world. It'll take time but you'll learn to adapt. Drag yourself from the wilderness to life. You don't have to literally kill your rivals, only come back stronger, "as if from the dead'.
Another precious lesson, you might not get your (metophorical) Oscar for years and like Leo, the waiting might take longer than you anticipated. Don;t let your hopes die. One day you'll get it and you have Dicaprio to prove that.
Think Big And Start Small
I cannot even make up my mind on where to start when it comes to getting business lessons from The Wolf of Wall Street. This movie is more like a manual for the business world. Jordan Belfort is an inspiration for all budding businessmen/ women. He teaches you to think big and start small. He educates about the importance of team building and having a loyal one; the need to dress for success and how to motivate your team; the vitality of building a reputation for yourself and learning from history. He is an example to the world that has left some great pieces of advice like – "The only thing that's standing between you and your dream is the bullshit story you keep telling yourself as to why you cannot achieve it."
The real Leo is no less of an inspiration himself. We all know that he must have gotten that Oscar years back but he doesn't let it affect him. And as he says, "If you can do what you do best and be happy, you're further along in life than most people."
Which other movies of Leonardo Dicaprio's do you think can provide words of wisdom to entrepreneurs? Share your ideas on our official Facebook Page Entrepreneur India.