Back from the Dead, IBM's Watson AI is Alive and Re-Emerging
While artificial intelligence (AI) seems to have come around full circle in 2023 as ChatGPT finally lit the fuse for full-blown mainstream adoption, Internat
This story originally appeared on MarketBeat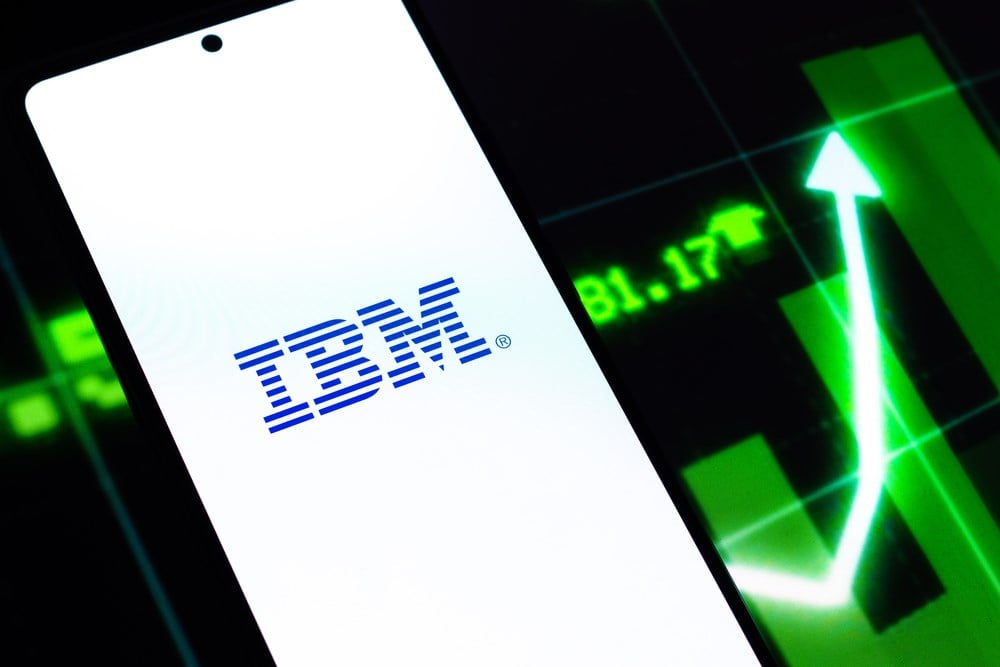 While artificial intelligence (AI) seems to have come around full circle in 2023 as ChatGPT finally lit the fuse for full-blown mainstream adoption, International Business Machines Co (NYSE: IBM) unveiled its AI-powered Watson 12 years ago to little fanfare. AI was more of a novelty for science fiction fans than a mainstream reality. Watson gained fame when it competed on the popular network game show "Jeopardy" against two of its most successful contestants, Ken Jennings and Brad Rutten. Like a rigged corny carnival act or a World Wrestling Entertainment Inc. (NYSE: WWE) freakshow match, Watson mopped the floor with its human counterparts scoring $77, 147 in winnings compared to $24,000 and $21,600 for Jennings and Rutter, respectively.
Watson Who?
The public viewed the widely publicized Jeopardy match as a cheesy entertainment stunt and not a pioneering moment demonstrating AI-powered Watson's machine learning capabilities, natural language processing (NLP) and information retrieval abilities. The buzz eventually fizzled out. The commercials featuring Watson Ai introducing itself with a dorky computer-generated voice flew right over people's heads. Little was publicized about Watson AI use cases like optimized robotic process automation (RPA) being applied to medical claims processing to improve efficiency and productivity. Eventually, it faded from the public eye.
Watson Health Fire Sale
Watson Health was an AI platform designed to improve cancer treatment by matching up clinical trials with patients and providing insights and recommendations for cancer patients. It was damaged by proclamations from the MD Anderson Cancer Center stating that Watson couldn't make good recommendations because of its inability to process patient files and lack of data. Sloan Kettering experienced the same shortfalls.
After spending an estimated $5 billion with a workforce of up to 7,000 people, Watson Health was sold off for $1 billion to a private equity firm in 2022 to stop the bleeding. It was a cautionary tale of overpromising and underdelivering. Many critics say there wasn't enough correct or even accurate patient data to allow Watson to effectively make real-life cancer diagnostics, insights, and treatment recommendations. While Warson Health is in the rearview mirror, Watson AI continues to improve.
Watson Today
IBM's Watson has evolved and is deployed for many business use cases. It's being applied for customer service, supply chain, financial planning, risk and compliance, advertising, IT, video and security at scale. IBM was ranked #1 by IDC for AI lifecycle software market share in February 2022. IBM proclaims that 70% of global banks and 13 of the top 14 systems integrators use Watson. IBM implies over 100 million users of its AI. General Motors Co. (NYSE: GM) Financial uses Watson Assistant to automate chatbot responses. EY uses Watson Discovery EY to provide better transaction advice to clients. Pharmaceutical giant GSK plc (NYSE: GSK) launched 16 virtual assistants to improve customer satisfaction and employee production with Watson Assistant.
Boosting Software Revenues
In it's Q4 2022 earnings report, IBM CEO Arvind Krishna commented. "Clients in all geographies increasingly embraced our hybrid cloud and AI solutions as technology remains a differentiating force in today's business environment." He emphasized, "Hybrid cloud and AI are the two most transformational enterprise technologies of our time. Hybrid cloud is already becoming the dominant architecture for enterprise."
He expects full-year revenue growth in mid-single digits and consolidated free cash flow to rise $1 billion in 2023 to $10.5 billion. IBM doesn't disclose specific breakdowns of how much Watson AI products and services generate, but the rising interest in AI has likely improved demand for it. Its Q4 2022 results indicated that Data & AI revenues grew 4% or 8% in constant currency YoY. Automation rose 4% or 9% in constant currency YoY.
Watson Rising Under-the-Radar
The lack of access for the public to test out AI kept it in the realm of science fiction rather than being an essential tool to improve daily activities. ChatGPT gained over 100 million users in a matter of months. Anyone with internet access can test drive it and experience its capabilities firsthand. While the much-publicized AI wars spotlight Microsoft Co. (NASDAQ: MSFT) with Open.AI versus Alphabet Inc. (NASDAQ: GOOGL) Bard AI, IBM's Watson is flying under the radar. The newly energized AI trend could spark the reemergence and the second coming of Watson AI to the public as it continues penetrating the enterprise market unnoticed by the behemoths who are too busy fighting for mainstream dominance.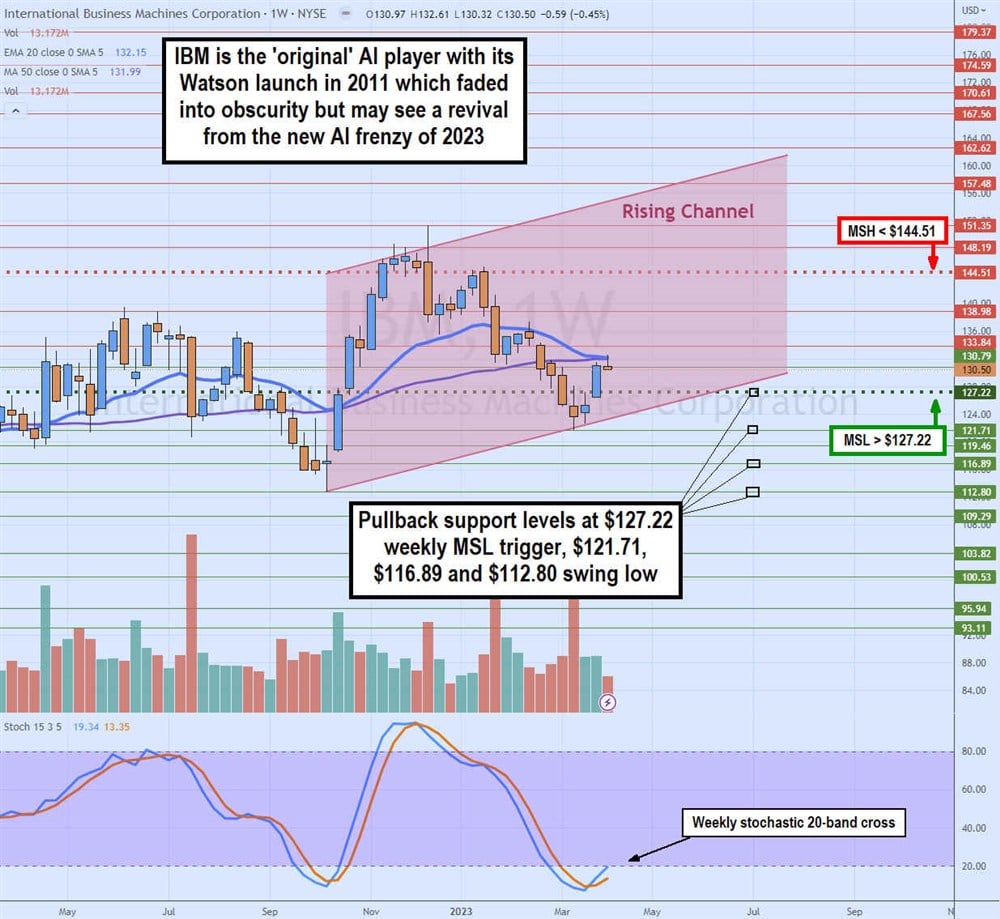 Weekly Rising Price Channel
IBM's rising weekly price channel started from $112.80 in October 2022 and rallied on a weekly market structure low (MSL) breakout through $127.22. Shares rose to a high of $151.35 by December 2022 before triggering a market structure high (MSH) sell-off under $144.51 as shares fell to $121.71 by March 2023.
After re-triggering the weekly MSL, the weekly stochastic oscillated to the 10-band and attempted to cross back up through the 20-band. The weekly 20-period exponential moving average (EMA) resistance overlaps the weekly 50-period MA resistance at $132.10. Pullback support levels are $127.22 weekly MSL trigger, $121.71, $116.39 and $112.80 swing low.