The One Marketing Tool Entrepreneurs Should Focus on for 2017
It is an oldie but a goodie.
Opinions expressed by Entrepreneur contributors are their own.
Q: What forward-thinking tool should marketers look to add to their experience tool belt to get extra value in the future?
A: Picking a single tool here is tricky. Web marketing is evolving quickly, which means the ability to plan strategy effectively (fewer than 30 percent of B2C marketers have a documented strategy) and making data-driven decisions will continue to grow in importance.
I believe we'll also continue to see methods like influencer marketing and native advertising increase in prominence as well, given the diminishing reach of organic social-media marketing and the sheer number of content messages consumers are receiving every day. It's getting harder and harder to get content seen, and these two techniques offer a quick bypass for reaching customers who are already engaged.
That said, if I could only pick one technique or tool to focus on, I'd pick email marketing.
Related: 8 Ways to Improve Your Email Marketing Performance
Why email marketing?
Email marketing isn't new by any stretch, but lately, I feel like it's fallen out of favor among marketers who are looking for the "latest and greatest." That's a mistake, as studies consistently prove email marketing is one of the most effective marketing strategies out there.
For instance, a study by Gigaom asked marketers to rank their most effective digital-marketing tactics, and the responses unanimously pointed to email as the best method for achieving awareness, acquisition, conversion and retention.
Further research from the Content Marketing Institute and MarketingProfs indicates that, among companies surveyed, email represented the most important metric for determining content marketing success.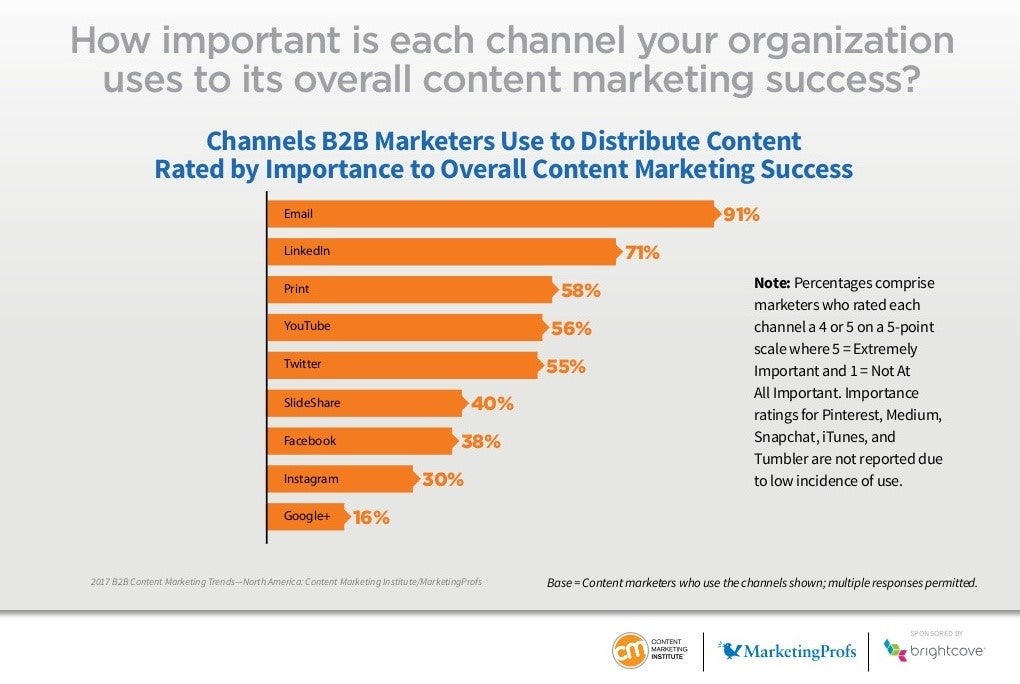 Why now?

What interests me about email marketing, though, aren't the statistics. They're good now, but they've always been good.
What I'm finding intriguing as we go into 2017 is the way major media companies are investing in email marketing. Data gathered by Campaign Monitor suggests that:
?Buzzfeed has "added over 1 million email subscribers in the past 12 months."
?The Washington Post "now has over 75 e-newsletters."
?The New York Times "has 12 people dedicated to newsletters."
Of course, the fact that these media outlets appear to be investing doesn't necessarily mean email marketing will perform well for them. They could build out these programs, only to discover that they don't get the engagement or conversions needed to justify their costs. That said, it's still a trend worth watching to me -- and it's one of the few strategies that I think nearly all businesses can benefit from.
Related: 7 Email Etiquette Strategies That Will Win You Clients for Life
What to focus on
So, if you're going to invest in email marketing in 2017 -- and again, I really suggest that you do -- you need to know that email marketing these days is about more than simply loading up generic autoresponder messages to be blasted to your lists.
Here are some of the specific aspects of email marketing all companies benefit from exploring:
Data analysis
According to MarketingProfs, "15 percent of marketers surveyed say their company still does not regularly review email opens and clicks and only 23 percent say they have integrated their website and emails to track what happens after a click."
That's not okay.
Email marketing programs create a huge amount of valuable data that can be used to improve clickthrough rates and email engagement - but only if you take the time to figure out what it's actually telling you.
Email list segmentation
Marketing these days is too personalized to send the same message to massive groups of people. Data from Ascend2 suggests that, "The ability to segment email lists and individualize email campaign messaging are the most effective personalization tactics for 51 percent and 50 percent of marketing influencers respectively."
There are plenty of tutorials out there on how to segment messages effectively; your email provider likely has a few you can browse. Take a look at them now and start testing different list segments.
Behavior triggering
Finally, consider that some of the most effective email marketing messages are those that are sent after a visitor takes a predetermined action and triggers an email message -- not those that are sent according to a set schedule.
Related: There's a Time for Email and a Time for Slack. How to Know the Difference.
The Epsilon Email Institute reports that "Automated email messages average 70.5 percent higher open rates and 152 percent higher click-through rates than "business as usual" marketing messages." That's huge, and it highlights the importance of planning an email marketing strategy for 2017 that's personalized and responsive to the needs of your customers.