The Founders of Celeb-Favorite Shoe Brand Allbirds Explain Why Being Told to Raise Money Was the Worst Advice They Ever Received
Tim Brown and Joey Zwillinger say there is no one right way to build a business.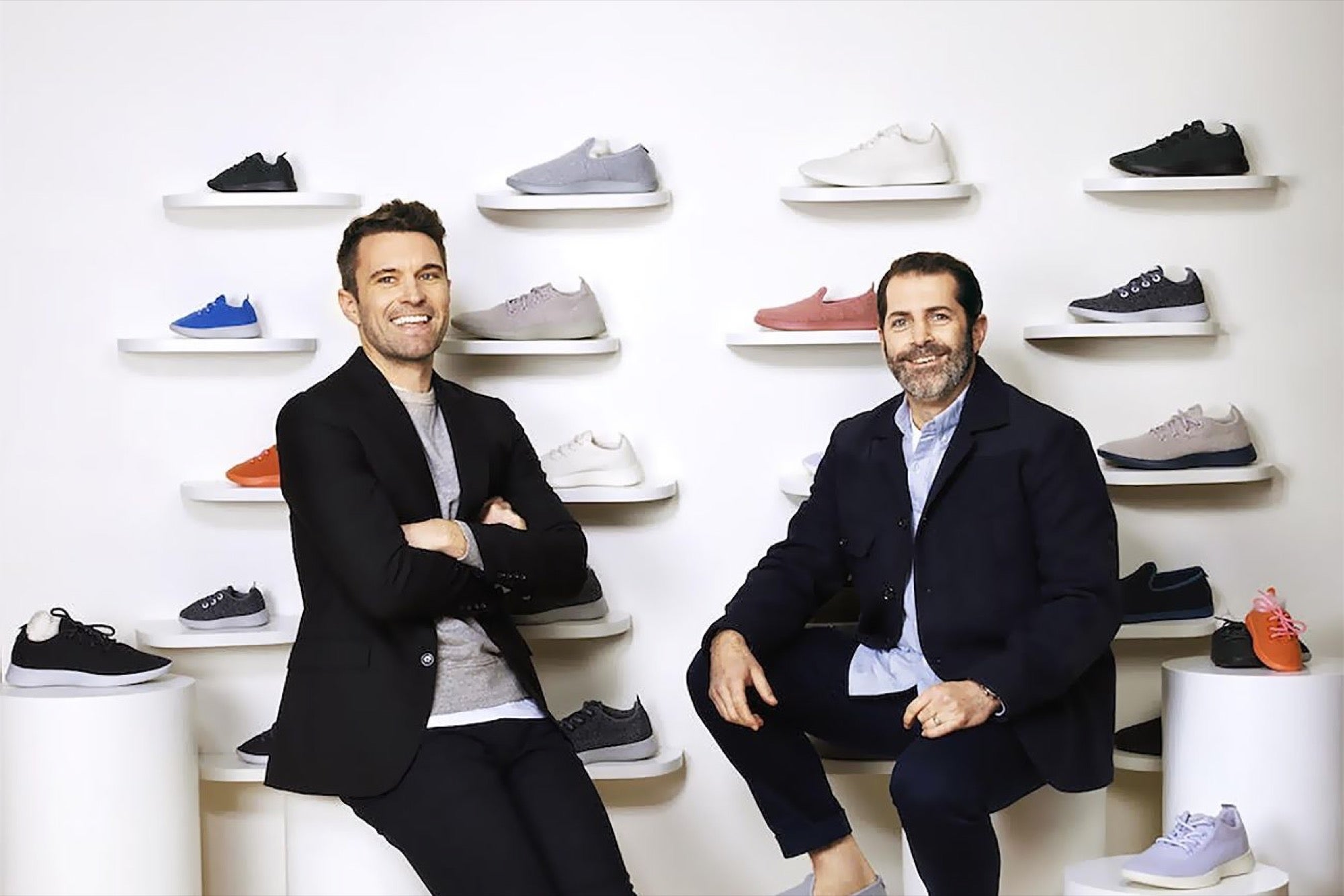 Editor's Note: Entrepreneur's "20 Questions" series features both established and up-and-coming entrepreneurs and asks them a number of questions about what makes them tick, their everyday success strategies and advice for aspiring founders.
As the co-founders of two-year-old footwear startup Allbirds, Tim Brown and Joey Zwillinger's biggest goal is to make stylish, comfortable and most importantly, sustainable shoes that ensure your actual footprint doesn't compromise your environmental one.
Brown hails from New Zealand and comes to the world of entrepreneurship via an unexpected path. Though he always had a passion for design and studied it in school, his first job was as a professional soccer player. Highlights of his athletic career included being the co-captain of New Zealand's national team during the 2010 World Cup.
Zwillinger, with his background in engineering, had a slightly more traditional launching pad. He has an MBA from Wharton and worked at Goldman Sachs and Deloitte, and held a leadership role at Solazyme, a company that makes products out of algae -- which made him familiar with and intrigued by the potential of developing a business around renewable resources.
Today, Brown's initial idea -- that long-lasting shoes could be made with materials like wool, tree fiber, castor bean oil and recycled plastic -- has yielded them a raft of A-list fans including Mindy Kaling and Jennifer Garner, two stores in San Francisco and New York, partnerships with big name retailers like Nordstrom and more than $27 million in funding from investors. As of this spring, the company has sold one million pairs of shoes.
We caught up with Brown and Zwillinger to ask them 20 Questions and find out what makes them tick.
Related: Use This Successful Entrepreneur's Scheduling Secret to Have Your Most Productive Day
1. How do you start your day?
Joey Zwillinger: I wake up between 6:00 and 7:00 am, with someone the age of 4 or below yelling at me. I make them breakfast and lunch, and then do 15 other things before I race out the door. I use my car ride to get myself focused to work because my home gives me zero ability to be focused.
2. How do you end your day?
Tim Brown: I like to end my day with reading. It's a helpful way for me to clear my mind and stop it racing before I go to sleep. If I don't do that, I found myself checking off my to-do list late into the night, which is not always healthy. Reading is my way of was resetting.
3. What's a book that changed your mind and why?
Brown: Team of Rivals by Doris Kearns Goodwin. It's about Abraham Lincoln and the formation of his cabinet. The guy had remarkable persistence. I forget how many times he lost the elections before he won, and how he taught himself to read.
4. What's a book you always recommend and why?
Zwillinger: I always recommend Man's Search for Meaning by Viktor Frankel. It is a story of the Holocaust, but it's also a story about hope and optimism -- knowing that no matter what situation you're in, you have the ability to make a great life and make something positive happen.
Related: Shark Tank's Barbara Corcoran Explains Why You Must Make Time in Your Schedule For Fun
5. What's a strategy to keep focused?
Zwillinger: Find the time to clear my head. That's not something I can do every day, but I do love to step back and do an activity that is more hobby-oriented. I love doing woodwork. It is very cathartic and enables me to not have any distractions and regain a center. We make all our conference tables here as a team. We all take raw, ethically harvested red wood, sand it down, finish it and put some legs on it.
6. When you were a kid what did you want to be when you grew up?
Brown: One was a soccer player, and I was very fortunate enough to make that happen. The second one was to be an architect, and I failed miserably at that. But I did study design and that was something that I fell in love with and is a big part of what we're doing today.
7. What did you learn from the worst boss you ever had?
Zwillinger: This boss had a very firm view that if he says to do X, I'm supposed to do X, and I can absolutely not do Y, even if I think Y would be of benefit to the group or the company. I realized that for me, as a management philosophy and a technique, I love to have people to set stretch objectives. I love the set people free with that creativity.
8. Who has influenced you most when it comes to how you approach your work?
Tim: My dad, who taught me to never ever give up. I know it's a cliched thing, but at certain moments certainly through the Allbirds journey, [I remember that advice to] keep on going. Certainly, in my sporting career, there's something about stepping into the arena and trying to do something that plenty of people would tell you is a bad idea. You got to use that as fuel rather than listening to that.
9. What's a trip that changed you?
Zwillinger: I was 16 years old and staying at a family's house in a mountain town in Mexico for a month. I fell in love with the Mexican culture and fell in love with the idea of traveling alone. I have since taken many months-long walkabouts throughout the world because of it. I love to see what different cultures have to offer.
Related: Health and Beauty Mogul Bobbi Brown Shares The Biggest Time Sucker -- and What You Can Do About It
10. What inspires you?
Zwillinger: I've been inspired by business leaders who have the courage to stand up and speak out publicly about a set of values they have, even at the risk of ostracizing some of their customers. Having the conviction to be authentic, be who you are and stand up for things that are important -- that's something that has recently been giving me a whole lot of inspiration. Howard Schultz is a good example of someone who I think is doing a phenomenal job.
11. What was your first business idea and what did you do with it?
Brown: The first business idea I ever had was that shoes could be made out of wool, and they might be more comfortable. It was a bad idea long before it was even close to being a good one. But it became Allbirds, and it is something I'm glad I stuck with.
12. What was an early job that taught you something important or useful?
Zwillinger: I was a lift operator at Northstar in Tahoe, and I learned about the great challenges and opportunities of being in a service business.
13. What's the best advice you ever took?
Brown: One is listening to feedback is really important, but equally ignoring feedback is really important, too. There is the sweet spot where you're able listen and take things on board, but also filter through your own lens.
14. What's the worst piece of advice you ever got?
Zwillinger: Get as much money as you possibly can raise. Don't worry about dilution, just raise and get higher and higher valuations and prices. We haven't done that, and we're really happy that we have not taken that advice. There are different ways that build businesses; it's not just one hammer [to use] and one nail to hit.
Brown: I also think there's the assumption that once you raise the money it is the time to celebrate, and really that's when the pressure starts. It comes with a new set of expectations and a new set of pressures, and I think being aware of that and staying humble through that process is something pretty important.
Related: This Successful Entrepreneur Explains Why You Don't Need Billions to Build a Brand That Hits Home
15. What's a productivity tip you swear by?
Brown: It took me a long time to realize that to-do lists didn't need to be checked off in sequence.
I try to ask myself each morning, what are the three things that I should be doing that will help shift the needle for the business. Sometimes those are immediate, and some are very long term that you would never start if you were focused only on the present.
16. Is there an app or tool you use in a surprising way to get things done or stay on track?
Zwillinger: It's my Traeger grill app. I get to season meat in the morning, throw it in the smoker, and I know exactly the temperature that the meat is at and I can do absolutely anything else I want. And the meal is done it is incredible [to not have to worry about cooking] at the end of the day.
17. What does work-life balance mean to you?
Zwillinger: What I think of as the harmony between work and life is to do something that is engaging for the whole family and to be able to integrate my family with my work. Tim and I, our wives are best friends from a long time ago. We get together and have a great time outside of work, but that also gives us an opportunity to connect on business. We try to really create a harmony between it rather than trying to compartmentalize.
18. How do you prevent burnout?
Brown: Exercise is super important to me. Whatever you're worried about, if you run hard enough, you will forgotten it by the time you're finished. The second thing is, we pride ourselves on not taking yourself too seriously. Make sure you are having fun along the way. I think we've done a good job of laughing more than we cried in the process of building Allbirds.
19. When you're faced with a creativity block, what's your strategy to get innovating?
Brown: Forget about it. When you're trying too hard, it just does not work. You have to put it down, and do something completely different and come back to it.
20. What are you learning now?
Zwillinger: I'm learning the art of patience. It's important to me, because I constantly feel a sense of urgency and a vision of where we need to go. I need to learn to be way more patient about how we get there and when the correct time is to start doing things as a business.

Brown: It's a cliche, but the "why" is important. In the early stages, you know before I met a Joey, and we decided to build Allbirds together, there was a period of time when I was fumbling with this business idea by myself, and I hadn't connected on the why; I hadn't connected with what the perspective was of what I might tell my grandparents about this journey that we're on. Once I connected that it with idea of sustainable manufacturing and the problem we're solving, [it came together]. It's very important, and I it's allowed us to give Allbirds the beating heart that it has.