This Fast-Growing Startup Wants to Make Visiting the Convenience Store Obsolete
Imagine snacks at your door in 10 minutes or less.
Rafael Ilishayev and Yakir Gola know the exact moment that they had a business model that resonated.
The pair of now 23-year-olds met on the first day of business school in 2011 at Philadelphia's Drexel University and quickly became friends. The following year they were living together with four other roommates, and Gola, the only one with a car, found himself always offering to run errands, especially since none of the on-demand platforms had what they wanted when it came to speed and price.
Related: How to Be Taken Seriously As a Young Entrepreneur
They decided they could do better, and the following year launched goPuff, an on-demand delivery service that seeks to make the convenience store obsolete. The founders set up the beta version of the app, bought a 1999 Plymouth Voyager, and no sooner had they affixed the goPuff logo to the vehicle did they get their first order -- a good month before they were officially ready to be up and running.
Image credit: Courtesy of goPuff
Their fellow student ordered Gatorade, M&Ms and Cheetos. The pièce de résistance: their first customer's apartment shared a wall with a 7-Eleven.
"I asked him, why would you order from an app when you literally have 7-Eleven right next door?" Ilishayev said. "He said, 'why do I need to go to 7-Eleven when I can order from an app?' I ran back to the car and I said, 'Yakir, we have something here, we need to get to work."
Related: What Young People Must Know About Entrepreneurship
And get to work they did. They officially launched on Dec. 25, 2013. During the first six months, Ilishayev and Gola worked alone for 17 to 18 hours a day, seven days a week in their Philadelphia warehouse taking orders and making deliveries in between classes.
Maintaining their sanity was a challenge, but the duo say that their friendship is more than intact -- it's stronger because of the experience. Today, they have a staff of 80 and a presence in 12 cities, including New York, Boston, Washington, D.C., Seattle and Chicago. And while 85 percent of goPuff's customers were 18 to 24 when the company began, that cohort now makes up only 50 percent, they said.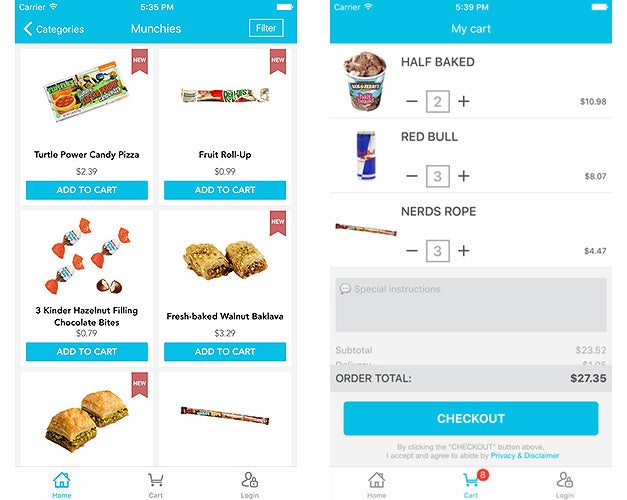 Image credit: Courtesy of goPuff
Ilishayev says that as the company expanded, learning how to step back and delegate was a bit tough, but now his motto is, "Don't stress the little things. Done is better than perfect."
Related: 7 Rules for Entrepreneurs to Delegate Effectively
Of course, the founders also had to deal with the doubts of the people closest to them. "If someone tells you it can't be done, don't believe that," Gola says. "In the beginning we asked our friends and family, 'what do you think of this idea?' [Most] people said that they wouldn't use a service like that and they would rather go to the convenience store. People don't want to hear something that they aren't used to. If someone is going doubt you, don't listen to them."
Going into 2017, they have plans to expand to a new location every three weeks, with their eyes on cities such as Columbus, Ohio, Nashville, Tenn., and Minneapolis.
Gola says that a number of factors come into play when choosing a new location. They have to buy a new warehouse, hire contract drivers and develop relationships with suppliers in the area. If one piece isn't there, the launch falls apart.
Related: The World on Demand: 23 Startups That Deliver Everything From Sexy Man Servants to Marijuana
All those elements are necessary to make good on the company's promise that when you place an order with goPuff, which features a selection of more than 3,000 items, your delivery will be there in 30 minutes or less. If your order is $49 or more, the delivery is free. Otherwise, there is always a $1.95 flat fee. The pair's main goal is to get the delivery time down to 10 minutes.
Ilishayev says that goPuff doesn't view companies such as Postmates, Instacart or DoorDash as goPuff's chief competition, because the company is dealing in different markets. While those businesses focus on grocery and restaurant delivery, goPuff's stock and trade are convenience store items. The concept of the convenience store is the company's chief competitor, Gola says.
Donna Harris, the co-founder and co-CEO of Washington, D.C.-based startup incubator 1776, says convenience-oriented companies like goPuff are laying the groundwork for an on-demand economy where more established businesses are inspired to apply the models that these startups have perfected to do things such as cut costs and change how they hire.
Related: 4 Essentials for Growing an On-Demand Company
"We've been ordering pizza for decades, so on-demand is not that new, it's just in a completely new format, which is that I'm not just calling up Dominos. I can order from any new restaurant, because there is a tasker to go pick it up," she says. "It's a simplistic business model. There are no regulations, there are no big incumbents, I just need people who want the extra income, and I need people who want the convenience, who value their time and are willing to pay people to take on a task to save me time."
Gola and Ilishayev say customers tweet at them all the time asking if they can offer a given item. If one of their suppliers has it, they will try to start carrying it the next week, noting that relationships with their users is what their business model depends on.
"Last year we had a state of emergency in Philadelphia, and we stayed open until we couldn't operate anymore. We were open even after Uber closed." Ilishayev says. "It doesn't matter how much money you make that day -- revenue isn't relevant, it's about being there for your customer. They know that everything else is unavailable, the convenience store is closed, but goPuff is your lifeline."