How the Founder of Modsy and Her Mentor Are Building a 'Power Squad' to Help Women in Business
Shanna Tellerman, the CEO of Modsy, and her mentor, Cindy Padnos of Illuminate Ventures, chat about supporting each other and empowering other women.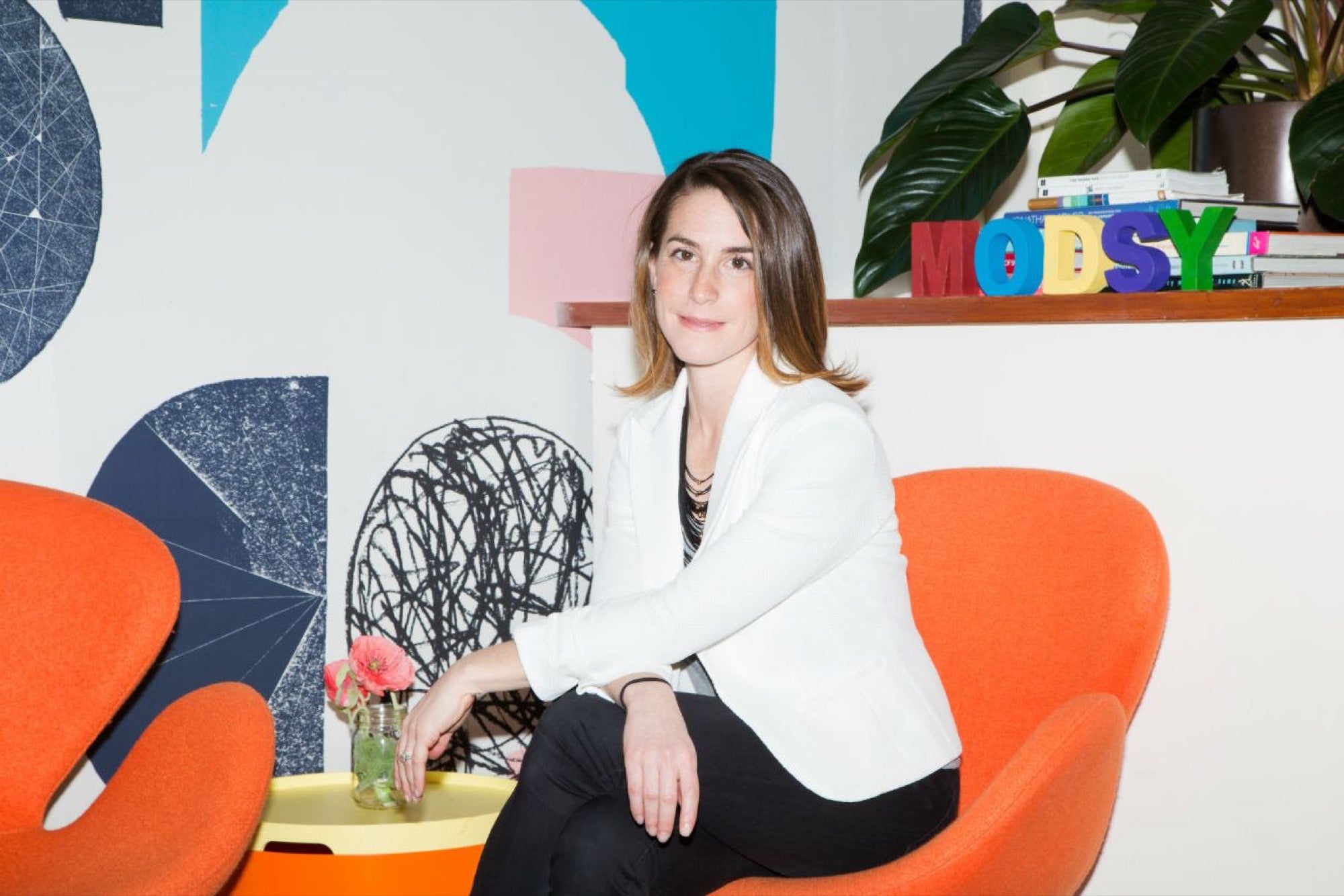 In the Women Entrepreneur series Mentor Moments, female founders sit down to chat with their own mentors (and us!) about how and why the relationship developed, and the lasting impact it's had on their careers.
Shanna Tellerman has had a really busy decade. After launching her first startup while in grad school at Carnegie Mellon, she moved to San Francisco to immerse herself in the world of tech startups and got a crash course on building a successful company. Serving as a guiding voice of reason and experience was Cindy Padnos, who Tellerman met through simple networking. (Ask for those connections and introductions, ladies!) The two became fast friends, and Padnos,the founder of VC firm Illuminate Ventures, became an invaluable advisor to Tellerman, who eventually sold her first company and spent a few years working in the VC sector before launching her second and latest project, Modsy, in 2015. Modsy uses 3D modeling to help users design and shop for their homes and has raised nearly $40 million in funding. With more than ten years of experience under her belt—and with Padnos still as a close friend and advisor—Tellerman is now focused on taking her company to the next level and working to make sure all female founders have the support system they need and deserve. The two women look back on their long relationship and their big plans for the future.
Women Entrepreneur: How did your paths first cross?
Cindy Padnos: Shanna and I both went to Carnegie Mellon—but at very different times! But it actually wasn't Carnegie Mellon that introduced us. It was a Bay-Area attorney with a nationwide firm, and one of his colleagues was working with Shanna, who was working on her first startup in Pittsburgh while she was in grad school. He told me about her back in 2007, said she needed an advisor and wanted me to chat with her the next time I was on campus.
Shanna Tellerman: I was in the habit of connecting with people and at the end of the meeting, asking who else I should meet. And it led me back to Cindy and Carnegie Mellon. We had a memorable meeting in a coffee shop in Pittsburgh.
CP: She was building this super high-tech product, and she came in with this giant gaming-style laptop to give me a demo—how many women do you see walking around with a laptop that weighs as much as they do?
Related: 50 Ways Women Entrepreneurs Can Fund Their Businesses
ST: We hit it off right away, and it was notable to me that Cindy has been an entrepreneur and is an investor. She gives really straightforward feedback, which was so refreshing. I had a really hodgepodge group of investors before meeting Cindy. I had funded my startup, Sim Ops Studios—a virtual training platform that let emergency responders train through 3D simulations—out of grad school, and I knew nothing about business. We had some local incubator seed funding. We went out to California for a TechCrunch event, and it became clearer and clearer that staying in Pittsburgh was not going to be the best choice.
CP: To build her management team and raise capital, I told Shanna that she needed to be in the Bay Area, and she moved. Shanna was so frugal,even after she raised the first amount of capital, she was sleeping on people's couches. I was like, "Shanna, pay yourself a living wage!"
ST: I did get an apartment. I heard Cindy's wise advice that I needed my own place.
CP: At least your own bed!
ST: I got a roommate. It was a wise move.
CP: The way that Shanna and I have worked together over the years, it wasn't just when [my firm] Illuminate Ventures was investing in her company—it's been collaborative. She's told me what she needs, and I've tried to figure out if I'm the right person to help or if someone else is. To think that any one individual can have all the answers is just not right.
Related: 3 Ways to Build a Strong Female Entrepreneurial and Investment Ecosystem
ST: Cindy is understating. She worked hard on our behalf. She didn't just make an intro or two—she was making intro after intro, week after week. I heard a lot of "no" from a lot of investors in the beginning.
WE: Outside of your work with Cindy, and her investment in your company in 2008, what was your experience like raising money as a female founder?
ST: I was naive to some of the bias, but I didn't feel like I wasn't being given a shot—though, that was probably because the intros were often coming from Cindy, who had a very good reputation. I didn't see a lot of roadblocks. I found it harder in venture, both in trying to raise, and years later, when I worked in venture capital. I saw the roadblocks for female investors and founders who sometimes didn't even get that meeting.
CP: I learned a word when I was writing a white paper, and it's called "homophily." I'd never heard it before. It means that, it doesn't matter what your religion is or your gender or the color of your skin, but when you walk into a room, you will have a natural affinity for people who look like you. I've been in Shanna's shoes, and when I was fundraising for my company, I never had the opportunity to present to even a single woman. When we launched Illuminate Ventures, I walked into our first meeting, and two-thirds of the people in there were women. I didn't do it intentionally. I just set it up with the best people I knew.
ST: Diversity is important. And I remember, when we were trying to get venture, how uncomfortable it is to be the only [woman] in a room. It can hinder creativity. When there's a good gender balance and diversity, it just creates an ease. It's joyful.
Related: 4 Things Women Entrepreneurs Need to Know Before Approaching Angel Investors and VCs
WE: Shanna, your first company was acquired by Autodesk, where you worked for two years. Then you joined Cindy at Illuminate Ventures as an Entrepreneur in Residence, and eventually landed at Google Ventures. How?
ST: They were trying to recruit a new partner, and wanted a woman who had founded a company, exited and might be available—and I joked that the list was probably very short. Cindy knew David Krane, the CEO at GV, and really encouraged me to go for this. It was an incredible experience, vetting deals and meeting entrepreneurs. I spent two years there, and it gave me a lot of perspective.
WE: And then you turned back to the world of launching startups.
ST: Right when I joined GV, my now-husband and I had just moved in together, and we had such a hard time envisioning and designing our home. And I knew how to fix it with 3D technology, and I couldn't believe that no one was doing it already. I found myself waking up at night thinking of the idea. I was going to go crazy if I didn't build this. What became Modsy—which uses 3D modeling to help anyone design and shop for their home—felt like the sum of all the things I had been doing. This is the company I was supposed to build.
WE: And how much have you relied on Cindy this time around?
ST: I feel like we now connect on a different mission level, which is more about changing the universe, bringing together women investors, entrepreneurs and building support. We also have an annual event in Park City, Utah, where we bring women together.
CP: Shanna's on our advisory board now, which is great, because she's a magnet for young women entrepreneurs in tech. She's always sending us interesting companies and helping with due diligence. I think in time, when she has the time, Shanna will become an advisor to some of these companies. I know we'll have a lifelong relationship.
ST: The first calls I made when I started Modsy were all to women, including Cindy, who were like, "We're in, and we're backing you." That's the thing that I saw so clearly happening for so many men but not many women. It's a small universe within the network we've created, but it's a small step, to have that first call be to those women.