Day #7: Our Top Beauty Gifts Made by Indie Merchants
We tested your lotions and potions -- and deemed these to be the best stocking stuffers.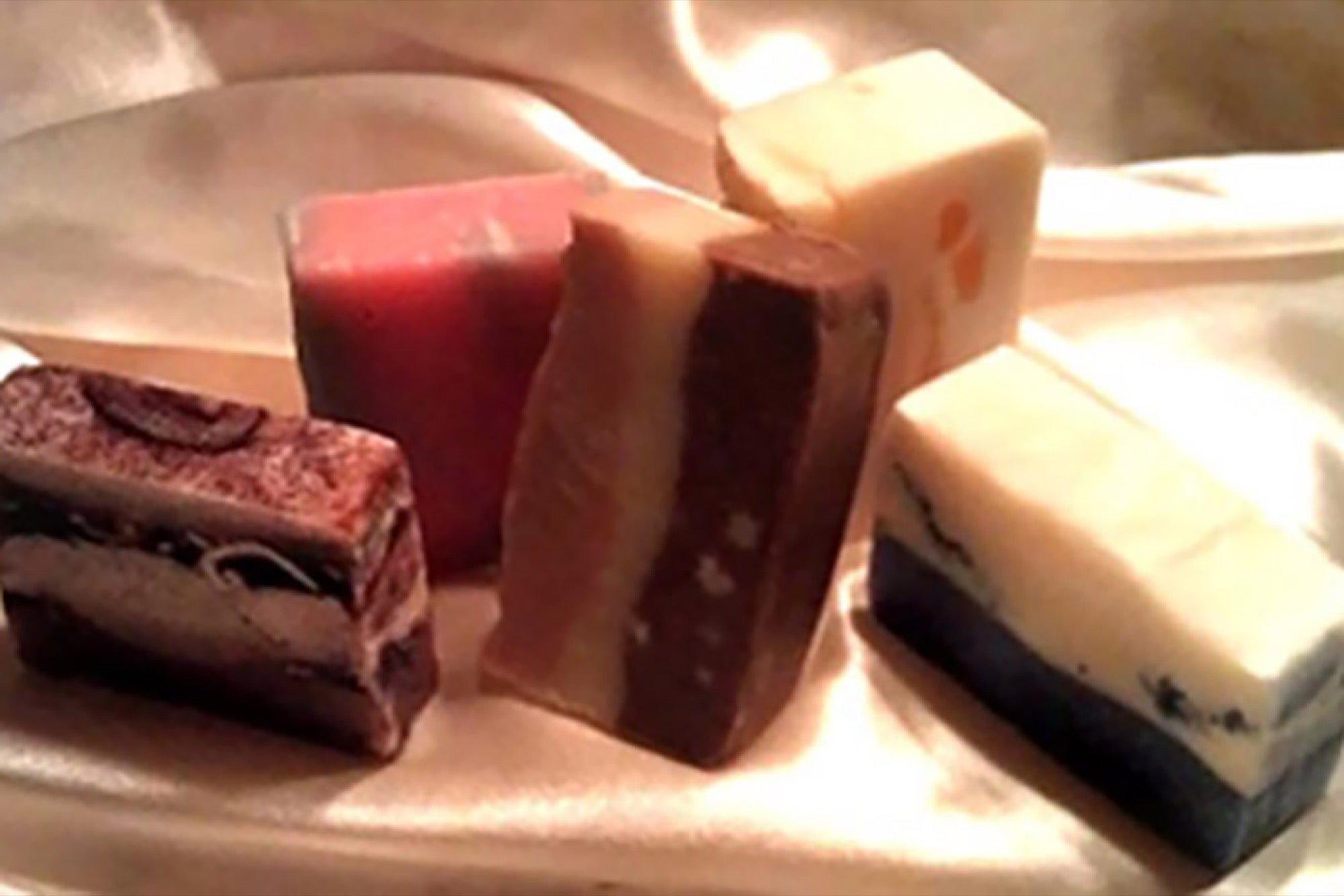 Opinions expressed by Entrepreneur contributors are their own.
Editor's Note: We're rolling out 10 Days of Indie Merchant Gifts, in our annual celebration of the artists, craftspeople, designers and other independent merchants who make one-of-a-kind products. See gifts in the categories of pets, jewelry, kids, quirky and eco-friendly.
A lot of entrepreneurs make candles, lotions and hair products. Still more make soaps. So not surprisingly, we received scores of submissions in the beauty category when we asked for entries for our Indie Merchant Holiday Gift Guide.
We whittled down our semi-finalists by choosing the most interesting ones with the best stories, and then we tested each and every one. (Just like we taste-tested all the food entries. . . It's a tough job, but someone's got to do it.)
Based on aroma, texture, color and function, these seven entries were selected the best stocking stuffers this holiday season.
Stongest Minds
Product: Hope in a Soap
Price: $9.99
Website: www.soapsforhealth.com

Amy D. Cohen of Marlboro, N.J., is a practitioner for emotional health, using flower remedies (botanical extracts) to create customized blends. "Flower remedies reverse the negative emotions and behaviors that do not serve us," she says. "I found this through my own trauma when my doctor recommended one, and truly, I thought she was crazy." Now a believer in flower power, Cohen makes these eco-friendly soaps with essential oils, and each one has its own reputed health benefit. Her "Don't Worry, Be Happy" soap, for instance, helps restore calm, she says. "I know it sounds too good to be true, but it isn't," she says.
Editors' comment: We loved these soaps, which truly infused the shower with their fragrance. And the names on the labels -- "Chill Out!" and "Focus Focus Focus" -- are cute. They'd make a nice stocking stuffer, especially for those who like herbal or natural remedies.
Scandle LLC
Product: "Scandle" Candle
Price: $34.95
Website: www.ScandleCandle.com
A few years ago, Christine White of Addison, Texas, started experimenting with beauty recipes at home. Her goal was to stick with plant-based ingredients that were healthy for the skin and contained no synthetics. So she formulated products in her kitchen "with a crockpot, a ladle and a prayer," she says. Her "Scandle" soy candle melts into a body lotion suitable for massage or a daily moisturizer.
Editors' comment: We liked the wonderful scent, which reminded us of sugar cookies. And the melted lotion was easy to pour, thanks to the Scandle container's spout. A winner.
Pretty Please Nail Polish
Product: Customized nail polish
Price: $10
Website: www.prettypleasenailpolish.com

"I wanted a personalized nail polish as a Christmas present for my mom, only to realize there was no such thing, so I made it," says Sara Ricklen of New York. Customers can choose a color from Pretty Please Nail Polish's website and have anything they like printed on the bottle. "Some even take the opportunity to name the color, because everyone's secret wish is to be a nail-polish color namer," she says.
Editors' comment: Sara is on to us: We do secretly desire to be nail-polish color namers. Fun gift idea, for both the giver and the recipient.
Brenda's Body
Product: Coffee Massage Body Bar
Price: $10
Website:
www.brendasbody.com
"While watching the Dr. Oz show one evening, I got excited when he announced a 'remedy' for the appearance of cellulite," says Brenda Tucker-Johnson, a skincare-product maker in Oakland, Calif. "He then began to apply coffee grounds to a woman's leg and created a mess." There must be a better way, she thought. So she began mixing caffeinated coffee grounds into her soap molds, and voila! The Coffee Massage Body Bar was born. Customers love the bar because it's non-messy, effective and smells like vanilla and fresh coffee, she says.
Editors' comment: We could indeed feel the vigor of the coffee grounds when scrubbing. It's still a tad messy, but the soap makes up for it with its scent and pretty form.
Zen Society
Product: Bilberry Repair Serum
Price: $28
Website: www.zensocietyskincare.com
Kaitlyn Lockman of Stamford, Conn., says her herbalism expertise allows her to create Zen Society's 100% natural skincare-product line. That means "no fragrances, no preservatives and no chemicals," she says. Her top seller is this Bilberry Repair Serum, a unisex light-weight facial oil that purports to nourish, moisturize and improve skin elasticity. She donates a portion of sales to Friends of the Earth, a grassroots environmental network, plus she uses eco-friendly packaging. Her company is also certified cruelty-free and vegan by PETA.
Editors' comment: If loving a vegan moisturizer is wrong, we don't want to be right. We tried this serum and found it to be exceptionally hydrating without a greasy feel. A nice stocking stuffer.
Hair Doozy, LLC
Product: Hair appliance organizer
Price: $45
Website: www.hairdoozy.com
R.D. Johnson of Farmville, N.C., a hair stylist for more than 25 years, says he always enjoyed the convenience of having his hair appliances within reach. "I thought, why not make an appliance organizer anyone could use at home, traveling, or at school?" he says. This past May, he drew a design, made a prototype, filed for patent protection -- and thus the Doozy came to be.
Editors' comment: What a functional product -- we're bummed we didn't think of it ourselves! Young girls, especially those who fuss over hair, would probably love this gift, especially the bright pink version.
Natural Hair Love Affair
Product: Candle that doubles as hot-oil treatment
Price: $9.99
Website: www.naturalhairloveaffair.com
For women with delicate or hard-to-manage hair textures, hairwashing can sometimes be a whole-day ordeal, says Ayo Ogun-McCants of Brooklyn, N.Y. "I decided that creating a home spa experience with a fragrant candle. . . can make hair-time more 'thairapeutic' and enjoyable," she says. So she invented this candle that melts into oil that can be used for a scalp massage or hot-oil treatment. "Not only did hair-time become more enjoyable, it also became more fun," she says.
Editors' comment: We liked how the candle comes in a pretty tin, and our hair started crying for a hot-oil treatment as soon as we smelled the cocoa-shea fragrance.