3 Pharmaceutical Stocks to Buy and Hold for the Long Haul
Robust pipelines make these three pharmaceutical stocks solid choices for investors looking for stocks to buy and hold for long-term gains
This story originally appeared on MarketBeat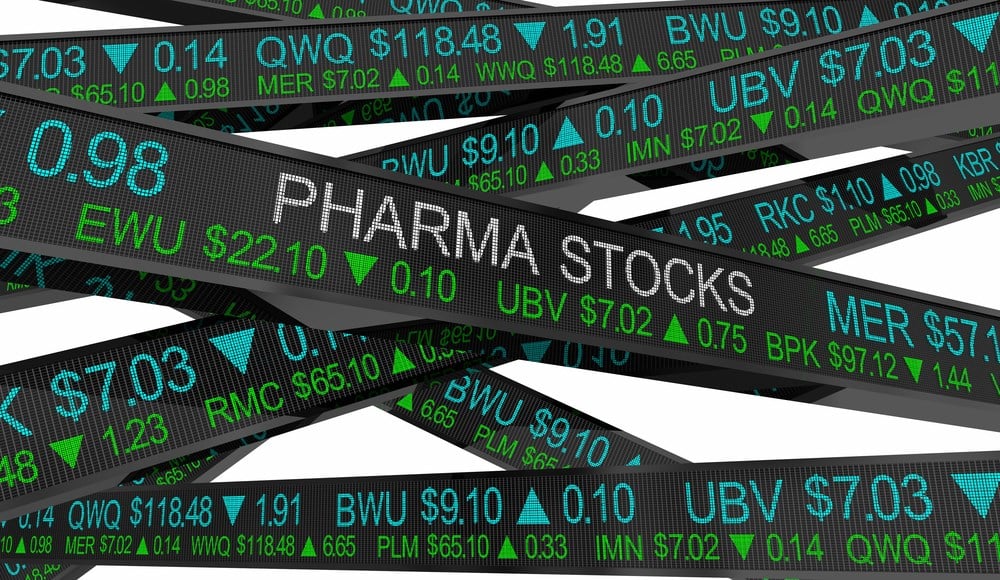 There's a reason why many investors own one or more pharmaceutical stocks. This is a $1.2 trillion industry that is essential to the quality of life for many people. And every year, companies in this sector are getting closer to real breakthroughs in areas like diabetes, cancer, even Alzheimer's Disease.
The real payoff for these new drugs may be years away. But a compelling feature of any pharmaceutical stocks is a stable dividend that can deliver shareholder value while these drugs advance through a company's pipeline.
That's the case with the three pharmaceutical stocks on this list. Each of these are solid choices for investors looking for stocks to buy and hold for long-term gains.
A Robust Pipeline Gives Investors Many Bites at the Apple
Shares of Pfizer, Inc. (NYSE: PFE) are down 26% in the last 12 months and the stock is now down over 10% in the last five years. So much for the bump the stock got from its Covid-19 vaccine and therapeutic when it reached an all-time high of over $59 on December 31, 2021.
Of course, there's a reason why PFE stock is lower. That is, demand for its Covid-related products is declining. So investors need other reasons to buy this undervalued stock. And there are several in place.
For starters, the company has a deep pipeline of 90 candidates that includes over 30 that are either in Phase 3 trials or are waiting on regulatory approval. And Pfizer merged with Seagen Inc. (NASDAQ: SGEN) in March. The $43 billion transaction may weigh on earnings in the short term, but it gives the pharmaceutical giant access to Seagen's portfolio of oncology drugs. Pfizer expects this to add $10 billion to the company's revenue by 2030.
And as of August 11, 2023, you can buy PFE stock at a forward P/E ratio of 10x earnings with a dividend that has an attractive yield of 4.59%.
Competition Shouldn't Steer You Away from This Dividend King
AbbVie, Inc. (NYSE: ABBV) is another pharmaceutical stock to consider as a buy-and-hold candidate. ABBV stock is up 6% in the last 12 months. That's almost identical to the performance of the S&P 500 index over the same period. However, in 2023, AbbVie is down 6% which lags the broader market.
The issue weighing on AbbVie is that 2023 is the first year that its blockbuster drug Humira is facing biosimilar competition. However, while the company's first quarter revenue and earnings were lower on a year-over-year basis, the company also showed that Humira sales are holding up.
One reason for this is that AbbVie still has a patent thicket around Humira for several indications. This will keep competition at bay for several more years. And two new drugs, Skyrizi and Rinvoq, are helping to pick up the slack. Investors should also not overlook AbbVie's pipeline of over 90 candidates.
At 31x trailing earnings, ABBV stock doesn't look undervalued. But the forward P/E ratio is a reasonable 13x. Plus, investors are buying a Dividend King that has increased its dividend for 51 consecutive years and has a dividend yield of 3.91%.
This Blue-Chip Pharma Stock is On Sale
The story for the Bristol-Myers Squibb Company (NYSE: BMY) is similar to that of AbbVie and Pfizer. That is, the company's stock is down largely due to biosimilar competition for its cancer drug, Revlimid. In the last quarter, the company announced a 41.3% drop in revenue. That's an acceleration from the prior year.
However, this is also a pipeline story. In the case of Bristol-Myers Squibb, the pipeline contains over 50 candidates with several of those in Phase 3 studies. That bodes well for the long-term growth of the company.
BMY stock is currently trading at the low end of its 52-week range. This gives investors a nice entry point for a stock that has a forward P/E of around 8x and an extremely stable dividend that the company has increased for 16 consecutive years.