Peloton May Reward Traders, Requires Long-Term Discipline
After a January surge and bullish earnings, Peloton may be an interesting trade, but it will require patience for investors looking to take a long position
This story originally appeared on MarketBeat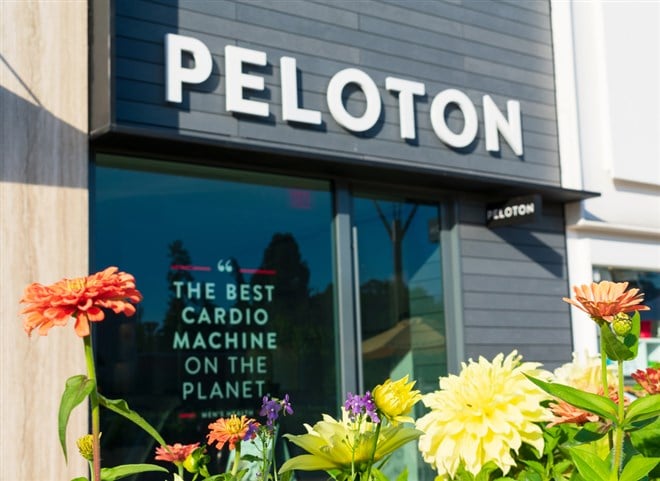 Peloton Interactive, Inc. (NASDAQ: PTON) is up 18% after a double beat in its second quarter fiscal 2023 earnings report. But although the calendar says 2023, you can forgive investors who feel like it's 2021. Specifically, investors are beginning to get a taste for risk. And that's important to remember because Peloton may make an interesting trade, but it will still require patience for investors looking to take a long position.  
PTON stock was one of the biggest pandemic winners. The company's signature exercise bikes and treadmills were a sought-after items to the point where demand far exceeded the company's ability to supply.  
But in 2022, investors sold off hard. Peloton stock gave up all those gains and more as investors began to question the narrative. There were three headwinds.  
First, exercise equipment is typically a one-off purchase. This means that once consumers have made that big ticket purchase, they will not buy another item for several years. Second, demand was bound to go down as the economy reopened and consumers (or potential consumers) returned to the gym. There's mixed evidence of this, but I believe the point is in favor of the bears.  
And third, there was doubt about how many consumers would be actively using their machines. Achieving fitness goals, particularly weight loss, requires patience and discipline. And that's a good way to look at the outlook for PTON stock. 
The Ultimate New Year's Resolution 
Losing weight is a common New Year's resolution. But as anyone who's made that resolution will tell you, long-lasting weight loss is a process that requires discipline and patience. You won't see results overnight, and there will likely be plateaus and even setbacks.  
How does this relate to Peloton stock? While today's results were a good first step, long-term investors will need to see much more.  
The good news is that Peloton is not burning as much cash as they were a year ago. The company says it's on its way to "an epic comeback."  
It may be. And I'm not a shareholder, so I don't come at this with an agenda of any type. But the company is not likely to be profitable for several years. And revenue is still lower on a year-over-year (YOY) basis. Plus, the company is expected to show low single-digit growth in revenue and earnings in the next five years.  
The company has not only grown its subscriber base from 100,000 in 2017 to over 6.7 million subscribers in the most recent quarter. Just over 3 million of those subscribers were part of its connected fitness unit. And the company has made a point of emphasizing its 92% annual retention rate.  
The $12.99 monthly fee for the Peloton App suggests that rumors of Peloton's demise may be greatly exaggerated. However, that 92% retention rate will be tested if the economy worsens.  
Some Profit Taking May Be In Order 
Shareholders have been rewarded with a gain of nearly 100% since the beginning of the year. But the economy is not out of the woods yet. And that means that this is a time to think like a trader and consider taking some profit.  
This is a time to buy the best. And as a company that isn't showing a profit anytime soon, Peloton is not that. Hold on to the stock if you'd like, but understand the company has a long road to its goals.