Who's Managing Your Online Reviews?
Remember: Just a few negative words can plunge your business into a one-star muck bath you'll spend days or even weeks recovering from.
Opinions expressed by Entrepreneur contributors are their own.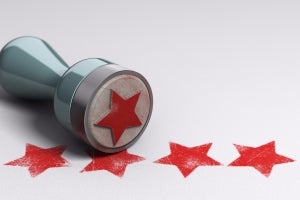 Today's entrepreneurs are well aware of the importance of online reviews. Those few words, usually written by total strangers, can give your business's online reputation a huge boost -- or plunge it into a one-star muck bath you'll spend days or even weeks recovering from.
Related: Why Online Reputation Management Is Like Brushing Your Teeth
The truth is, it's absurdly easy to share your opinion, and most people do it when they're either very happy or unhappy. Since the whole world can read those reviews, you need to keep a sharp eye on them and act quickly if you see something damaging.
Paying attention, in fact, is an important part of successfully managing your online image, which is a critical element in today's business world. There are so many moving parts in this internet world that you simply must have a plan.
How do you track your reviews? How and when do you respond to them? Who writes the responses? Do you respond to everybody, or pick and choose? These are all questions that you have to consider carefully.
What you're after is a sustained five-star rating, because that's a strong factor in whether or not other people choose you and your business. Ditto with negative reviews. And having no stars -- or no reviews -- is almost as bad as having one star.
Here are some eye-opening stats from a recent study by Invespro.
90 percent of consumers read online reviews before visiting a business.
88 percent of consumers trust online reviews as much as personal recommendations.
Consumers are likely to spend 31 percent more on a business with "excellent" reviews.
72 percent say that positive reviews make them trust a business more.
92 percent of consumers say they will use a local business if it has at least a five-star rating.
72 percent of consumers will take action only after reading a positive review.
A single negative review can cost a business about 30 customers.
You need five Google reviews to get your stars. Gaining 10 reviews on Google, plus 10 more on other review sites across the web, boosts your rankings. Most consumers will read at least four online reviews before they fully trust a business. The takeaway? Consumers are heavily influenced by product reviews, regardless of where they are in the purchasing process.
Managing your online reputation
So, how do you manage your online reputation? Answer: with strategic thinking and a well-thought-out plan. That plan requires keeping track of each and every online review and responding to 99 percent of them in some way. It involves deliberately and consciously cultivating positive reviews to outweigh negative ones and pushing those negative ones down the search list. Also, it involves analyzing the feedback to help your product or service improve.
Related: 6 Tools for Monitoring Your Online Reputation
Ideally, managing an online reputation also involves getting your good news out into the public domain, so that people recognize you and your business as experts, and you have a built-in positive starting point. This gives you an important leg-up on the competition.
All of this brings me back to my original question -- who's managing your reviews? This isn't something you want to trust to your college student family member who needs some extra work. No, this is a job for professionals who understand reputation. management.
Consider the intricacies involved in responding to one simple review. Let's say yours is a home-service business and a customer writes a one-star review saying your company is the most inept she's ever seen. She claims that the technician installing her new heating system had no idea what he was doing and had to call for help.
Two weeks and five visits later, she says her system is finally functioning at 90 percent capacity and she's decided to leave well enough alone. But, she wanted to warn everyone else not to call your company.
Talk about a black eye. It's just one review, one of dozens that may be posted on any given day depending on how big your company is. But people are going to read it and make decisions based on it. So you have to act and act quickly.
Generally, your response should come within a day or two. You want to craft one that makes this customer feel that her voice has been heard and that her concern will be addressed, while at the same time you show other potential customers how responsive you are and that you stand behind your "100 percent satisfaction" guarantee.
Not only that, but you express this message via a short, courteous, empathetic, professional response that contrasts with her devastating review.
In some situations, you may be justified to ask the review site to remove the review, but that's a rare event. Generally, reviews are consumers' opinions and are allowed to stand. Each and every review, positive or negative, however, needs the same meticulous attention from you because every one of them can impact a future customer.
See why you need professionals in your corner?
Related: 4 Online Reputation Management Strategies From a Celebrity Publicist
Consider hiring a PR agency you trust. If your company is big enough, you might even want to hire a professional communications staff member to manage this increasingly important part of your business.
The investment will be one that will pay off in amazing ways in terms of your bottom line. You'll see.