The Big Company That Got Nimble
Chinese Appliance maker, Haier Corporation, transformed itself from a small refrigerator maker to the world's largest appliance company by putting more power in the hands of employees.
Opinions expressed by Entrepreneur contributors are their own.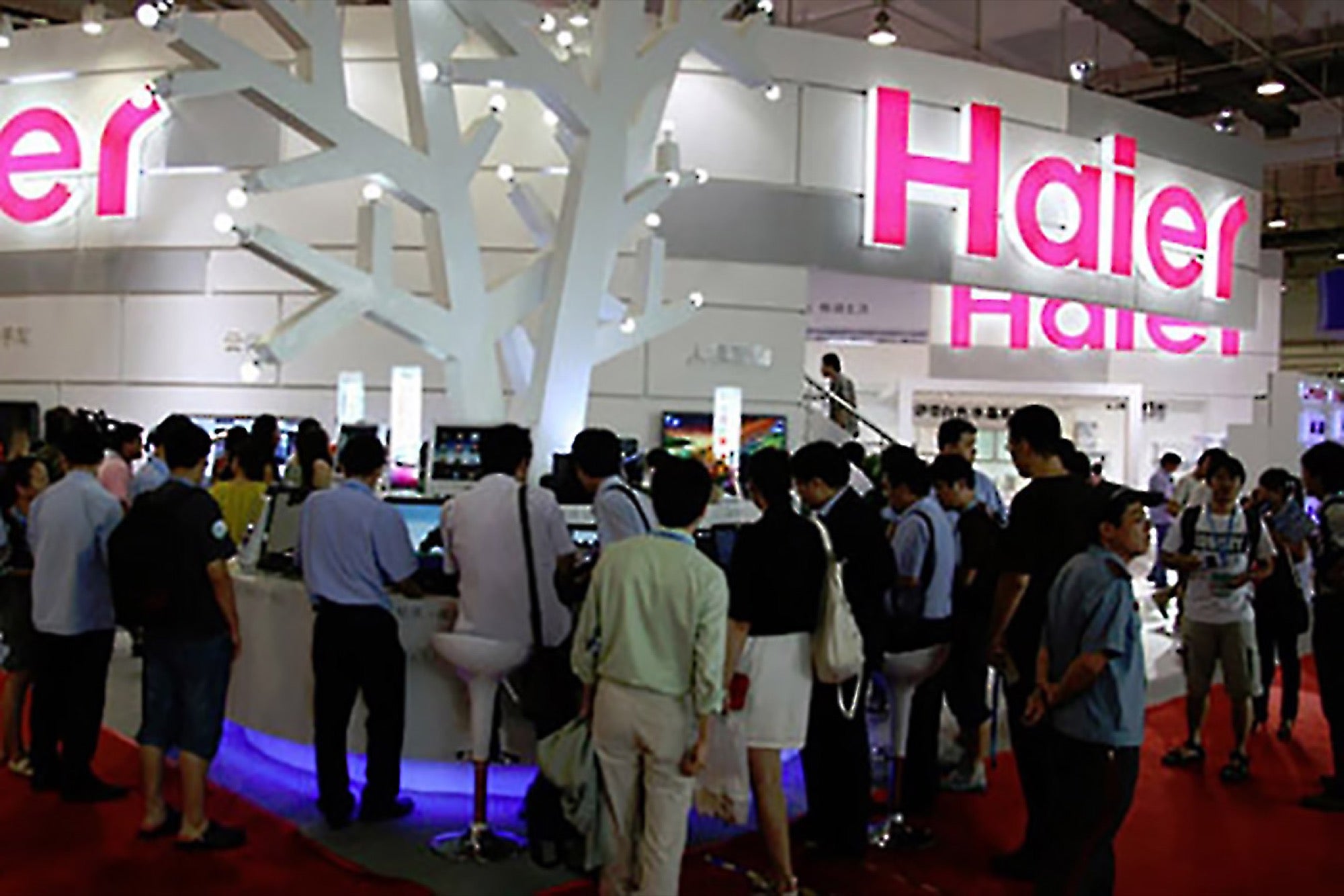 Chinese companies, despite their heft, aren't widely regarded as models of innovation or leadership. So it may seem odd that a book about transformation takes readers inside an 80,000-employee appliance company based in Qingdoa, China.
Yet, that's precisely what makes Haier Corporation an interesting case study in management. "China is this amazing miracle in terms of economic development but you only have three or four globally-known companies," says Bill Fischer, a professor of innovation management at IMD in Lausanne, Switzerland. "When you come across one that is remarkable in the way it reinvented itself, it gets your attention."
In their new book Reinventing Giants (Jossey-Bass, 2013), Fischer, his research associate, Fang Liu, and Umberto Lago, an associate professor of management at Bologna University in Italy, recount how Haier, once a small and bankrupt refrigerator company, transformed itself into the world's largest appliance company.
The success of Haier (pronounced "high-er") isn't the result of cheap labor or the mass-production of knockoffs. Rather, it was born out of initiatives to get closer to its customers and give its employees more autonomy. While the company is huge, it's broken into independent operation units where leaders are chosen by and held accountable to their peers.
Entrepreneur.com spoke with Fischer about what business leaders can glean from the turnaround and what practices adopted at Haier are applicable to U.S. organizations of any size.
Entrepreneur.com: You attribute Haier's success to two factors: organizing the company around the customer and unleashing talent within the organization to best serve the customer. Does any of this have roots in Chinese culture?
Fischer: Zhang Ruimin, the chief executive officer, will tell you there's a very Confucian element in what they do because there's respect for order, there's discipline and people get along because they have a shared tradition. I will tell you that it stems from choices by management that created this culture. The managerial choices at Haier are very thoughtful. They're all aimed at the vision and the vision has been consistent for 30 years. I think you can do this even if you're not Chinese.
Entrepreneur.com: The official work hours at Haier are 9:00 a.m. to 6:00 p.m., six days a week, but teams rarely leave before 8:00 p.m. Investment bankers and entrepreneurs in United States can relate to those kinds of hours, but how would this go over at most U.S. companies?
Fischer: The difference is the people at Haier think of it as working for themselves. They're really running small businesses under the corporate umbrella. What Haier has done is say to people: "You are the masters of your own fate. You're going to run this business and you'll succeed economically as a direct result of your performance." There's a saying at Haier that Haier doesn't give you a job, it offers you an opportunity. That's different from serving your time or clocking in and clocking out. These people really feel they are CEOs of small businesses and they are, actually.
#insert related here#
Entrepreneur.com: Yet, this isn't a free-for-all.
Fischer: Not at all. Performance is being measured in the marketplace and it's also being measured by the colleagues who have a direct financial stake and career stake in the outcome of the unit's performance. It's a very performance-driven atmosphere. At Haier you get every day a sense of what your total salary will be based on the performance of your unit. Every day they're facing those realities for better or worse.
One thing I hear a lot from people is "We could never give up that much control." My sense is you need discipline and creativity but they don't have to be mutually exclusive. The most creative organizations I see are also very disciplined.
Some years ago Andy Boynton and I wrote a book "Virtuoso Teams." What we concluded in all these cases maximum innovation took place when the talented people believed they had absolute freedom to contribute their best ideas and top management believed it was in complete control at the exact same time. That's what we see at Haier.
Entrepreneur.com: Still, it takes a special leader to do this with an organization of this size.
Fischer: I think only strong, self-confident leaders can really encourage entrepreneurship from below. When I work with people who are not self-confident they are threatened by releasing top talent. You very much need strong leaders at the top – Steve Jobs, for example – who can say take a chance, and that's what Zhang Ruimin is doing.
Entrepreneur.com: You mentioned that Zhang Ruimin is very in tune with the best management practices and will to try new things. What do you think motivates him?
Fischer: I can't speak for Zhang Ruimin, but I think believes the stereotypes about Chinese organizations are unfair. I also think he believes China can't compete in the global economy on the basis of cheap labor. At some point they have to move up the value curve. He's in a position where he can demonstrate the power of what Chinese organizations can do, if only they take some chances.