From $150,000 in Debt to $4 Million in Revenue: How One Man Built a Wildly Successful Globe-Making Business
Finding a unique gift for his father's 80th birthday was this entrepreneur's first foray into creating artisan globes
In this series, The Gambit, Entrepreneur associate editor Hayden Field explores extraordinary risk, speaking with successful people about how they overcame unusual obstacles to found a company or switched industries entirely in a "career 180."
In a sunlit warehouse in north London, white spheres sit in varying states during their transformation into globes. Pieces of maps hang from clotheslines all around, and tools of the trade -- mixing bowls, paintbrushes, scalpels and hand-engraving tools -- litter the room. Woodworkers and cartographers work alongside painters and designers. And at the center of it all is Peter Bellerby, founder of Bellerby and Co., one of the world's only remaining traditional globe makers.
Image credit: Tom Bunning

For almost a decade, Bellerby has been creating artisan worlds that take an average of three months to perfect. His company ships globes all over the world, from New York to Hong Kong, but it took a leap of faith, years of work and close to $250,000 to create the very first one -- born out of a quest for a unique birthday gift for his father's 80th birthday. Here's his story.
The Itch
Bellerby's interest in geography began before he can even remember. As a child, while his classmates opted for novels, he tore through thick volumes on the world, science and nature in his father's study. On his first laptop, he used the Paintbrush program to draw a globe and saved it as his background. And even though he says he stopped taking school seriously around age 7, he excelled in high school physical geography.
In the mid-1990s, after quitting college and moving to London, a 29-year-old Bellerby found himself working in sales at a television company. For about eight years, his job description was licensing television programs to international broadcasters, but his favorite part was always the natural history programming they distributed. In his office, Bellerby ran one program on a constant loop, featuring mountain gorillas piddling around in central African forests.
The Detour
Bellerby still felt aimless, and he left television in 2001. He did a stint flipping houses, then agreed to set up a bowling alley, karaoke and bar venue with a friend. For three years, he helped run it as a favor, but when the 2008 financial crisis hit, he decided to leave both house-flipping and the bowling venue behind.
Image credit: Cydney Cosette

Bellerby left on a spur-of-the-moment trip that ranged across southeast Asia, northern Africa and Europe, and he stayed away for six months, letting spontaneity -- a white truffle festival in Italy, a ferry to Greece, a trek to the Pyramids of Giza -- guide him.
While on the road, he started to plan out a present for his father's 80th birthday. Bellerby wanted it to be unique -- he was tired of gifting him shirts, socks and ties -- so he began to look in foreign countries. He couldn't find anything in India, Egypt and Morocco, and when he returned to London, he was genuinely shocked that his search continued to fall short. He tried online retailers, museums, auctions and even Harrod's. ("If you can't find anything there … you know you're going to struggle," Bellerby says.)
He looked at globes, but the ones he found seemed poorly made -- map pieces wouldn't line up, or they'd overlap to obscure entire cities or countries. (Iceland and Alaska consistently got the short end of the stick.) Plus, Bellerby had his sights set on a handpainted globe, and he couldn't find a single one up to snuff. "No one has made globes properly for a hundred years or so," he says.
The only solution, Bellerby figured, was to make his father a globe by hand. He set to work in the summer of 2008, figuring it wouldn't be too expensive and that it would be ready in a few months, just in time for his father's birthday.
He was wrong on both counts.
The Leap
Bellerby had just renovated his home, but soon, his living room workspace was almost unrecognizable. Each morning, he hung plastic sheeting from the ceiling with gaff tape to seal in the dust from his globe-making efforts. Chop saws and other standing machines littered the room, and he created sphere after sphere using Plaster of Paris. Bellerby's two cats ran in and out constantly, tracking the white dust everywhere. He vacuumed obsessively, and every day at 5 p.m., he hid all the materials behind a living room sofa to restore some semblance of an orderly household.
Image credit: Tom Bunning

Bellerby enlisted a code-savvy friend to write a computer program that would transform a world map into segments that fit on a globe, and he broke the rest of the process down into elements: woodworking, brass work, cartography and the sphere itself. The woodwork was easy and the cartography fun, but the sphere element was a "nightmare," says Bellerby, clarifying that it's difficult enough to create something round, so creating a sphere can feel almost impossible.
Another nightmarish part of the process? Figuring out how to perfectly attach flat map sections to the globe sphere. For 18 months, Bellerby practiced doing this every day. The kicker: Once he'd practiced on a sphere, he couldn't reuse it. That meant creating exponentially more Plaster of Paris dust to vacuum.
The Breaking Point
Project costs spiraled out of control very quickly. Within a few months, Bellerby had spent tens of thousands of pounds on the globe's materials, molds and more. "It was obvious very, very quickly that as much as I love my dad, I wasn't going to spend what turned out to be nearly 180,000 pounds in making the first globe," Bellerby says. "He's lovely, but not that lovely."
Bellerby decided to turn his gift idea into a business about four or five months into the process. He set up a website and invested in public relations to spread the word about the company -- even before he had finished the first globe. "That was a bit terrifying … but I just started putting myself out there," Bellerby says.
Image credit: Gareth Pon

As for how he funded the pricey project? Bellerby's house-flipping efforts left him with 80,000 pounds in the bank after his travels, which he put straight into the globe. Selling the house he was living in -- and an Aston Martin reminiscent of James Bond -- net him more capital, and he put about 120,000 pounds of debt on different credit cards.
Finally, in 2010 -- and after officially incorporating Bellerby and Co. Globemakers -- Bellerby gave his father his first globe. It was yellow-brown -- harkening back to 17th-century globe color schemes -- and close to 20 inches in diameter. "So that's what you've been working on the last year or two," Bellerby remembers his father saying dryly. He then placed the globe in the living room beside his armchair, where he read the paper, watched television and enjoyed afternoon tea (and evening gin).
The Turnaround
The company didn't sell many globes in the first few years, but Bellerby didn't mind -- he was having fun. He'd rented a cheap warehouse space, and the small team of four or five fielded calls from interesting people all over the world asking for globes. The product usually took about three months to deliver, but when Hollywood A-listers and other clients began to offer to pay more for globes with, say, a week-and-a-half turnaround, the company started pulling out all the stops.
As for public figures who have purchased Bellerby and Co. globes? "We keep names private, but even though I have what seem to be very confident women working for me, including Jade (my partner), they have all been reduced to mumbling wrecks on several occasions," Bellerby says. He mentions he keeps running into one celebrity who bought a globe about a year ago around town at flower shows and markets.
Image credit: Tom Bunning

In early summer 2013, the company sold just one globe in two months, and Bellerby remembers thinking, "This isn't going anywhere. If this doesn't get much better, I'm going to have to work out a new way of making money and just keep this as a hobby."
But the lull turned out to be just that -- a lull. It also didn't hurt that Bellerby's partner took over the company's social media efforts, which became a catalyst for increased sales and revenue. Bellerby and Co. hasn't needed to pay for advertising since 2011.
The Next Step
Bellerby and Co.'s team has more than quadrupled over the last four years and now includes designers, cartographers, woodworkers, painters, accountants and more. Bellerby still takes on small globe-making tasks here and there, but he's now more involved in running the company as a whole. This year, the company should turn around about 750 globes, compared to 500 last year -- and the current wait list stands between six months and two years depending on globe size. Revenue-wise, the company will likely net about 3 million pounds (close to $4 million) in 2018.
Image credit: Tom Bunning

The product itself has also come a long way since Bellerby's first go-round. The average globe takes about three months to create -- small globes have teams of about six people, and large globes usually have double that. As soon as an order is confirmed, the company starts to work with the client on cartography -- extra illustrations or other details. The team then prints the map, hand-cuts it with a scalpel, paints elements onto it and applies it to the sphere. The painters get the globe next, for between one day and four weeks of detailing (depending on size). After that, it's sealed and varnished so it's ready to be merged with its accompanying table or stand, which is made by in-house woodworkers. For any metalwork required for the globe's meridian or base, the company uses a local foundry or machining company, then hand-finishes the work in-studio. Upon completion, the globe is fitted into a flight case and shipped across the city, the country or the world.
Recently, the company delivered one of the largest globes it's ever made -- 50 inches in diameter and more than 400 lbs, counting the handmade base. It went to a client in Germany who keeps it in his museum, where he receives guests from all over the world. The globe took 10 people about a year to complete, and Bellerby calls it "insanely big, heavy and terrifying to put together."
The Takeaway
Bellerby's advice for entrepreneurs: If you genuinely think you've cornered a market, "don't let the naysayers pull you down." It's easy for people to think your idea is "completely barmy," but they may simply not understand the market. He says not to rush things if you see a future for your product.
Bellerby's father passed away earlier this year, but he always asked about the company even though it wasn't what he -- a naval architect without much experience in business or art -- originally envisioned for his son. He was pleased with the company's success and always wanted to be kept up to date. The original globe still has a home with Bellerby's mother in Suffolk, and he checks on it every time he visits.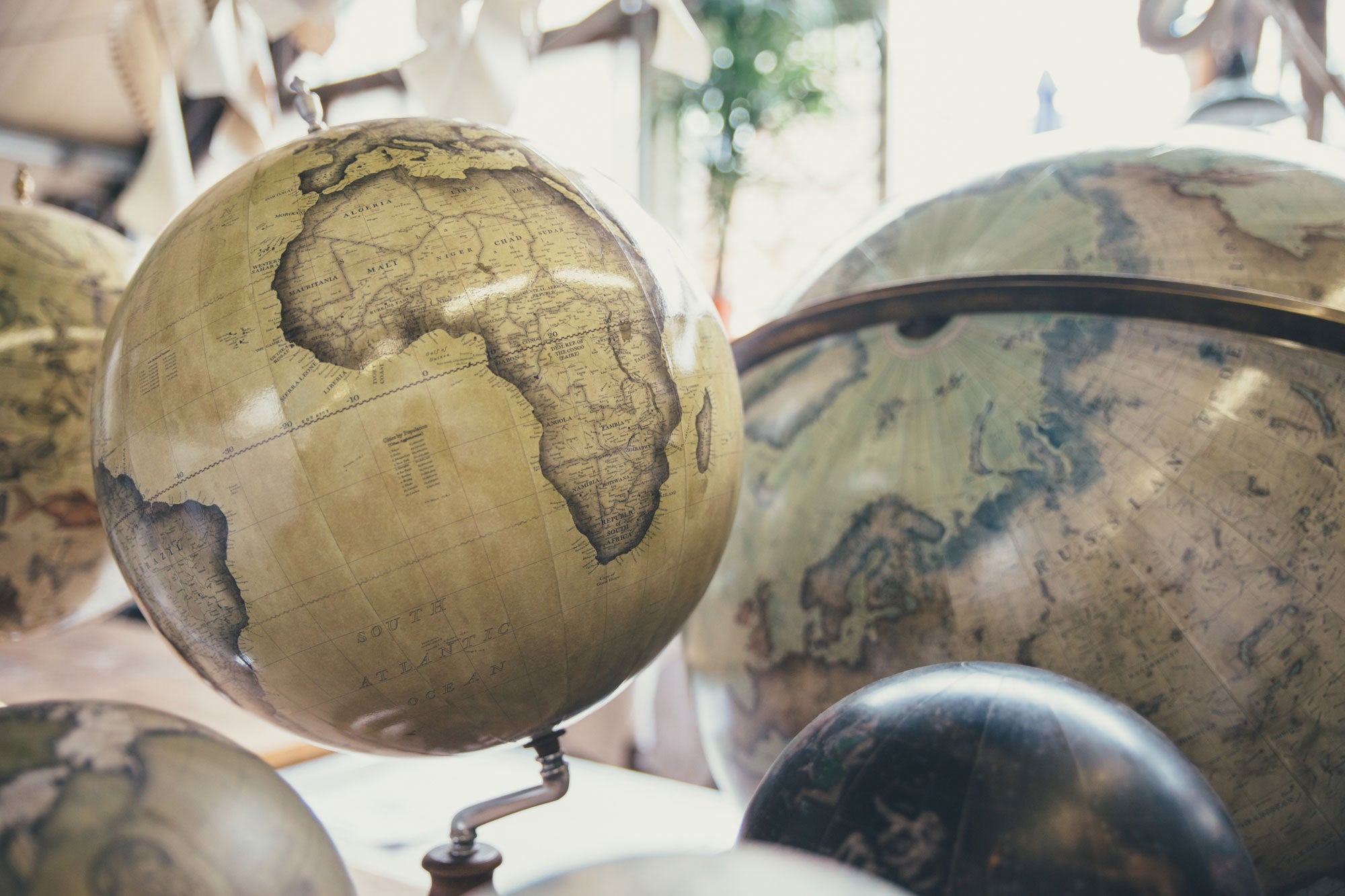 Image credit: Gareth Pon

Each year, at least half of Bellerby and Co. customers send in unsolicited emails, letters or photographs after they receive their globes. The number of testimonials the company receives still surprises Bellerby. "I have never bought a product in my life that I have written back to the company afterward and said, "Thank you for your product, it's lovely,'" he says.
The number one source of excitement for Bellerby is still the looks on people's faces when they visit the studio. "I'd be so excited about the whole thing, and seeing other people have that same excitement made it really fun," he says. "[It] made me realize, for me, it was something worth doing."