7 Ways to Navigate the Office Gift-Giving Minefield
Exchanging gifts with co-workers is a pleasant custom that many people find very stressful.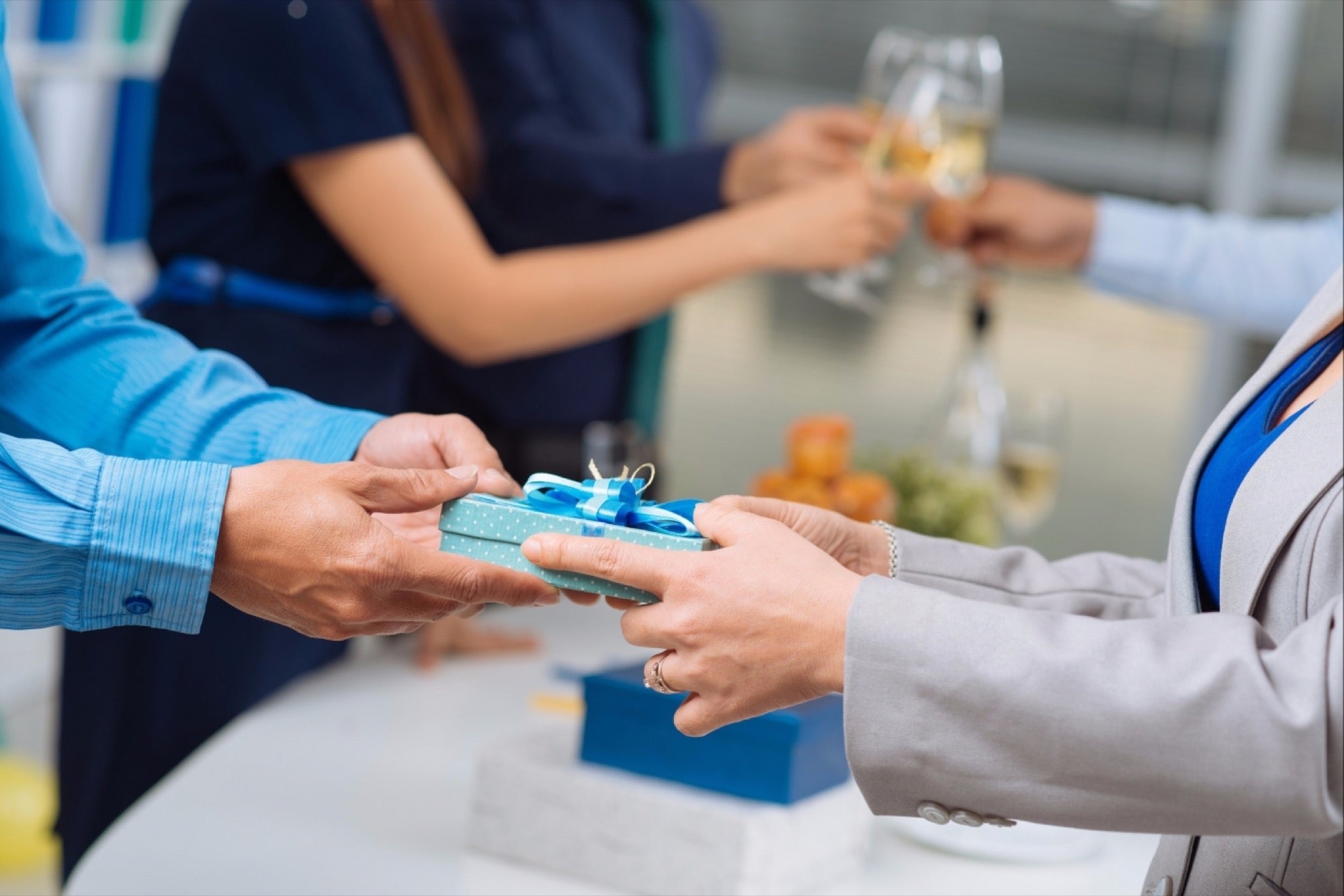 Opinions expressed by Entrepreneur contributors are their own.
The holidays are abundant with cheer, even at the office, where holiday potlucks and after-hour parties flavor the air with festivities. The holidays can also be filled with stress and confusion, especially when it comes to giving gifts at the office.
Perhaps you have questions about whether you should or should not give gifts to your co-workers, colleagues and clients, along with the ubiquitous money collections. To navigate smoothly through the holiday gift-giving season, here are some tips to follow.
1. Make gift giving optional.
Most everyone enjoys participating in an office gift exchange but some people may choose to opt out. Never make it mandatory to participate. Set a spending limit, usually $10 or less. Create an event such as a luncheon or an afternoon social where gifts can be exchanged, or hold your event after hours at someone's home. If the gift exchange takes place over a meal or at a party, be sure everyone is invited, regardless of whether they want to bring a gift or not.
Related: 5 Steps You Can Take Now to Get Wealthy in 2017
2. Tailor your gift.
Stay away from the proverbial coffee cup or key ring. Get creative. In other words, try to tailor your gift to the personality of the person. For example, if the person has children, choose a decorative picture frame to adorn their desk. If the person likes coffee, give a gift card to their favorite coffee shop. If you choose the name of someone you don't know very well, you're probably safe in giving a gift card to a popular restaurant, an office supply or home improvement store.
Related: Give the Gifts That Give Year-Round
3. Choose appropriately.
Gag gifts and embarrassing items do not go over well in an office environment. What may be funny to you may be offensive to someone else. Also, stay away from gifts that are too intimate or personal, including bath gel, perfume or aftershave. If possible, include a gift receipt so the person can exchange the item if they prefer.
Related: 10 Entrepreneurs Share Their Secrets to Staying Focused
4. Avoid alcohol and tobacco products
The office is not the best place to give wine, liquor or cigars. Remember, stick to your spending limit, if there is one. Save these extravagant items for someone you know well and give during private parties or outside of work. A better choice may be handmade goodies or food baskets that can be shared with their family, friends or co-workers.
Related: 101 Businesses That Will Make You an Extra $500 Next Month
5. Make charitable donations optional
Many offices take up collections this time of year, whether for charitable causes or for a gift for the boss. It is best to allow people to privately make donations, without any pressure. What may be a worthy cause to you may not be important to someone else. Besides, others may have already donated to their favorite cause. If you'd rather not participate, simply say something like, "I appreciate your asking, but I've decided not to participate this year." Your choice is personal, therefore you don't have to explain your decision to anyone.
6. Don't feel obligated to reciprocate.
There's always a chance that someone may surprise you with a gift. Don't worry; you're not obligated to give a gift in return, although you may feel like doing so. Simply say, "thank you" then follow up with a holiday card or handwritten note that shows your appreciation. I tend to collect small gifts throughout the year for this very reason. If someone gives me an unexpected gift, I always have something to give in return.
7. Think outside the box.
If you want to give a gift to someone who has just about everything, you might want to choose a gift for their pet or their children. This is usually more thoughtful than giving a generic gift card or something they neither want or need.
Sometimes the best gifts aren't gifts at all. A handwritten note telling someone how much they are appreciated is more meaningful and will be cherished for a long time.