10 Steps to Success from Instagram Icon Abigail Ratchford
How passion and drive helped this social media megastar build a global brand.
This story has been updated since its original publication date.
Having a clear goal is the first step to success, and for Abigail Ratchford, that goal couldn't have been clearer: "I wanted to be famous," she laughed on a recent call with Entrepreneur. If you are one of her 8.8 million Instagram followers, you know that she achieved that goal and then some.
Among a host of projects, the superstar influencer sells her own branded products on her Official Abigail Ratchford site and recently launched her own app, which offers exclusive and bonus content.
Over the course of our discussion with the social media megastar, Ratchford revealed her roadmap for turning her dream into millions of fans -- and then turning that fan base into a global business. Here are her 10 biggest takeaways.
1. Take charge of your life and take a risk.
"This social media model lifestyle sort of started by accident. I grew up in Scranton, Pennsylvania. I'm a small town girl. I did a photo shoot with a local photographer and he put the pictures up on his Facebook page. Within a few days, the pictures got picked up by Sports Illustrated and other places. So I started to do more and I realized that I really loved doing it. After about a year of doing that, I realized that there wasn't going to be many opportunities for me in Scranton, so in 2014 I moved to L.A. I developed a whole blueprint plan for myself. And now here I am."
Related: Models Turned Millionaires -- 10 Women Who Launched Their Careers In Sports Illustrated
2. Good things don't happen by accident. Plan, plan, plan!
"I wanted to be ready to go once I got to L.A. So I did research on all the best photographers, makeup people, hair people, PR companies, videographers -- anything I could think of. And I had it all saved in one album marked "L.A.' I lined up a bunch of photo shoots before I got there, I didn't want to waste one minute once I got off the plane."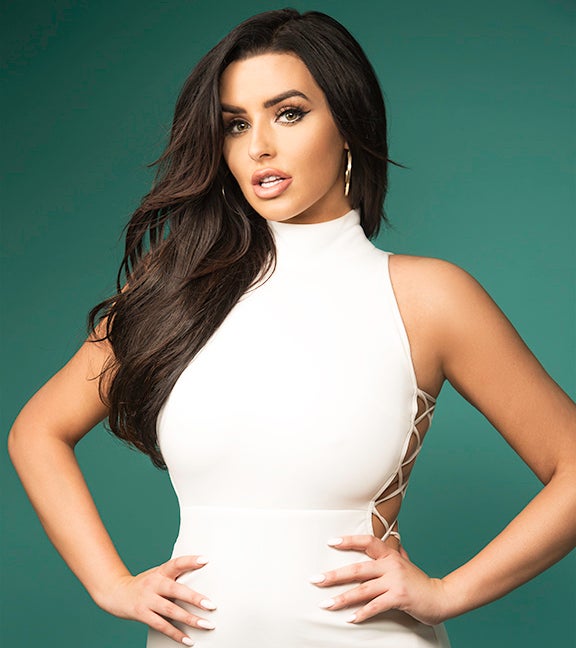 Photo: Brooke Mason
3. Treat other people's success as great lessons.
"I was building a following with my photos, and around the same time, Kate Uptonwent really went big with a viral video. I realized that I needed to not just think about photo shoots, but also come up with some fun, crazy video ideas that would go viral and get my name out there. And sure enough, once I went in that direction, I wound up on TMZ and some other sites and my following basically tripled in like two weeks."
4. Be nice to people who support you.
"When that first video went viral, I reached out to TMZ to thank them for helping put me on the map. And I've kept a really good relationship with them ever since. I've become really good friends with a lot of the writers and editors and camera people over there. And these are real friendships, we figure out fun things to do together or just chat and catch up with each other. You don't want to be some fame-hungry person where every time you call you're looking for a favor. It is definitely important to build these good relationships and have a good reputation in the industry."
5. Take time to recognize the big moments.
"The first time I was on TMZ was pretty surreal. But my most "I can't believe this is happening' moment was last year when I shot for Kanye West's Zine. I remember walking in for my fittings the first night, and Kanye was in the hallway on his cell phone. Hung up and he came up to me and introduced himself. Kanye West introduced himself to me. I was beyond starstruck. He was telling me how he liked my page and my videos and I just could not speak. I couldn't believe Kanye West knew my Instagram page. That was super crazy."
Related: Inspiring Quotes to Get You Through the Work Day
6. Show your audience love -- and ignore the trolls!
"I'm always on Twitter replying to comments and interacting with my fans. It keeps my fans and I connected and helps build a bond. They are so supportive of what I do and I like to give that back. I just really ignore negative comments at all cost. It's so hard to turn your cheek and ignore them, but it's kind of a slap in the face to all the people who are saying really nice things if you only react to trolls. You just show that you're more bothered by negativity than you are flattered by positivity, and that's not a great message to send to your true fans."
Photo credit: Instagram.com/abigailratchford/
7. Always try the next new platform, filter or innovation.
"Even though my whole career has been built on social media, I'm just so clueless with new technology and my tendency is to stick to what I know. I used to do a lot of Instagram videos and when Snapchat came out, I was like, what is the point? But people told me how fun it was, so I tried it and just loved it. My presence grew on there pretty quickly, and now if a company wants me to post something on my Snapchat, that's a new revenue stream for me. So it is worth trying new things!"
8. Learn the Instagram pay scale.
"Once you hit a million followers, you can start to a get $1,000 to $1,500 for a sponsored post. And it climbs from there: $2,000 at 2 million and so on, but there is kind of a capping point. There aren't a lot of companies that will pay $7,500 for one post, for example. So my rate is $3,500 right now to keep it reasonable. But don't get me wrong, $3,500 is still a lot of money!"
9. Don't take just any customer.
"I do a lot of endorsements and I sell a lot of my own branded stuff, like these cool skateboard decks. But I have to like what I'm selling and legitimately think it is cool. I was approached by a tampon company for a post—that was a no. But the best was these things called Dude Wipes. They're like feminine wipes for men. I was like, no way! You could not pay me enough to endorse Dude Wipes!"
Related: 10 Startup Secrets You Can Learn From Plus-Size Model and CEO
10. Find smart and reliable partners.
"I have a merchandise company that I work directly with that sources products for me, runs my website and does the posters and calendars. I've worked with them for the last two years now. They front the costs and then after they recoup, it is a 70-30 split on profits. That's how it works with us. Looking ahead, I definitely want to get more into beauty stuff. I've been hosting a lot of beauty and skin routines to grow my female audience and I hope I can come out with my own line or collaborate with a preexisting line. Girls spend more money than guys will, so that's my next move."