Here Are 7 Gadgets at CES Designed to Help You Sleep Better
These devices tap into your brain function and your senses to regulate your REM cycle.
Opinions expressed by Entrepreneur contributors are their own.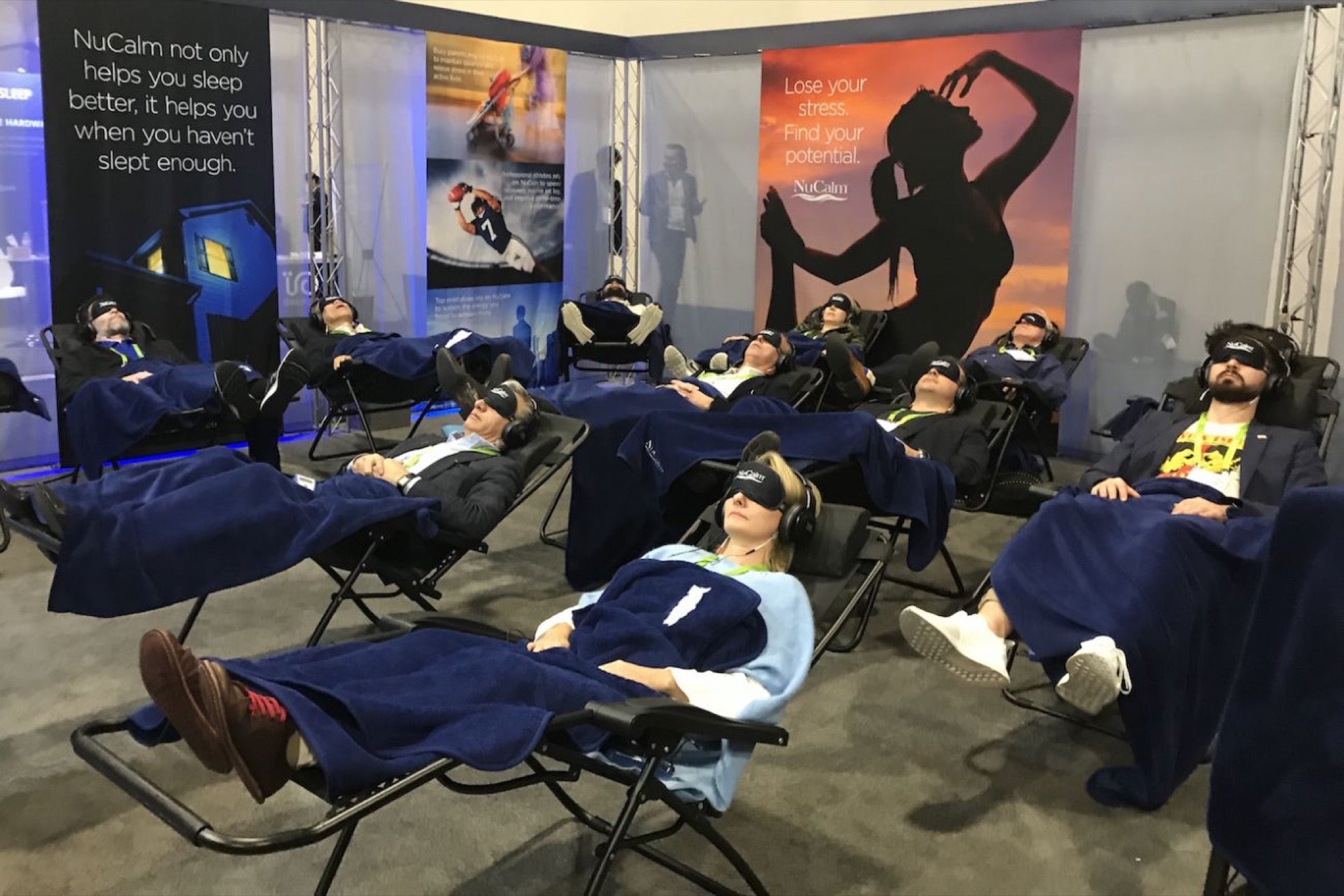 While Arianna Huffington would tell you you're not supposed to bring your smartphone into bed with you, a range of companies at CES this week to showcase the products they've created to help you get more rest -- many of which integrate with mobile devices.
This is the second consecutive year that CES has had a section devoted to sleep products, called the Sleep Tech Marketplace. While it's not very big compared with the expo floor real estate other product categories have (e.g. automotive/vehicle technology), the decision by the Consumer Technology Association to give sleep its own section coincides with a couple of ongoing trends.
One, health trackers are huge. Two, many makers of health trackers have realized that, beyond the cool factor, quantifying bodily metrics has no purpose for users if it doesn't help them better their health. A common refrain across much of the sensor-laden technology at CES is, "What good is all of this data if users don't know what to do with it?" To be taken seriously, companies have to aggressively demonstrate that they'll help users go the last mile.
Related: At CES, We Discovered 8 Amazing Solutions to Boost Your Health
Even though all humans sleep, the reason for the nightly process is still largely an
enigma
to scientists, and sleep tech definitely has its share of
debunkers
, which means sleep tech may have a long way to go. Until then, click through for seven products on display at CES this year that aim to improve your shut-eye.
A scent- and noise-emitting lamp.
Aromarest helps users get their sleep cycles under control with help from their senses of sight, smell and hearing. It's an all-in-one color-changing bedside lamp, noise machine and aromatherapy device controlled via an app.
Warm tones of light, reminiscent of the sunset, help you wind down and stimulate melatonin excretion, while blue light does the opposite. Certain scents may make you sleepy (lavender) and others may make you want to get up (perhaps coffee). Many people use white noise to stay asleep but may want to wake up to upbeat (but not too rowdy) music.
Related: The Scientists Whose Research Led to Everything We Know About Sleep Just Won the Nobel Prize in Medicine
It's up to the user what type of essences they want their Aromarest to emit during the device's a.m. and p.m. infusions, and they can experiment. (The essences Aromarest uses are not proprietary.) If they still wake up in the middle of the night, they can reset the process, prompting another burst of the nighttime scent.
To monitor whether the device is helping users, Aromarest will send a one-line survey asking how they slept. Down the road, spokesperson Marc Liebman says the company will integrate the device with health-tracker wearables, such as smartwatches. The device is slated to go on the market this April for around $140.
A brain-monitoring headband that conducts sounds through your skull.
The $499 Dreem is an app-controlled sleep headband from startup Rythm, designed by world-renowned industrial designer Yves Béhar. It contains EEG sensors to monitor your brain function during sleep, then plays sounds using bone conduction -- meaning it conducts sound through the skull to the inner ear so a sleeping partner won't overhear it -- to help you fall asleep, stay asleep or wake up.
The alarm activates when you're in the lightest part of your sleep cycle to prevent grogginess. The company claims Dreem can reduce the time it takes to fall asleep by 30 percent and improve the quality of deep sleep by 32 percent.
Dreem issues users a sleep quality report every morning so they can better understand how the sounds it emits help them sleep.
A device that accelerates the effects of sleep.
Solace Lifesciences, Inc., the company behind stress-relief brand NuCalm, drew a consistent line of a couple dozen people at a time at its booth. People showed up to "get the benefits of two hours of sleep in 20 minutes."
To achieve this, participants wore NuCalm's ReNu headset, which delivers micro-current stimulation to the brain in the form of beta and delta waves that define REM and deep sleep, as well as subtle sounds (neuroacoustics). They shut out the world for 20 minutes with eye masks, headphones and blankets, until a company representative woke them up.
ReNu costs $799 and is available for pre-order.
Anyone else curious how many people were just testing it as an excuse to nap during the marathon-sprint that is CES?
A bedside device that works like sonar.
After 10 years in development, SleepScore Labs has created Max, a bedside a sleep tracker that only requires proximity to track data, not contact. It looks like a tiny speaker and sends waves that reflects off the skin's perspiration, and it picks up movement to one-tenth of a millimeter.
Max can monitor your breathing and sleep patterns. It also provides personalized, actionable advice about what you can do to improve your sleep, keeping in mind your daytime personal habits (exercise level, coffee and alcohol intake, self-reported stress level, etc.). It'll also tell you if your bed is too old for proper sleep.
Best of all, with this one, you don't need to bring your smartphone to bed.
A bed with an 'anti-snore function.'
Italian company Magniflex has been in the sleep game for 56 years, since founder Giuliano Magni created his first mattresses in a small workshop in Prato, Italy. But this is the company's first time at CES.
Magniflex is showcasing its Magni Smartech, which integrates into the company's mattresses and records and analyzes data as you sleep. Metrics include wake up time, hours slept, average heart rate and fluctuations, breathing and the level of light and noise in the room. You can then review the information online or via app.
What sets this tech apart, however, is its "anti-snore function." The bed can actually detect when you're snoring and change position, then change back when you stop.
A more discreet option.
The Nokia Sleep pad, which goes under your mattress, connects to Wi-Fi, is full of sensors and monitors sleep cycles, heart rate and even snoring. The Nokia Health Mate app takes that data, analyzes it and offers suggestions for improving sleep. With smart home integration, when users get into bed, the Nokia Sleep detects it and turns off any lights or music.
For more on the Nokia Sleep, check out
Entrepreneur
's roundup of
health solutions
at CES.
'I go to bed with a robot.'
The cuddly robotic pillow Somnox expands and contracts in a breathing pattern (speed adjustable via app) to reduce stress and help users synchronize their own breath and fall asleep sooner. It can also play sounds such as lullabies, white noise, audiobooks, guided meditation, a heartbeat sound and more. When the user falls asleep, the sounds stop.
For more on Somnox, check out Entrepreneur's roundup of productivity solutions at CES.