A Luxury Cruise Ship Will Allow Residents to Permanently Live At Sea. See Inside Its 237-Square-Foot Studios Selling for $1 Million.
Storylines is making a residential cruise ship to travel around the world nonstop starting in 2025.
This story originally appeared on Business Insider
Storylines is making a residential cruise ship to travel around the world nonstop starting in 2025.
Homes aboard the MV Narrative start at about $1 million for a studio apartment with a Murphy bed.
See what it'll be like living in the $1 million home at sea.
For a cool $1 million, you can fulfill your dreams of spending life at sea indefinitely.
Just be prepared to trade in your comfortable multiroom home for a studio condominium so small that you'll have to sleep on a Murphy bed.
Storylines is building the 18-deck MV Narrative, the startup's first luxury residential cruise ship, which will travel indefinitely around the world.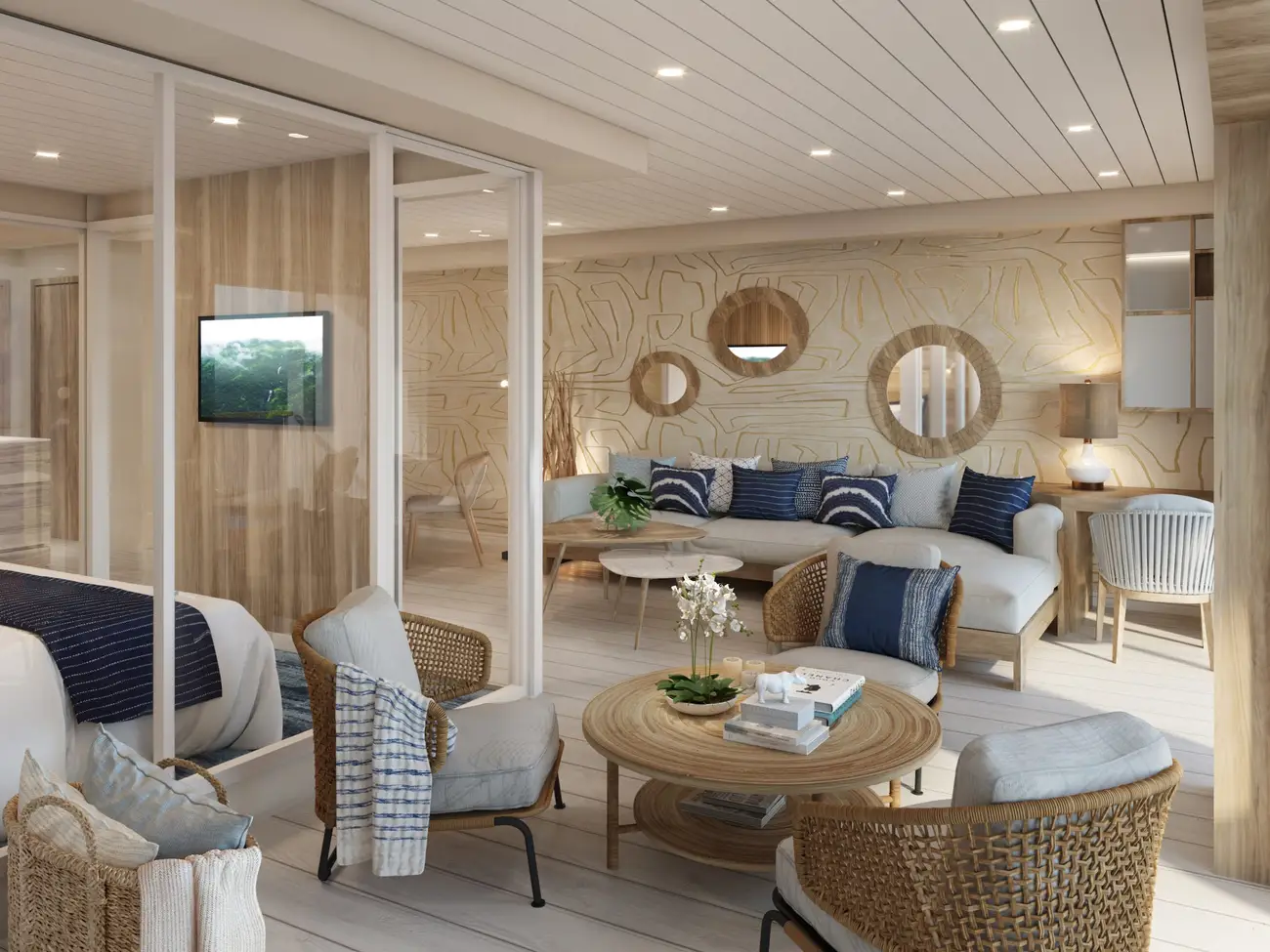 The ship and its 1,000 occupants won't begin this unique lifelong journey until 2025, but the vessel's 547 floating condominiums are already capturing the hearts and wallets of many interested buyers.
Some floor plans are nearly sold out, Katie Drew, Storylines' vice president of marketing, told Insider in August.
Source: Insider
The 741-foot cruise ship is lined with 11 semicustomizable floor plans.
Storylines
These residences range from a $1 million 237-square-foot studio home comparable to luxury New York City apartments …
… to a palatial 1,970-square-foot four-bedroom, two-floor home that'll run buyers $8 million.
The 237-square-foot home isn't your typical $1.1 million condo.
You'll still have furniture like storage units, a closet, and a TV mounted on a swivel arm, according to Storyline's brochure.
But instead of a bedroom or a divider that separates the living room from the bedroom space, the studio apartment uses a queen-size Murphy bed …
... which means the bed can be stored in the wall when it's not in use.
Remote workers relying on the Narrative's WiFi can either use the ship's workspace or lease its private offices.
But if they'd rather work from home, they could always use the table and two chairs that sit just across from the bed.
A small bar separates this general living space from the bathroom.
While there's no bathtub, the neutral bathroom has modern furnishings and a bright vanity that could rival a bathroom in a multimillion-dollar condo on land.
Paying $1 million for a tiny studio apartment may come as a shock to homeowners.
After all, the average $1 million US home sits at about 2,624 square feet, according to data from Zillow.
Source: Zillow
And the studio home's price doesn't even include the monthly "living fees" of about $2,600 a person in a dual-occupancy unit, according to the company's brochure.
But aboard the Narrative, this sticker price and monthly fees don't include just a home at sea.
Because the Narrative is "all-inclusive," this cost will also cover the homeowners' daily food and drinks at the ship's 20 restaurants and bars …
… onboard medical staff, pools, a marina with water toys …
… a bowling alley, and a 10,000-square-foot wellness facility, which Storylines says is the largest of its kind at sea, to name a few of the Narrative's amenities.
And throughout the vessel's journey around the world, residents will get to spend several days at international destinations like Istanbul, Turkey; Kotor, Montenegro; and Palermo, Italy.
So, yes, paying $1 million for a tiny home may seem unreasonable.
But for travelers who'll never get tired of exploring new countries, the ability to circumnavigate the planet every 3 1/2 years while living aboard a luxury cruise ship is likely worth every penny.