Ikea Is Asking Women to Pee on This Ad, and We've Got Questions
The magazine ad is aimed at pregnant women, in case you're wondering.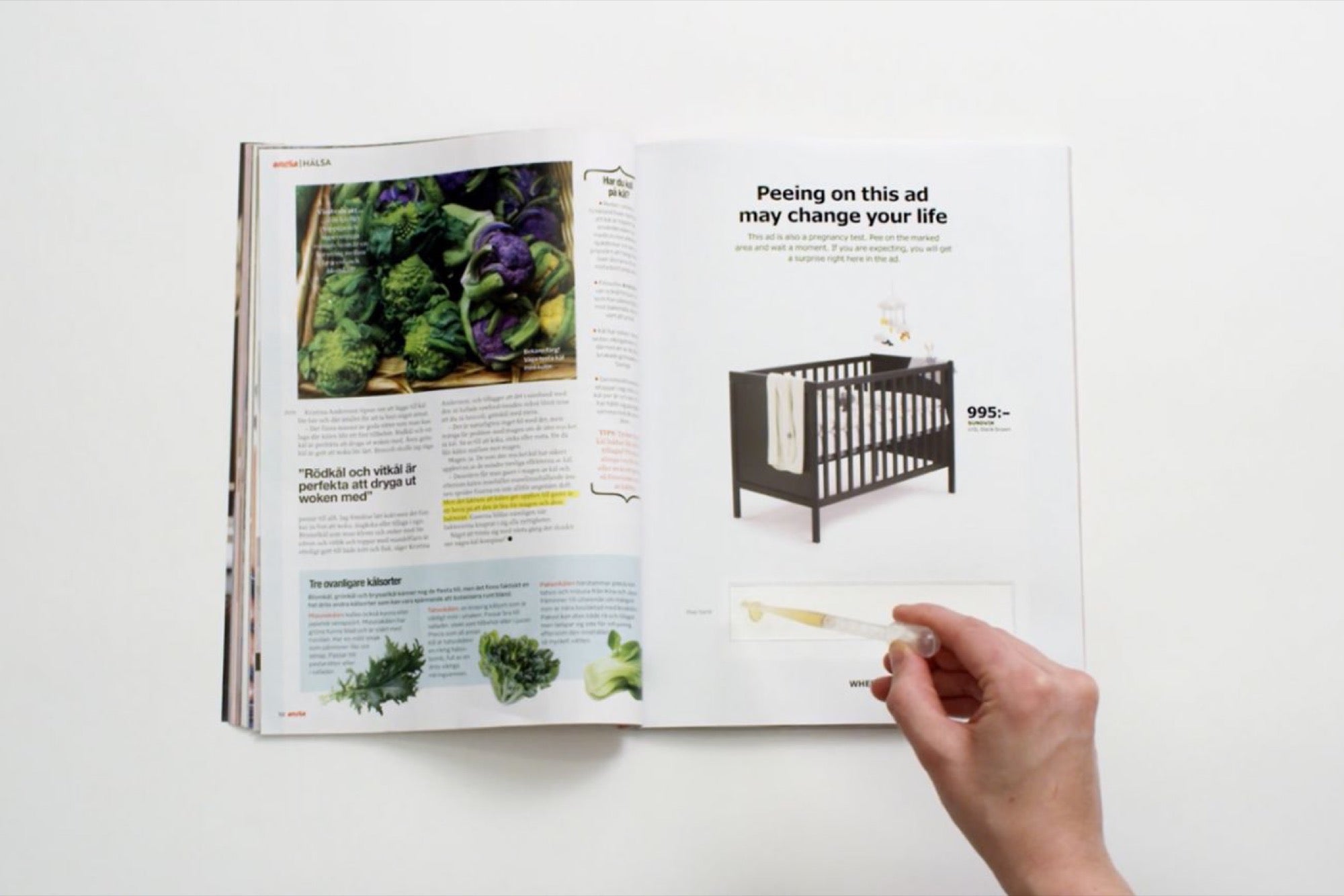 There are probably some odd things that people would do for a good discount, but this is a new one. In Sweden, furniture maker and meatball purveyor Ikea has released its first magazine advertisement of 2018, and the company has included some, let's say interesting, technology in the ad.
The advertisement is meant for expectant families, as it features a stylish black crib and reads "peeing on this ad may change your life." Yep, if you're a pregnant lady and you pee on the paper, a reduced price for the crib will be revealed as part of the Ikea Family Discount.
Related: Ikea Designers Using Mars Simulator for Ideas Understand a Secret About Creativity
The process was developed by Swedish advertising firm Åkestam Holst and biotech startup Mercene Labs. And apparently, Ikea is not the first company to go for a pee-oriented advertisement. Back in 2001, to promote a dog awards show, Animal Planet placed ads that had dog urine scent at the base of lamp posts to get a canine's, and, by extension, a human's attention.
IKEA's pee ad isn't even the first pee ad.
I love this world. @Adweek pic.twitter.com/RExSZI3q5a

— Bronwyn (@bronwynbails) January 9, 2018

Ostensibly you can then bring in the coupon to purchase a new crib. And so far, the response seems to be positive -- at least from fellow creatives in the ad world, who even think the pee ad is an innovative move. "With digital media prone to tying itself into knots of complexity, this 'traditional media' print ad shows how to do interactivity powerfully," The Core Agency founder Jon Skinner told Adnews.com.
This ad seems to be the most recent in a long line of offbeat promotions -- like commissioning of a peregrine falcon statue made of Allen wrenches to open a store in Sheffield, England or the company's response to Balenciaga's $2,145 leather version of it's blue bag. Clearly Ikea isn't taking itself too seriously.
Still, we have some questions and concerns regarding...logistics.
Related: IKEA's 'Open Platform' Embraces Furniture Hacking
Chiefly, think of the poor cashiers and and sales personnel who might have to handle the coupon. Will there be plastic bags and latex gloves involved to get it to the store? Can you redeem it online? There has to be a better way to get a furniture discount. We're all for ingenuity and innovation, but mostly, our main question is, why?
We've reached out to Ikea for clarification and will update with any additional information.