How 10 Savvy Companies Use Food to Boost Morale and Collaboration
The key to your staff's heart (and productivity) might be through their stomachs. Check out the innovative ways these companies are getting work done while keeping bellies full and spirits high.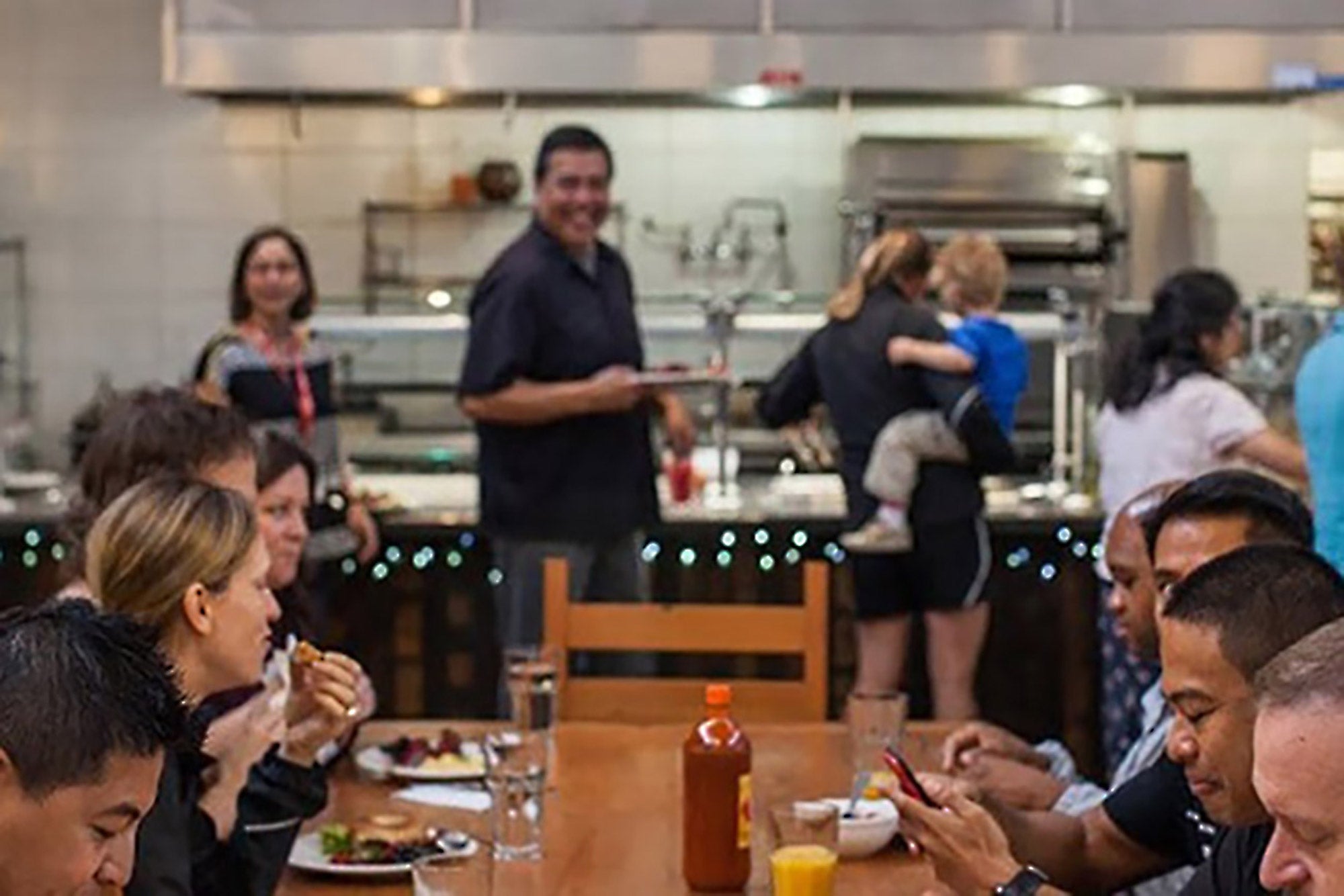 So you're not Google and you don't have the dough or the space to provide for a 24-hour cafeteria and 3 meals and snacks a day for your team. Still, researchers find that coming together for meals can be critical to increasing communication and productivity among your staff. If you could boost collaboration and morale for the price of a slice of pizza, wouldn't you? These companies show the many varied ways you can bring staffers together. Some of their solutions might surprise you -- and inspire you.
Healthy snacks and take-home dinners at Certified Angus Beef
Thinking about what you're doing for dinner? Not if you work for Certified Angus Beef, a nonprofit subsidiary of the American Angus Association. Starting this month, staffers will have one less thing to worry about since the company will prepare hot meals that can be brought home for dinner once a week. This new program joins a thriving food culture where staffers take turns cooking for a company-wide breakfast meeting every two weeks and where in-season fruit baskets are placed for healthy snacking at strategic points around its office for the group's 125 employees.
A communal table at Clif Bar
This food company, known for its organic energy bars and nutritious snacks, didn't have a cafeteria for most of its nearly 20 years. For many years, Clif Bar staffers ate at their desks since there wasn't really a spot for employees to gather. In 2010, the company moved to a new location in Emeryville, California where a space was built and named Kali's Kitchen, after the founder's grandmother, who taught him how to bake. Now, more than 300 staffers can gather at a new eating spot with a long communal table to nosh on locally-sourced breakfasts and lunches as well as sip coffee from artisan maker Sightglass.
Welcome cookies at Klick Health
This digital health agency based in Toronto uses sweet incentives to introduce new staffers to a team. When there's a new hire, Klick puts a bowl of what it calls "rookie cookies" on each new hire's desk. The company then distributes a map to the rest of the team with the picture of the Cookie Monster on a seating map to help staffers find the cookies and introduce themselves. Ben Waber, chief executive officer of Sociometric Solutions in Boston, says rookie cookies are a simple but effective way to integrate staffers into the team. "Most people will go and have a conversation. Think about what a powerful cultural tool that is." New hires also get a Starbucks gift card so they can take out a "peer buddy" to learn more about their new workplace and their new colleague.
Birthday menu at Asana
On your Asana-versary (or work anniversary) staffers call the shots and can choose what the rest of the team at Asana, the makers of an app that enables teamwork without email. A recent request for lamb curry stew was complemented by sides like roasted cauliflower and caramelized onions, cucumber strawberry yogurt salad and a creamy orzo. That staffer got a two-fer since it was his birthday the week before. He chose a traditional dish from his home country, England, and Asana's chef Donnie Thompson boned up on a dried fruit pudding with custard. Says Donnie, "I think I got relatively close for not being English." The company serves three meals a day and offers not only a snack fridge packed with yogurts and juices but a selection of whiskeys and high-end chocolates.
A reboot and remodel at Marriott International Headquarters
Marriott International's 20-year-old dining room didn't match its workforce, the times or its newest millennial recruits. The dowdy, monotone space was even driving some potential hires to other companies. To modernize the dining room at its Bethesda, Maryland headquarters, Marriott revamped the cafeteria and the menu, creating a multi-purpose space staffers can use all day long. Called "the Hub," it echos a hotel lobby, with couches, nooks and different-sized tables with embedded technology for meetings or socialization. A mostly meatloaf and pizza menu was replaced with organic, locally grown foods that stress portion control and encourage more healthful eating. Jim Young, the company's vice president of corporate facilities and real estate, says the changes have transformed how Marriott employees work and meet, with staffers choosing the new cafeteria over the trouble of booking a conference room. Since the change, the Hub's capture rate has increased 20 percent.
A family-style lunch at Austin's SpareFoot
Everyday from 11:30 to 12:30 the approximately 100 employees at SpareFoot, a self-storage marketplace, meet for a lunch prepared for them by their on-staff chef, Ari Dvorin. Dvorin works off-site and brings lunches in, everything from chicken masala tacos to vegetarian paella. Before Dvorin's arrival last May, staffers ate mostly at their desk or off-site. Now, staffers gather around 4 long tables, with sales next to marketing, developers next to service, all meeting one another and catching up on projects and each other.
A true coffee break at Kitchensurfing
Brooklyn's Kitchensurfing decided against the traditional Keurig coffee machine that can brew a cup in in seconds. Instead, the online chef marketplace based in Brooklyn, New York, chose a pour-over coffee system that forces staffers to spend time together. For each cup, staffers must boil water and pour that over beans they've just ground themselves. "It slows everything down," says Chris Muscarella, founder and chief executive and founder. "But the benefit of that is that people end up talking to each other that might not talk to each other otherwise because they get stuck in this space for like three to four minutes."
Lunch Roulette at Grouper
This company, a social club that helps people get together offline, picks three staffers at random to eat lunch together on the company's dime, increasing communications between teams. On a recent Friday, Nikki Schlecker, Grouper's communications manager, ate with a colleague from member experience as well as the CEO. When was the last time Schlecker had lunch with the CEO at any previous jobs? "Never."
The firm also receives weekly orders from two grocery delivery services, Fresh Direct and Trader Joe's. Staffers track snack requests on a company spreadsheet, including anything from Fage Greek yogurt and fresh blueberries to gluten-free Wheat Thins. Eggs and omelette fixings also make the list and it's not uncommon for staffers to whip something up in the Soho loft's full kitchen, immersing the 20-member New York team to the meal's smells and sounds. The meals are usually made to share. Says Nikki Schlecker, Grouper's Communications Manager, "It smells good and you want some and you ask."
Crowdsourced lunch suggestions at Tagged
San Francisco social discovery company Tagged not only brings in lunch and dinner for its more than 175 employees, but it crowdsources input on those meals from its staff. A virtual "Foodback" box online takes staffer suggestions on what to stock in the fridge or what restaurants to try. The results are shared in a humorous weekly email that bonds the team where grateful Tagged staffers have asked for everything from Earl Grey tea, vegetarian tacos and bacon jerky. Staffers feel part of the food program, and closer to the team, thanks to shared input. Tagged facilities specialists respond to each request including a recent one for oily salad dressing being put on the side. Their response? "I know. Even FEMA couldn't soak up all that oil."
Celebrations at HowAboutWe
All monthly birthdays at HowAboutWe are celebrated at an on-site happy hour where the birthday girls and guys are treated with their favorite sweets and cocktails. These events have featured a range of goodies, including whoopie pies and ice cream sandwiches, as well as drinks like hard cider or Old Fashioneds. The approximately 100-person company also plans an annual Thanksgiving meal where the company brings the turkey and staffers bring sides and fixings in a potluck.