TOMS Creates E-Commerce Hub for Socially Conscious Shoppers
Called "Marketplace," the new e-commerce platform on TOMS.com features products from 30 entrepreneurs, all with mission-driven retail models.
Opinions expressed by Entrepreneur contributors are their own.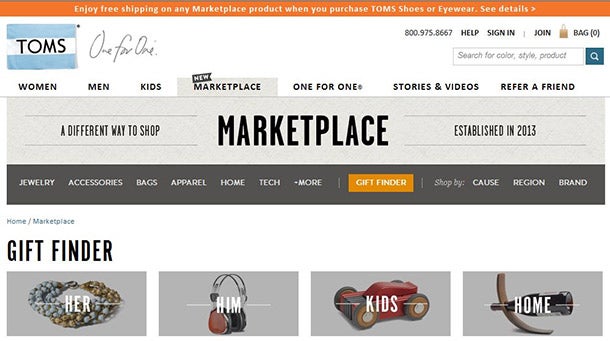 Image credit: TOMS
In the world of social innovation, Blake Mycoskie of TOMS is a bit of a rock star. Now, he is using his company's star power to give other like-minded startups a leg up.
Just in time for the holiday shopping season, TOMS is launching an e-commerce platform called "Marketplace" on TOMS.com that hosts goods from 30 social entrepreneurs who have mission-driven business models, similar in ethos to the "buy one, give one" model that Mycoskie pioneered. If you're not familiar with TOMS' strategy, for every pair of shoes or glasses purchased, the Los Angeles-based retailer gives a pair to in child in need.
Related: First Coffee, Now Fashion: Apparel Brands Seek Fair Trade Certification Despite Challenges
TOMS' new Marketplace launches today with 200 items for sale in apparel, bags, home products, jewelry, sports equipment and tech. The products range from $5 to $500 a piece and are available to U.S. consumers only.
Those companies featured on Marketplace are mostly all relatively small and primarily still in the startup phase. TOMS staff has gone through and researched the companies included to verify that they follow through on their social and philanthropic claims.
"The social entrepreneurship movement is made up of a lot of like-minded individuals, and in many ways it's a fraternity of people who want to do business differently," said Mycoskie in a statement. "We believe our customers – and even those who aren't necessarily customers – trust the TOMS brand and what we stand for. They are coming to our website because they want to buy or give a gift that gives back."
Related: For Social Entrepreneurs, What Comes First: Business or Mission?
Companies on Marketplace include the likes of apparel and accessory-designer Cleobella, notebook-maker Denik and backpack company Stone and Cloth. TOMS buys the goods at a wholesale price directly from the social startups and sells the goods on the online platform. While Marketplace is almost exclusively an e-commerce venture, a limited selection of goods will be for sale at TOMS' Venice Beach, Calif., flagship retail location.
Since its founding in 2006, TOMS has given away over 10 million pairs of new shoes to children in need. The eyeglasses arm of TOMS started five years later, in 2011, and has since given 200,000 pairs of glasses to those in need.
Related: Zipcar Founder: Entrepreneurs Have to Build a Collaborative Economy, or Else