5 Reasons Kroger Should Be On Every Income Investor Watchlist
Kroger is not an exciting stock, which makes it perfect for income portfolios; it is a low-beta name with a market-beating yield and catalysts to drive it.
This story originally appeared on MarketBeat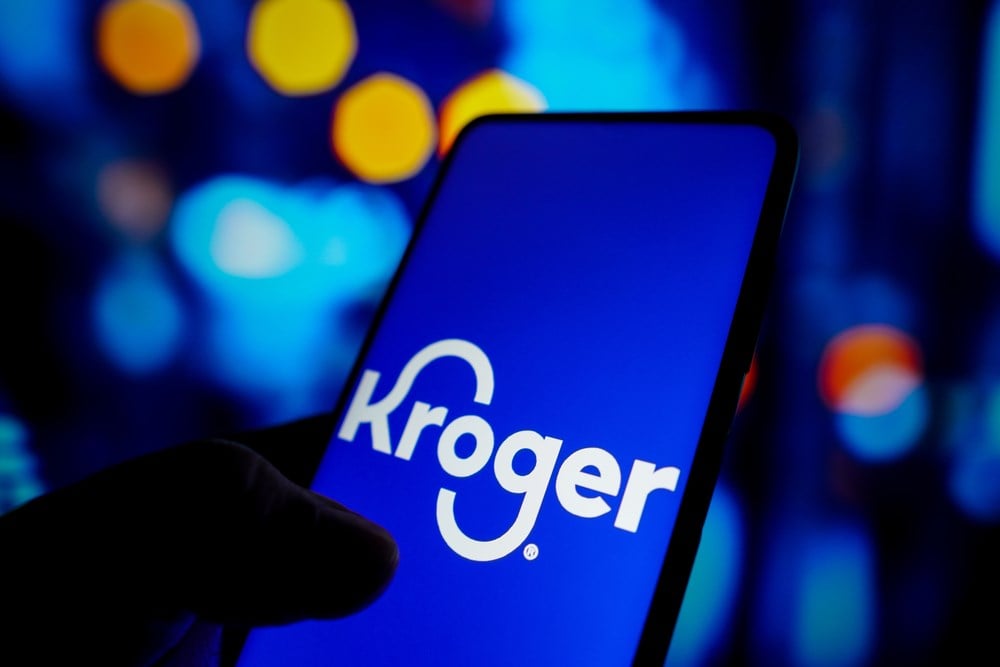 Kroger (NYSE: KR) is no exciting stock, but that is the point. Kroger isn't an exciting stock, but it is a blue-chip player in consumer staples; it has solid revenue and earnings, sustainable cash flow, and pays a healthy dividend. To put its non-exciting quality into better perspective, Kroger stock trades with a beat that hovers around 0.50.
That's half the volatility of the S&P 500 coming from a stock that pays a better dividend and has a more substantial outlook for dividend growth. But that's not the only reason Kroger should be on your income watchlist. Read on to find out more. 
Kroger Results: Beauty Is In the Eye of the Beholder 
Kroger's results in Q2 were not spectacular, with the top-line shrinking 2.3% compared to last year and falling short of consensus by 80 basis points, but that is about all the bad news there is to give. Backing out the impact of gasoline, comp sales rose by 1% and led to a 2.6% increase in underlying system growth. More importantly, the company's margins widened, leaving the adjusted earnings a nickel ahead of consensus and up more than 600 basis points YOY.
The company also reported strong free cash flow and a record-low debt-to-EBITDA ratio. That puts the company in great shape to continue paying dividends and on track for growth. The company reiterated its guidance for 2.5% to 3.5% underlying growth with margin expansion. 
Kroger Settles Opioid Charges
Among the details of Kroger's earnings report was news that it had settled, in the words of CFO Gary Millerchip, substantially all claims related to the case. The settlement is worth up to $1.4 billion to claimants, and the charge was already logged.
The company says the payments will be made over the next decade, are mostly tax-deductible, and will not impact the upcoming merger with Albertson's. This alleviates a major cause for concern and uncertainty, leaving only the merger with Albertsons Companies(NYSE: ACI) in question. 
Kroger's Merger With Albertsons Comes Closer To Closing
Kroger and Albertsons merger has been hotly contested but appears to be drawing closer to closing. The 2 announced a pact to sell many stores to appease the FTC, and it was met with broad approval by the market. The deal includes more than 400 stores, 3 brand names, and 8 distribution centers to be sold to C&S Wholesalers.
The deal will reduce the new Kroger/Albertsons' impact on the market while creating a new and potentially fierce competitor. C&S will pay $1.9 billion in cash; the deal to buy Albertsons is worth $25 billion.
Shares of KR and ACI moved higher on the news because it appears that Albertsons' value will finally be unlocked. The stock trades at a significant discount to the merger price target, providing an additional opportunity for investors. ACI is also a dividend-paying stock yielding more than the broad market average.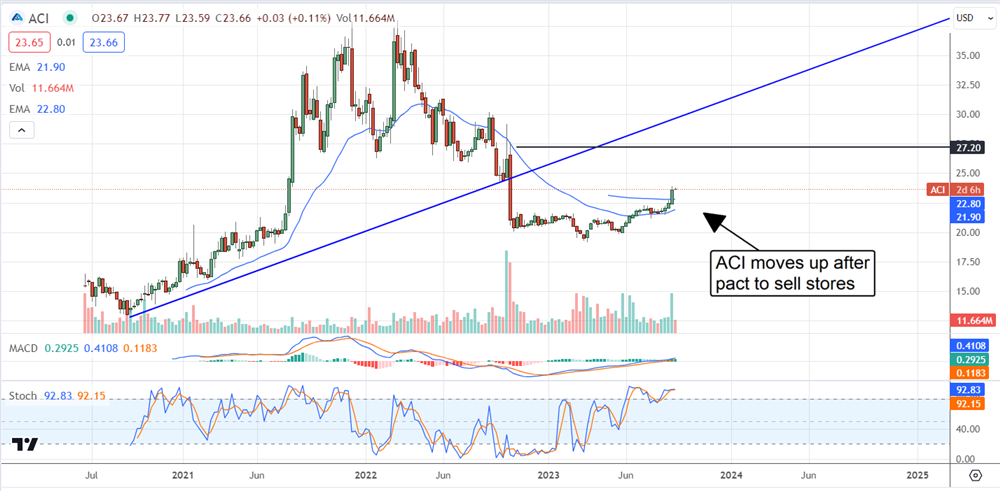 Kroger Pays A Substantial Dividend; Share Repurchase Should Resume
Kroger pays a substantial dividend yielding 2.5% compared to the S&P 500's 1.45%. The payout is about 33% of earnings and has grown at a solid double-digit CAGR for the past 5 years. The company has been increasing the payout annually for 17 years and can continue the trend long after it merges with Albertsons.
The company was also repurchasing shares but ceased in late 2022 when the merger deal was announced. The goal is to shore up the cash balance and balance sheet before closing, which is working. Cash and short-term investment more than doubled over the past year to nearly $2.5 billion. 
The Analysts Are Holding On to Kroger, Waiting For the Merger
There are 15 analysts with ratings showing up on Marketbeat's tracking tools, and they are holding the stock. The group is split almost evenly between Buyers and Holders, with 1 rating the stock a Sell. Even so, the consensus price target has been rock-solid and steady since the merger announcement, and it is about 15% above the current price action.
There has been no movement since the report; the last update is a reiterated Outperform that came days before. It is from Telsey Advisory Group and comes with an above-consensus price target. 
The Technical Outlook: Kroger Trades At Value Levels 
Kroger stock is a value relative to the broad market at only 10X earnings and trading at rock bottom prices. The market is bobbing along a solid support level that marks the bottom of a long-term trading range, and it is showing signs of increasing support near a major up-trend line. The market is moving lower today but should find support near $44. A move back toward the $50 level should be expected in that event. In the long term, this stock should trend higher on improving earnings, dividends, dividend growth, and the ACI merger.