First Look: A Visual Tour of Apple's iOS 7 for iPhone
BEGIN SLIDESHOW
NEXT
1. This is the new lock screen. Notice how the slider switch is gone? Now you just swipe left to right to unlock your phone.
NEXT
2. Here's the new home screen. Notice the new icons for Apple's apps like Weather, Phone, Messages, etc.
NEXT
3. Here's the new Notifications Center, which you access by swiping down from the top of the screen. You can now divide notifications by category.
NEXT
4. This is what it looks like when you get a new notification in your lock screen.
NEXT
5. Siri has a cleaner look.
NEXT
6. This is what Siri looks like now when you get search results.
NEXT
7. Double tap the home button to access multitasking mode. This lets you quickly switch between apps.
NEXT
8. You can swipe up to close an app for good.
NEXT
9. A new look for app folders.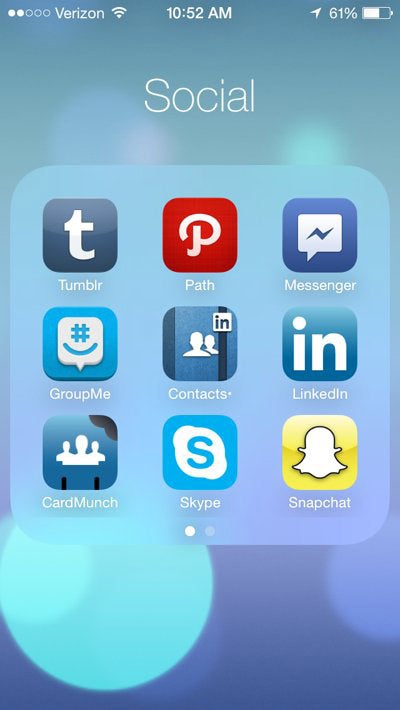 NEXT
10. Swipe over inside a folder to see more apps.
NEXT
11. If you want to search your iPhone, swipe your finger down in the middle of the home screen. You'll see the search bar pop up at the top of your screen. (Also, take a look at the new keyboard.)
NEXT
12. Here's what search results look like.
NEXT
13. The Control Center pops up when you swipe up from the bottom of your screen. This panel lets you toggle settings for WiFi, Bluetooth, screen brightness, etc.
NEXT
14. The keypad in the phone app now has circular buttons.
NEXT
15. The new weather app.
NEXT
16. The new App Store.
NEXT
17. The new App Store lets you search for apps popular in your location.
NEXT
18. The new settings menu.
NEXT
19. iOS 7 includes Flickr and Vimeo integration for automatically uploading photos or videos to each service.
NEXT
20. The new compass app.
NEXT
21. The Newsstand app has a new look too.
NEXT
22. The Music app comes with Apple's new Pandora-like radio service, iTunes Radio.
NEXT
23. iTunes Radio is free, but supported by ads. Apple has some radio stations ready for you to listen to. Let's try the '80s station.
NEXT
24. Billy Idol!
NEXT
25. The new Notes app.
NEXT
26. The Safari browser has a cleaner look.
NEXT
27. And cool 3D browser tabs.
NEXT
28. The new Game Center.
NEXT
29. Here's what your list of Game Center friends will look like.
NEXT
30. The new stocks app.
NEXT
31. The new calendar app.
NEXT
32. The new calculator.
NEXT
33. The new Passbook app, which stores coupons, concert tickets, boarding passes, etc.
NEXT
34. Here's what the contacts list looks like.
NEXT
35. The new Reminders app.
NEXT
36. Apple Maps looks pretty much the same, but has a different navigation bar at the top and bottom.
NEXT
37. The new Mail app.
NEXT
38. The new inbox for Mail.
NEXT
39. The Video app pulls in content you've purchased on iTunes.
NEXT
40. Just tap a show or movie to download it to your device.
NEXT
41. The camera app lets you switch between shooting modes by swiping left to right.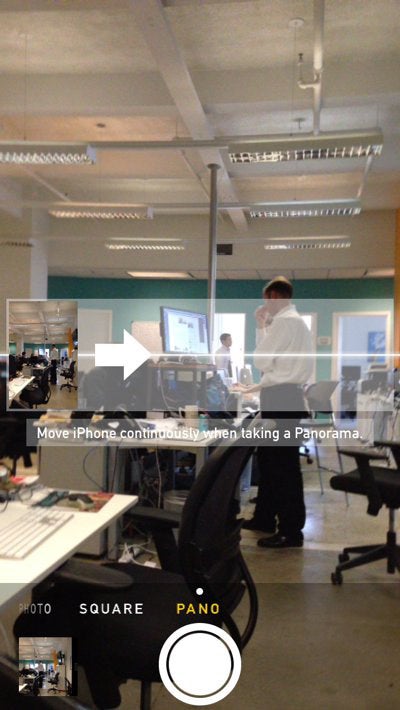 42. You can also choose from a few Instagram-like filters.
Apple's new operating system for iPhones and iPads, iOS 7, will be available to the public in a few months.
The OS has been completely redesigned with a "flatter" look. Apple also changed all the basic apps that come with the iPhone like Mail, Calendar, Notes, and Game Center.
Want to see what's new?