The Best Productivity Tools for Small Businesses
As a small business, it's important to get the right tools to produce the most results in the least time-consuming way possible.
This story originally appeared on Bizness Apps
Managing a small business may differ from keeping a large enterprise running smoothly, but that doesn't mean it's not a challenging endeavor. After all, both types of businesses face a lot of the same hurdles day in and day out -- piles of emails, meetings, phone calls, project deadlines all vie for undivided attention. If you don't have a clear grasp on how to stay productive, a small business' day-to-day can get overwhelming real fast.
Productivity isn't just about ticking off tasks on a checklist though. Sure, that's the end goal -- work hard and you'll get there. But productivity guru Tim Ferriss says it best: "As a business owner, it's very easy to fall into the trap of being busy, and being busy is not necessarily productive." Working hard doesn't always mean you're working smart.
This is why, as a small business, it's important for you to get the right tools that will help you produce the most results in the least time-consuming way possible. Time is one of the most valuable resources you have, so shaving off precious seconds by breezing through mundane tasks can help you improve productivity. Thankfully, there are tons of tools out there perfect for small businesses. From project and social media management tools, to clever invoicing software, here are some of the best productivity tools in today's market.
Insightly
One of the better CRM and project management tools out there, Insightly allows you to drill down and see the most important details about your leads, contacts, vendors and more. You can check their background, communication history and even past business or project opportunities. You also get an automatic address book, calendars and mass email.
Beyond the robust CRM features, you get in-depth project management tools that let you track all email correspondences, peruse detailed reports, create project pipelines and even receive automatic email reminders. The best part is that Insightly is able to scale along with the growth of your company, as it allows you to switch to any of their plans at any time without repercussions. It starts free for up to two users, and goes up to $99/user/mo. You can also take their Professional Plan out for a test drive for 14 days.
Asana
For those yearning for a simpler way to assign work tasks and follow up on team progress without cluttering up everyone's emails, Asana could be just the ticket. This consolidates project tracking and simple collaboration tools into one easy-to-use task management platform. You can create tasks -- as well as subtasks -- and organize them into projects. It is also possible to colorcode project pipelines, so things don't get messy once projects start to pile up.
Assigning tasks to team members is quick and painless as well, and all people following a certain task get instant email notifications when it gets completed. Asana also offers a handy mobile app, which offers a lot of the features found in the website -- perfect for professionals on-the-go. Asana is free to use, but also comes with a $9.99/member/mo premium service with more features.
Time Doctor
According to a 2013 Gallup survey, only 13 percent of employees worldwide were engaged -- or "psychologically committed" -- at their workplace, while the rest were not. Twenty-four percent were "actively disengaged," or largely unhappy and more likely to cause negativity in the workplace. Meanwhile, a large amount of people -- a whopping 63 percent, to be precise -- were either unfocused or lacked interest (that is, "not engaged"). Smartphones, social media, the internet and personal lives are the usual causes of unfocused employees. This is where time tracking and employee monitoring software can come in handy.
Time Doctor, a simple but effective time tracking software, allows you to keep track of your employees' work hours. And because it also happens to double as a simple employee monitoring tool, it also lets you see which applications and websites they spend the most time on. More importantly, it can go more in-depth and tell you the exact time an employee is being unproductive. The software, should you let it, also grabs screenshots of your employee's computer screens, which is perfect for businesses that have remote workers.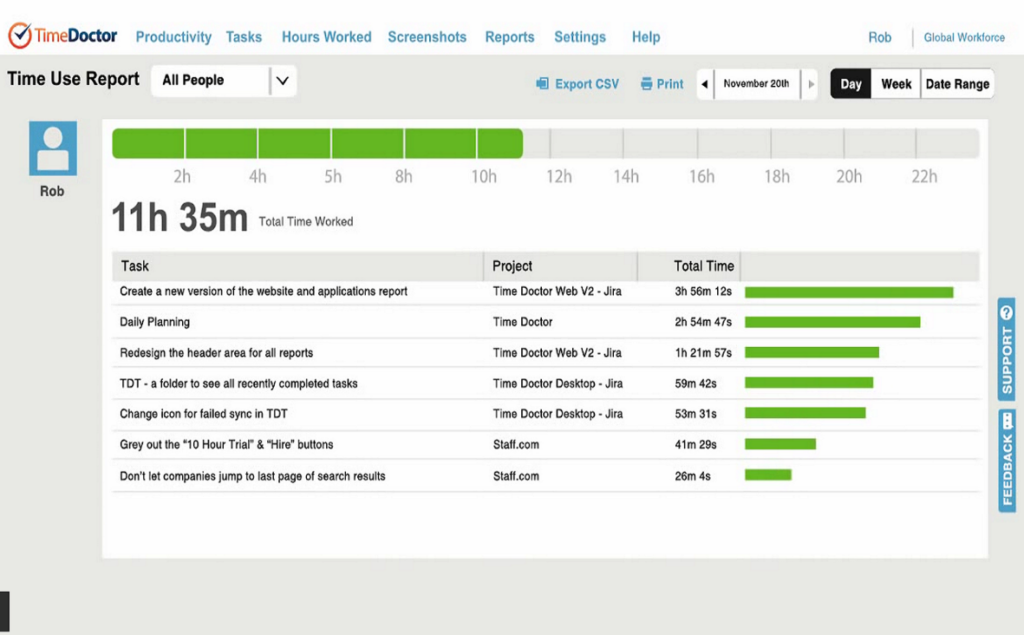 Hootsuite
Did you know that 83 percent of Americans have a social media account? According to an online study conducted by Harris Poll in 2016, 41 percent also agree that companies that they engage with should have a solid social media presence. The study highlights the ever-growing importance of social media in forging lasting relationships between companies and consumers.
If you haven't gotten around to utilizing the power of social media to boost your company's visibility and strengthen ties with your customers, now is as good a time as any. Strike whilst the iron is hot. Hootsuite, one of the leading social media management platforms, allows you to share content across 35 social networks -- including Facebook, Twitter, LinkedIn and Instagram -- from one dashboard.
Its robust analytics also let you know when the best time to post content is, while advanced scheduling features allow you to set up social media posts in advance. You can bring multiple users on board, and even assign varying access levels. Hootsuite offers a 30-day trial and a limited free plan for those who are looking to try the service.
MailChimp
If you haven't been using email marketing in your business because you think it's not a viable means of promoting your products and/or services, think again. In fact, email open rates have been enjoying a consistent rise in recent years, with a recorded rate of 35 percent in the second quarter of 2016. This means that email is as powerful a marketing channel as ever. So, if you want to start utilizing this marketing channel, why not go with one that's tried and tested?
MailChimp has been around for quite a while, and it has gotten better over time. For the uninitiated, it is an email marketing service that lets you set up email campaigns and send them to thousands of subscribers. You also get customizable design templates, autoresponders, deep analytics and robust third-party application integrations.
Due
There are tons of great invoicing software out there, but if you are looking for something a bit simpler, Due should fit the bill. A digital wallet and invoicing software in one, Due offers tons of professionally designed, slightly customizable invoice templates; the ability to send recurring invoices and duplicate existing ones; accept credit card payments; and track payments. It also supports around a hundred countries and tax systems. The onboarding process is something of note, as well: you can find guides tailor-made for certain professions, such as programmers, designers, consultants and the like.
Betterteam
Hiring new staff is hard, especially for small businesses with limited resources. Listing job ads on as many job sites as you can for maximum visibility isn't the most practical choice -- yet many have no choice but to take this route. Until now, that is. If your hiring process still involves manually going to job site after job site, then you might want to check out Betterteam.
This service gives you the ability to post to more than a hundred job sites -- including Monster, Indeed, LinkedIn, SimplyHired and more -- via a simplified dashboard. Professional templates and a drag & drop designer help you create attractive ads, while a robust tracking system allows you to quickly review candidates all in one place. They also support a variety of email clients, which means you can take immediate action straight from your inbox. You can start free, but take note that you would have to pay a monthly fee to enjoy Betterteam in its entirety. Considering the sheer convenience it brings, it's definitely worth the price.
Grovo
Because not all small businesses have the time nor money to develop new hires to their fullest potential, countless companies suffer because of ineffective employees. This is where Grovo, a learning management system, can provide a solution. The platform specializes in microlearning, delivering thousands of bite-sized video lessons to employees, which helps reduce most onboarding times by up to 50 percent. The system also provides training for management, employee engagement features and countless lessons that can improve employees' digital skills. It starts at $69/user/year.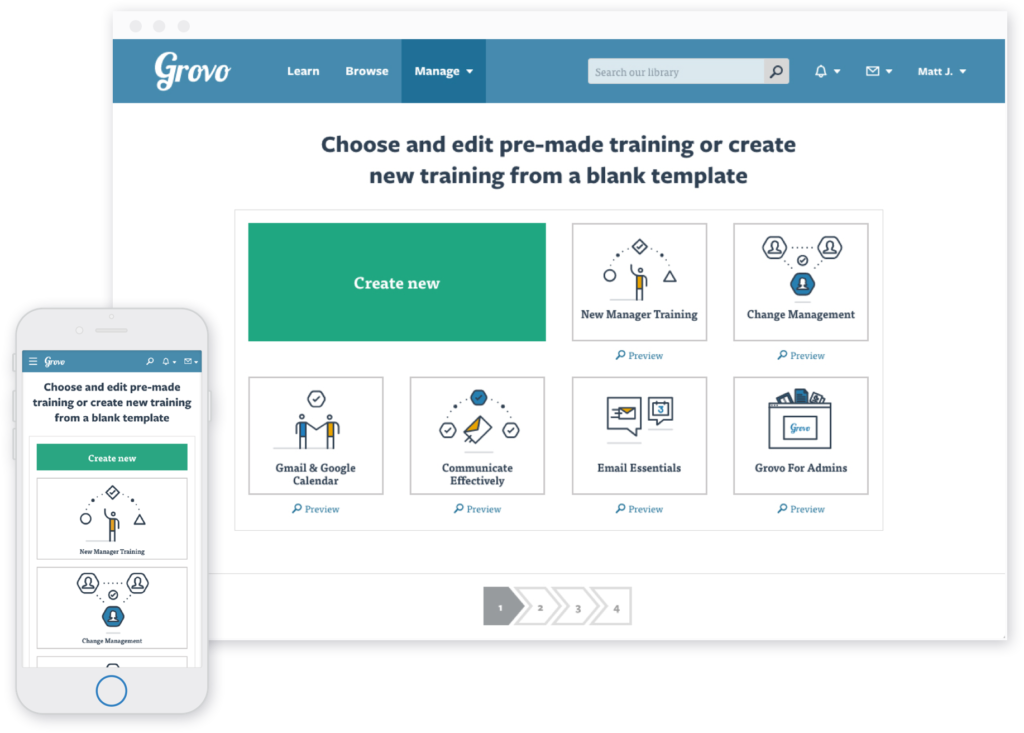 The Bottom Line
Although these tools can definitely help you improve your work productivity, they are just that -- tools. The brunt of the work still falls on the one wielding them, so don't expect them to magically boost your business without you having to lift a finger. Tools are only as good as the one using them, after all. Once you pick the right productivity tools for you, learn the ins and outs -- adapt if you have to -- and you may soon see productivity in your small business improve.