Spotify's Traffic, Not Earnings is Driving the Stock Higher
Global streaming audio platform Spotify Technology SA (NASDAQ: SPOT) stock missed top and bottom lines expectations on its fiscal Q4 2022 earnings, but
This story originally appeared on MarketBeat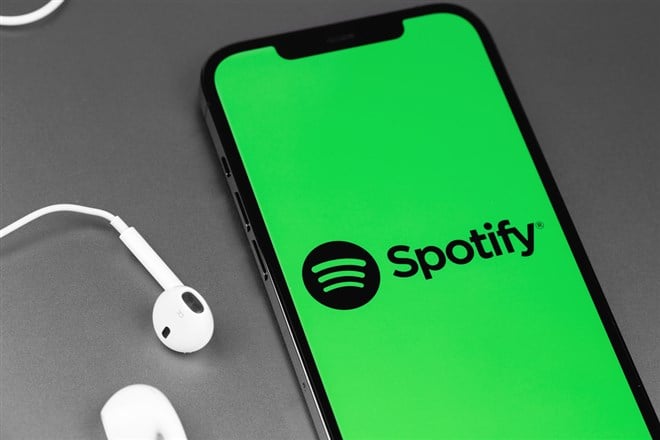 Global streaming audio platform Spotify Technology SA (NASDAQ: SPOT) stock missed top and bottom lines expectations on its fiscal Q4 2022 earnings, but Mr. Market didn't care shares screamed higher. Spotify has an estimated 30.5% of the global music streaming market, with over 100 million songs on its platform and 449 million monthly active users (MAUs). The Company aims to be the go-to one-stop shop for audio streaming, from music and audiobooks to podcasts.
Podcasts are the fastest growing segment as revenues climbed 30% YoY. Spotify has big competitors in the audio streaming market, including Apple Inc. (NASDAQ: AAPL), Amazon.com Inc. (NASDAQ: AMZN), Alphabet Inc. (NASDAQ: GOOGL), Sirius XM Holdings Inc. (NASDAQ: SIRI), and iHeartMedia Inc. (NASDAQ: IHRT). Spotify expects to hit $100 billion in annual revenues and one billion users by 2030. The market prioritized traffic growth over profits in the last quarter as Spotify continues to evolve into a one-stop streaming audio juggernaut.
More Considerable Losses Fueled by Traffic Growth
On Jan. 31, 2023, Spotify released its fiscal fourth-quarter 2022 results for the quarter ending December 2022. Revenues rose 17.7% year-over-year (YOY) to eur3.17 billion, falling short of consensus analyst estimates of eur3.19 billion. The Company reported an adjusted earnings-per-share (EPS) loss of (eur1.40), excluding non-recurring items versus consensus analyst estimates for a loss of (eur1.27), missing estimates by (eur0.13).
Operating loss was eur231 million due to continued growth in marketplace activity and new podcast and product investments.
Premium and Ad-Supported Revenues
Premium revenue growth was 18% YoY to eur2.717 billion. The average revenue per user (ARPU) rose 3% to eur4.55, excluding the impact of FX. Ad-supported revenue grew 14% YoY. Gross margin was 25.3%, down (-118 bps) YoY.
Ad-supported revenue grew 14% YoY, accounting for 14% of total revenues. Music advertising revenues grew mid-single digits reflecting double-digit YoY growth in impressions sold offset by softer pricing. Podcast revenues jumped 30% YoY, reflecting healthy double-digit growth. The Spotify Audience Network saw double-digit quarter-over-quarter (QoQ) growth.
Monthly Active User Growth
Total monthly active users (MAUs) grew 20% to 489 million, above its internal guidance by 10 million. India and Indonesia led outperformance in the Rest of the World (ROW). Strong growth occurred in Gen-Z listeners. Premium subscribers grew 14% YoY to 205 million, up from 195 million users. Full-year 2022 net additions were 25 million or 27 million when excluding the impact of its exit from Russia.
Spotify CEO and founder Daniel Ek commented, "So, by the end of the year, we had more than 100 million tracks on our platform, more than 5 million podcasts, and more than 300,000 audiobooks being enjoyed by almost 0.5 billion listeners. In 2021, we said that 2022 would be an investment year, and it was." He admitted that, in hindsight, he may have overinvested, not expecting the macro environment to change so drastically. Therefore, they are focusing on tightening their spending and becoming more efficient.
Inline Guidance
For Fiscal Q1 2023, Spotify expects eur3.1 billion versus eur3.05 billion consensus analyst estimates. The Company expects MAUs to reach 500 million, and Premium subscribers will grow to 207 million.
Personalization and Relevancy are Growth Drivers
Personalization was the top trait admired most by 81% of users in a survey on Spotify. CEO Ek believes that personalization is the growth driver for Spotify. The key to retention and growth is the quality of its algorithmic recommendations to users to find more relevant content and discover new content that matches their acclivities.
The Company will continue to invest in optimizing personalization to keep members engaged and coming back for more.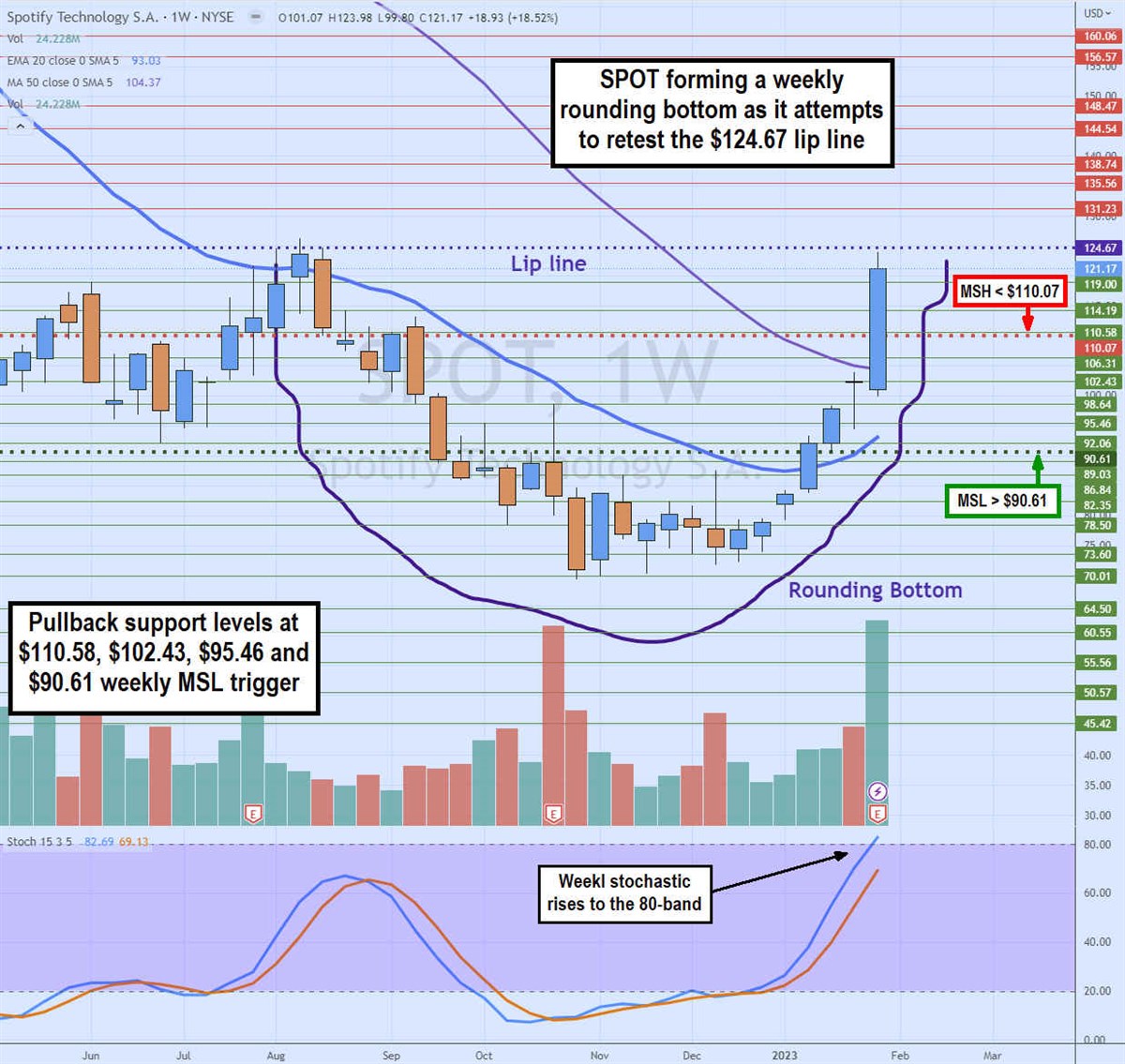 Weekly Rounding Bottom
SPOT peaked to form a lip line in August 2022 as shares fell from $124.67 down through the weekly market structure high (MSH) trigger under $110.07 to a low of $70.01 by October 2022. The weekly stochastic formed a divergence bottom to finally bounce through the 20-band in December 2022 as it formed a mini pup.
Shares rose through the 20-period exponential moving average (EMA) now at $93.03, triggering the weekly market structure low (MSL) on the $90.61 breakout to rise through the weekly 50-period MA at $104.37. SPOT rose towards the lip line at $124.68 to complete the rounded bottom.
From here, it can either breakout through the lip line, reverse back down, or have a moderate pullback to form a handle and break out through the lip line to complete the cup and handle pattern. Pullback supports sit at $110.58, $102.43, $95.46, and $90.61 weekly MSL trigger.