Toll Brothers Rises On Results, But The Roof Is In Place
Toll Brothers beat and guided higher, but that and the capital returns may not be enough to keep the market interested; the share price may have already topped.
This story originally appeared on MarketBeat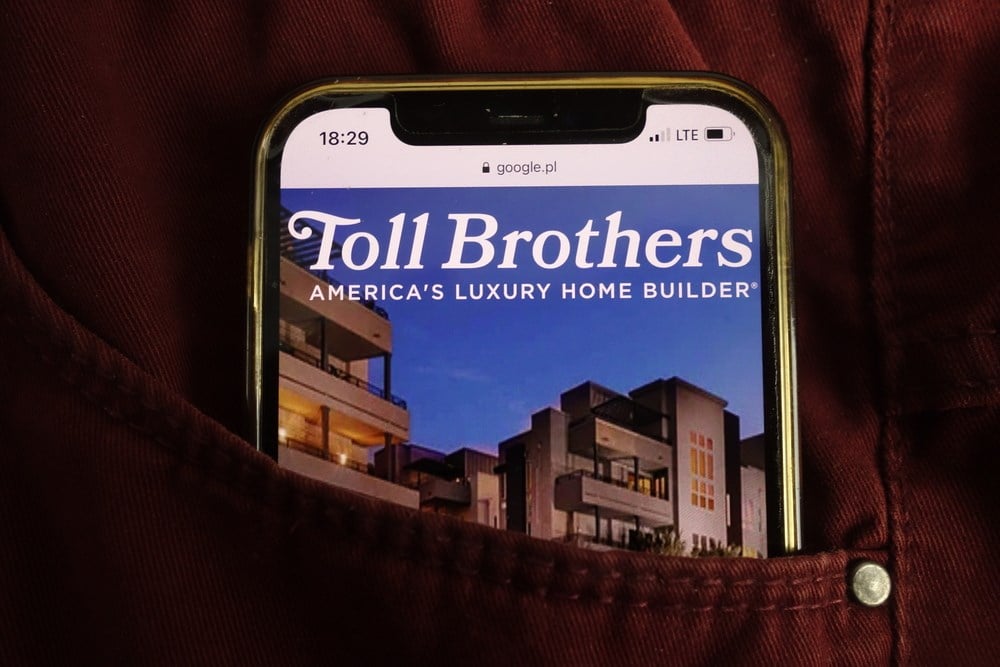 Toll Brothers (NYSE: TOL) stock rose following the Q2 release and could move higher given the persistent outperformance shown by it and other home builders. However, the signs of an impending sharp slowdown continue, and the chart does not suggest higher prices. If anything, the market has reached a top, and the post-release action confirms a ceiling that may not be breached for several quarters, possibly years.
The reason is simple. We're in a new normal in which persistent high inflation and persistently high interest rates will cap activity no matter the demand. The latest mortgage data shows demand fell in tandem with rates rising above 7.0%, which seems to be a buyer threshold. What it means for sellers is that a new mortgage (because selling a house ultimately means buying a new 1) may cost twice as much as the old one, maybe more, and you have to pay more to get the same house. That isn't a catalyst that makes a person want to move.
Toll Brothers Had a Solid Quarter; Guides Higher
Toll Brothers had a solid quarter with revenue of $2.52 billion, growing 10.1% compared to last year. This is $0.440 better than expected, primarily due to increased prices. The home sales revenue grew by 14% on a 4% increase in deliveries. The increased deliveries and higher realized prices aided the margin and bottom line, with GAAP EPS of $2.85 outpacing the Marketbeat.com consensus estimate by nearly a dollar.
Regarding margin, gross margin improved by 230 basis points on higher costs, while SG&A declined by 200 basis points on leverage and efficiency. This should help drive solid cash flows for the foreseeable future, but the growth outlook continues to dim despite the increase in guidance.
The company's new orders fell by 19% and the net new orders by 26%, which reveals a rising cancellation rate. This is compounded by a 28% decline in backlog value and a 36% decline in backlog volume. The combined result is an outlook for a persistently declining backlog and a dimming future despite the nationwide shortage of homes. So, the guidance is favorable but plays into the story of a dimming outlook because it will eat into the backlog quicker than previously believed.
Toll Brothers Capital Returns Are Safe: Are They Enough?
Toll Brothers is a cash-generating machine that delivers that cash to shareholders. The company pays dividends and repurchases shares for a combined annualized return near 6.1%. That's a decent return, but dividends are only worth 1.3% in yield for income investors, and there is the risk of capital loss, given the circumstances. Because treasury yields and CDs offer higher yields with less risk, there is a chance that flight-to-safety could cap gains as well. In that scenario, Toll Brothers and the S&P 500 risk becoming range bound at current levels, possibly moving lower.
The analysts support Toll Brothers, and the most recent price targets see the market near all-time-high levels, but the Q2 results did not spark a gush of praise. Crickets is more like it. The takeaway is that analysts rate the stock a Hold, and the consensus is about 6% below the post-release action. If this doesn't change, there is little reason to think the stock will move higher without some other catalyst.
The Technical Outlook: The Charts Show A Top
The chart of Toll Brothers shows a top consistent with tops seen in 2021 and 2022. The critical level is $68; the market is below that now. The near-term action confirms that level as resistance, and the post-release action confirms the bears are moving lower. The market may regroup and move higher, but a significant or sustained move above $68 appears unlikely.