Want to open a Buddy's Home Furnishings?
About Buddy's Home Furnishings
Parent Company

Buddy's Newco
Leadership

Michael Bennett, CEO
Sponsored Content
More from Buddy's Home Furnishings
Business is booming at Buddy's!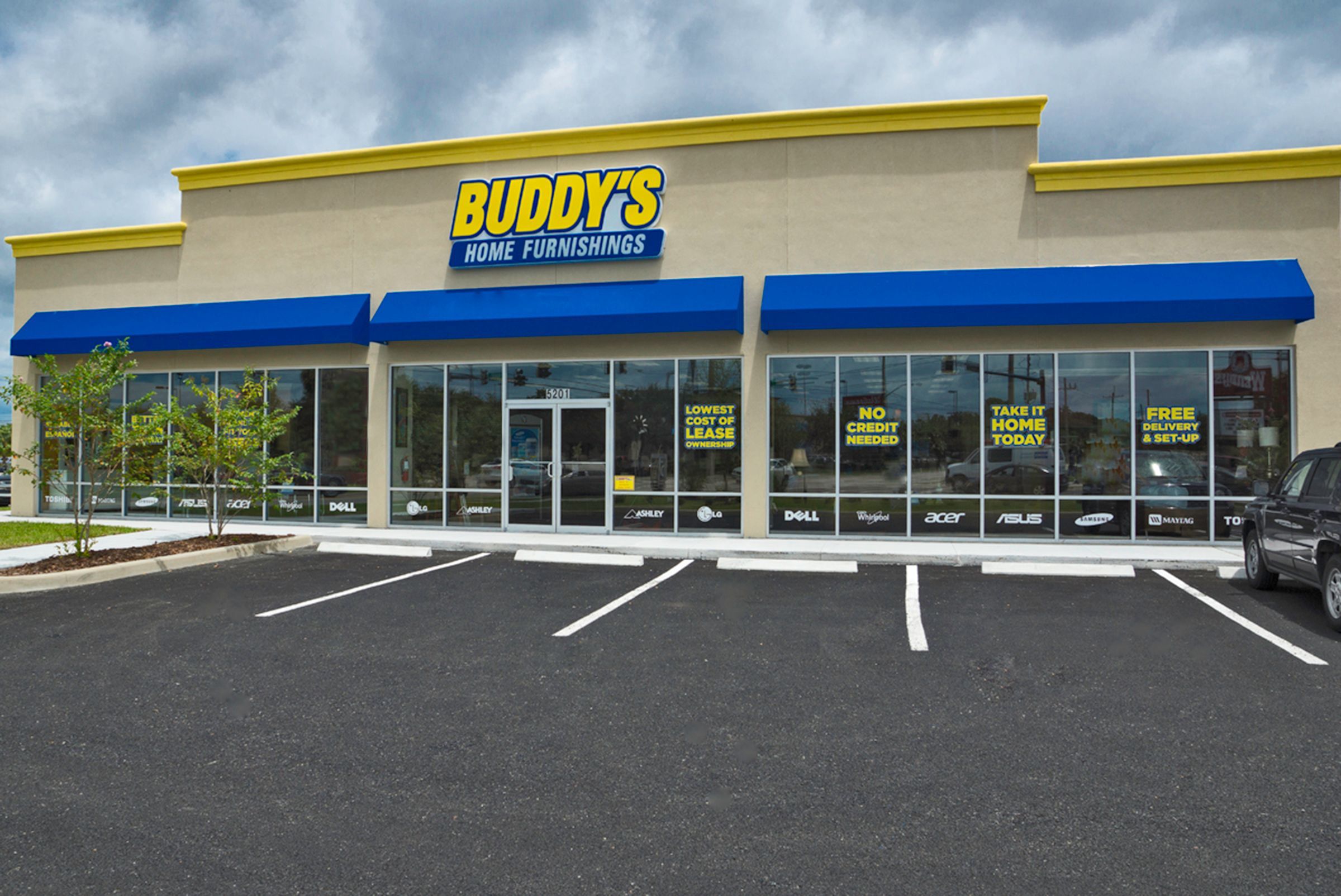 THE BUDDY'S STORY
In 1961, Buddy's founder Norman Slatton decided to use his experience in sales at Sears, Roebuck and Co. to pioneer the lease-to-own business with a single aim: to make appliances in a retail setting more affordable.
Norman's vision came to life that year with Buddy's Bi-Rite in Tampa, FL, which grew into a chain of 43 furniture and appliance stores throughout Georgia and Florida in just 25 years. Since then, Buddy's has adopted the franchising model and grown its footprint to approximately 300 stores throughout the U.S. and Guam. The brand also expanded its product line to include furniture, electronics and home accessories while offering a new program that allows consumers to attain ownership of these goods through affordable payments without the constraints of traditional credit or financing.
Throughout its growth, Buddy's Home Furnishings has built its business one satisfied customer at a time. Buddy's is in the people business because it believes there's something to be said for relationships with customers that aren't built on transactions, but rather, trust.
WHY FRANCHISE WITH BUDDY'S?
Simply put, Buddy's is better! With families doing more at home with tighter budgets, Buddy's business model is as essential as ever. Here are some additional reasons to consider franchising with Buddy's:
Exclusive territories available: You control the marketplace.
Multi-unit development opportunities: The opportunity to secure a multi-unit development territory for your Buddy's Home Furnishings stores will allow you to benefit from economies of scale.
Recession resistant: Based on industry research, since 2008 the industry is growing annually 2-3 times faster than it had leading up to the most recent downturn in the U.S. economy.
In business for over 60 years: Although we may be a new name to franchising we are veterans of the industry. Buddy's Home Furnishings has been in business since 1961. Although the times have changed, our core business principles and philosophies remain the same.
Cash flow business with tremendous ROI potential: Because we are in the leasing business, the benefits of depreciation are very attractive, and the typical store payback period is three years!
Franchising Overview
Franchising Since

2009

(12 years)
Where seeking

This company is seeking new franchisees throughout the US.
# of Units

291

(as of 2020)
Franchisor Information
Corporate Address

4705 S. Apopka Vineland Rd., #206
Orlando, FL 32819
Information for Franchisees
Here's what you need to know if you're interested in opening a Buddy's Home Furnishings franchise.
Financial Requirements & Ongoing Fees
Here's what you can expect to spend to start the business and what ongoing fees the franchisor charges throughout the life of the business.
Initial Franchise Fee

$25,000
Initial Investment

$384,566 - $911,874
Net Worth Requirement

$750,000
Cash Requirement

$150,000
Veteran Incentives

20% off franchise fee
Term of Agreement

10 years
Is franchise term renewable?

Yes
Financing Options
Some franchisors offer in-house financing, while others have relationships with third-party financing sources to which they refer qualified franchisees.
Third Party Financing

Buddy's Home Furnishings has relationships with third-party sources which offer financing to cover the following: startup costs, equipment, inventory
Training & Support Offered
Franchisors offer initial training programs and a variety of ongoing support options to help franchisees run their businesses.
On-The-Job Training

Up to 60 hours
Classroom Training

Up to 42 hours
Ongoing Support

Security & Safety Procedures

Franchisee Intranet Platform
Operations
Additional details about running this franchise.
Is absentee ownership allowed?

No
Can this franchise be run from home/mobile unit?

No
Can this franchise be run part time?

No
Are exclusive territories available?

Yes
Franchise 500 Ranking History
Compare where Buddy's Home Furnishings landed on this year's Franchise 500 Ranking versus previous years.
Related Franchise Content
Catch up on the latest franchise news, trends, and more.