10 Must-Have Tech Tools for Producing Better Live Events
BEGIN SLIDESHOW
NEXT
1. Eventbase: free mobile event schedules and maps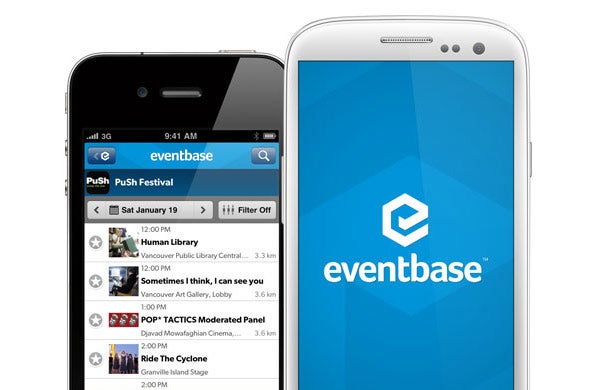 NEXT
2. Flavorus: ticket and payment processing
NEXT
3. Bag Tags Inc.: online retailer of custom credentials, name badges and lanyards
NEXT
4. Samsung: commercial displays
NEXT
5. Meraki: free event Wi-Fi
NEXT
6. 3M: multi-touch displays
NEXT
7. kool. Party Rentals: online source for furniture rentals
NEXT
8. Perch: interactive displays
NEXT
9. Artsicle: online marketplace of art for rent
10. Pufferfish: custom content projection
Social media, mobile devices and video-conferencing technologies are making it easier to attend important industry events virtually -- or skip them altogether. But for some industries, nothing beats a hands-on experience at a trade show or the sales opportunities created by face-to-face interactions.
Live-event promoters and tech innovators have responded with a wave of new tools aimed at giving live events a fresh pop. From major confabs such as Austin, Texas-based South by Southwest to others put on by small-business owners, these tools can help simplify the process of producing events, and might even entice more companies and individuals to attend and sponsor them.
There's no event too small for a custom, app-driven experience. Eventbase, by Vancouver, Canada-based Xomo Digital, can be used to offer free mobile event schedules and maps for conferences, trade shows and festivals.
Setup is painless -- simply a matter of filling out online forms with your event information. Users can then access your event via the Eventbase app available on iOS, Android, Windows Phone and BlackBerry. Basic event sites are free to build and distribute.
A premium version, including your event's own native app, social features like photo sharing, branding and interactive maps, is available starting at $750 per month.
If you're selling or giving away tickets to your event -- whether to make money or to know how many people are coming -- Los Angeles-based Flavorus is the ticket.
Flavorus can help manage RSVPs and offers a brand-specific ticket and payment processing options, with tools for incorporating your company's logo and messaging. Users can purchase tickets online or via mobile devices. Advanced features include the ability to set up a will-call option, offer custom discounts or establish payment plans for pricey tickets.
The service starts at 2.5 percent of the ticket price, plus $1 per ticket. Big plus: It's free for free events, which is the smart bet to test drive the service.
Keep in mind that live events do happen in-person, so it is worth investing in well-designed, low-tech items such as credentials, name badges and lanyards.
There are a number of affordable options for creating slick-looking event materials, but Evanston, Ill.-based Bags Tags Inc. stands out, with attractive around-the-neck event credentials for as low as $2 per badge. Custom lanyards start at about $3.60 each for 500 or less. Another plus: The company can handle last-minute orders.

Every event can use some flash. So it's smart to explore the retail screens and displays. Samsung is the leader here, with a full line of LCD touch screens and full-wall displays aimed at business use. The company offers high-quality, distinctively shaped displays that are affordable -- a 32-inch LCD display starts at $584.
Keep in mind that a large commercial display is not a TV. It will be easier to set up than a TV, with easy-to-mount brackets and fewer connections.

Attendees don't just expect great Web access -- they demand it. Offering high quality Wi-Fi is probably the single best thing you can do to keep your event top shelf. But it is about the most troublesome to execute. Network operators, phone and cable companies, and venue providers are at best inflexible when it comes to short-term event Wi-Fi.
San Francisco-based wireless company Meraki has a solution: a promotional agreement to give the access equipment needed away for some events. You provide the internet connection, and Meraki provides the Wi-Fi access via loaner equipment. To sign up, simply go to the company's website and apply. Your guests get a great internet connection. Meraki gets free advertising for its wireless services to targeted business niches.

Interactivity has become standard for most events. St. Paul, Minn.-based 3M -- yes, the maker of the Post-it -- ships a full line of interactive, touch-powered screens and tables that can work well for smaller live events.
3M's tools enable multiple customers to interact with your company's content via a giant touchscreen computer. Design your booth or display properly, and a 3M touch display can engage a crowd of potential clients. We found it a surprisingly low-cost alternative to expensive, walk-up interactive kiosks. The basic 18.5-inch 3M Multi-Touch Display starts at $1,249.

A good host knows how to create a welcoming atmosphere -- and that includes a nice place to sit. If you're hosting your live events on-site -- or even in a rented space -- you don't want to be at the mercy of what's merely available when it comes to seating, tables, serving spaces and other furniture.

Phoenix-based kool. Party Rentals offers trendy furniture rentals for everything from casual events to formal galas nationwide. Our pick is the bartender and couch sets, which can turn any event into a hip lounge.
Live-space interactivity is no longer strictly for Disney World-scale events. New York-based Perch offers a turnkey interactive system that creates a two-way experience in any room at reasonable cost. The system alters the image being projected onto any surface, say a table or wall, in response to movement and activity near that surface. Images change when say, a customer picks up a product or clients walk into your booth or display.
The result can be a tantalizing dialogue starter between you and your audience. Pricing starts at $20,000 to $40,000 per event for a combination of hardware installation and software fees. But rental options exist, starting at $2,000, per unit per week.

It's no secret that the art world has influenced major retailers like Bloomingdale's and the Apple Store. But artists also can bring a cutting edge, installation vibe to smaller live events.
It has never been easier to connect with such creatives. New York-based Artsicle offers art for rent starting at $25 per month. The site also encourages building relationships with its community of established and up-and-coming artists.

Sometimes what you really want to do is just put on a good show. Our sleeper pick for special event effects is U.K.-based Pufferfish. The firm offers a spherical projection module that creates an eye-catching image globe that can play at the center of even a small conference room.
This giant orb displays your content in 360 degrees. The Pufferfish spheres are available in a variety of sizes, from roughly two feet to 11.5 feet in diameter. The purchase price is steep, starting at about $37,000. But the units can also be rented for events, starting at about $3,000 per day.