For Subscribers
What 3-D Printing Could Mean for Small Businesses
How the additive manufacturing trend could help you grow your business.
Opinions expressed by Entrepreneur contributors are their own.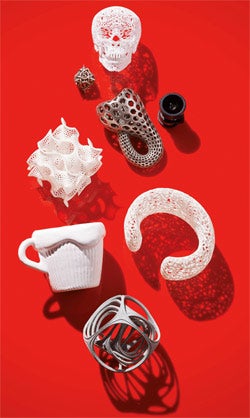 Photo© Ben Alsop
A ball. A cup. A gear. Even an electric car. 3-D printers can't print money, but they can produce prototypes for almost anything else. And as prices for the desktop devices drop, entrepreneurs are seeing them kick out something more: tangible business results.
3-D printing, also known as additive manufacturing, uses technology born of paper printing. But rather than outputting two-dimensional renderings, it makes actual physical objects. There are a few methods. Fused deposition modeling printers push heated material through a tube (much like inkjets), "printing" objects in three dimensions, one layer at a time. Selective laser sintering (SLS) units, meanwhile, operate like laser printers, shining a high-powered beam of light onto a bed of powdered resin, turning it into a hardened material. And stereolithography works similarly to SLS, but with liquid resin.
Continue reading this article — and all of our other premium content with Entrepreneur+
For just $5, you can get unlimited access to all Entrepreneur's premium content. You'll find:
Digestible insight on how to be a better entrepreneur and leader
Lessons for starting and growing a business from our expert network of CEOs and founders
Meaningful content to help you make sharper decisions
Business and life hacks to help you stay ahead of the curve