For Subscribers
What 3-D Printing Could Mean for Small Businesses
How the additive manufacturing trend could help you grow your business.
Opinions expressed by Entrepreneur contributors are their own.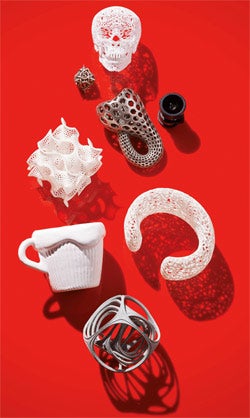 Photo© Ben Alsop
A ball. A cup. A gear. Even an electric car. 3-D printers can't print money, but they can produce prototypes for almost anything else. And as prices for the desktop devices drop, entrepreneurs are seeing them kick out something more: tangible business results.
3-D printing, also known as additive manufacturing, uses technology born of paper printing. But rather than outputting two-dimensional renderings, it makes actual physical objects. There are a few methods. Fused deposition modeling printers push heated material through a tube (much like inkjets), "printing" objects in three dimensions, one layer at a time. Selective laser sintering (SLS) units, meanwhile, operate like laser printers, shining a high-powered beam of light onto a bed of powdered resin, turning it into a hardened material. And stereolithography works similarly to SLS, but with liquid resin.
Memorial Day Sale - Save 20%! Unlock this premium article & so much more with
Entrepreneur
+
Join the internet's leading entrepreneur community with our Memorial Day sale! With your subscription, you'll get:
Digestible insight on how to be a better entrepreneur and leader
Lessons for starting and growing a business from our expert network of CEOs and founders
Meaningful content to help you make sharper decisions
Business and life hacks to help you stay ahead of the curve
Use code SAVE20 at checkout.